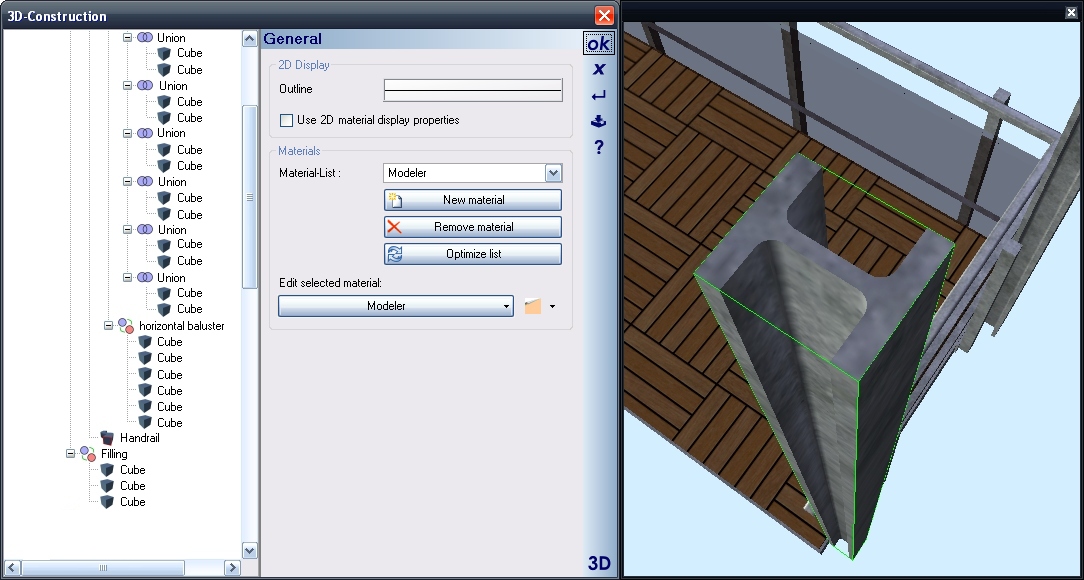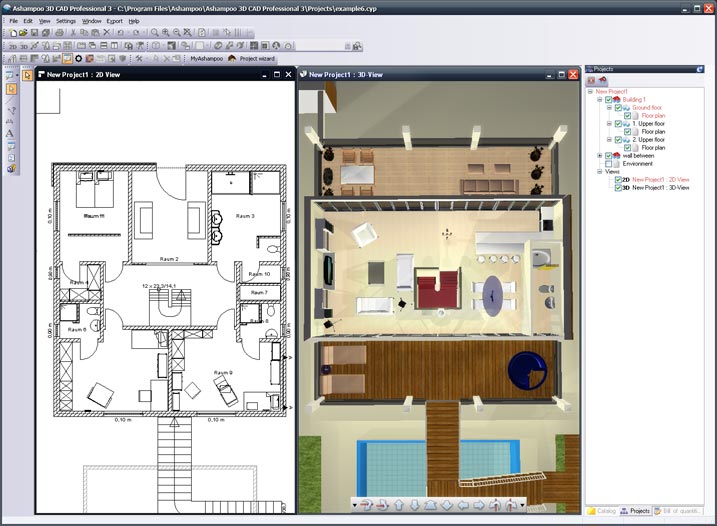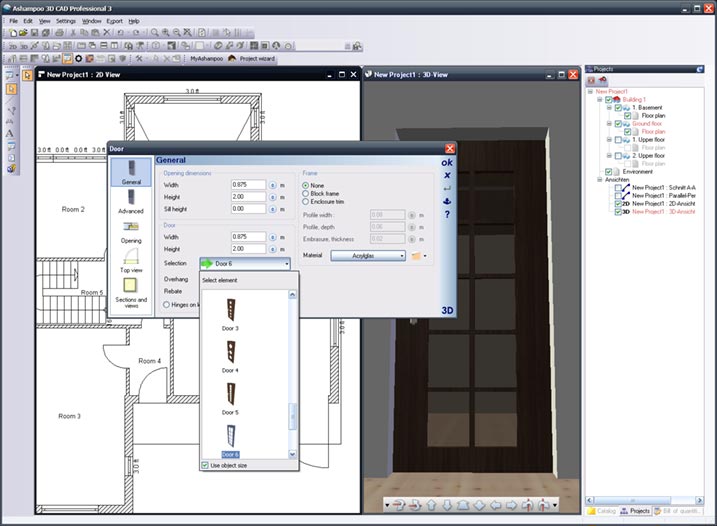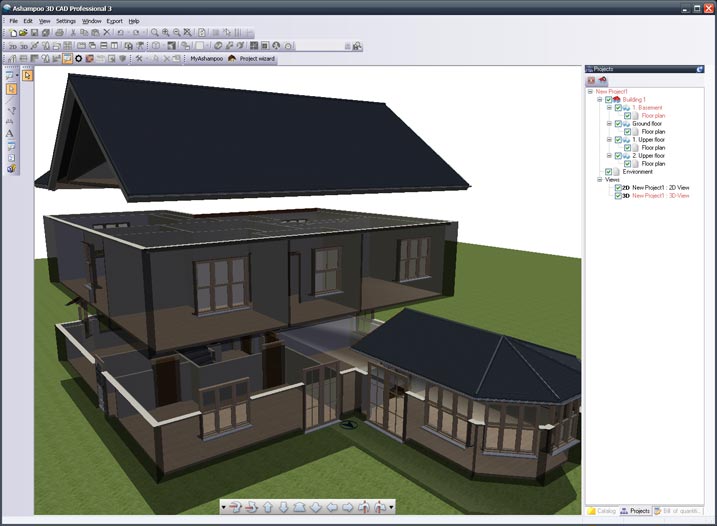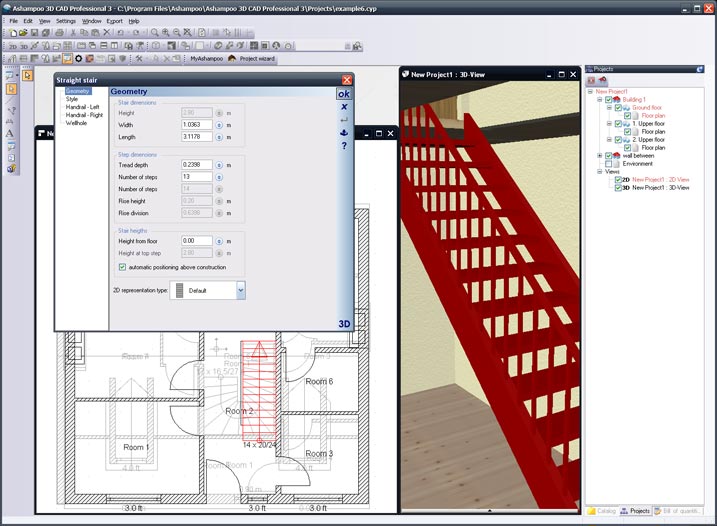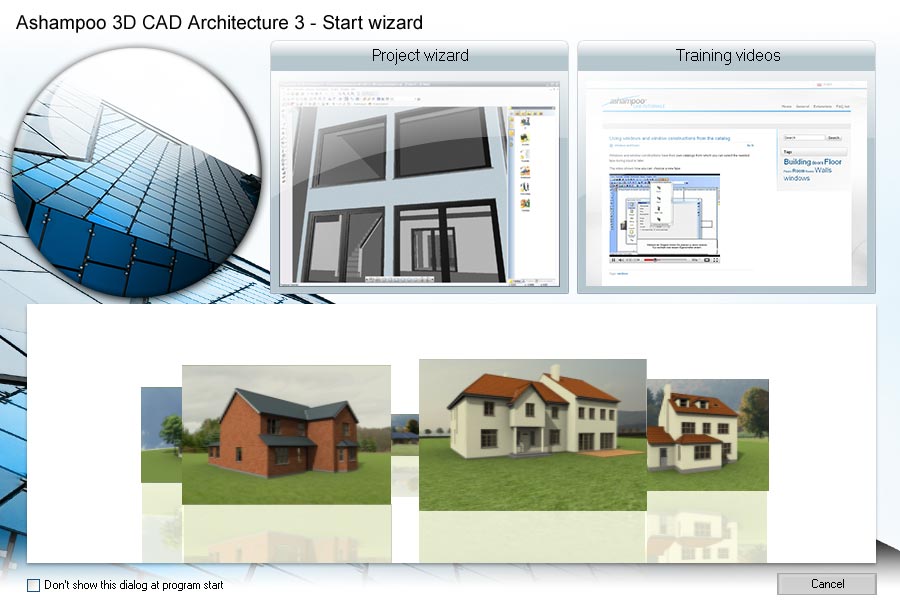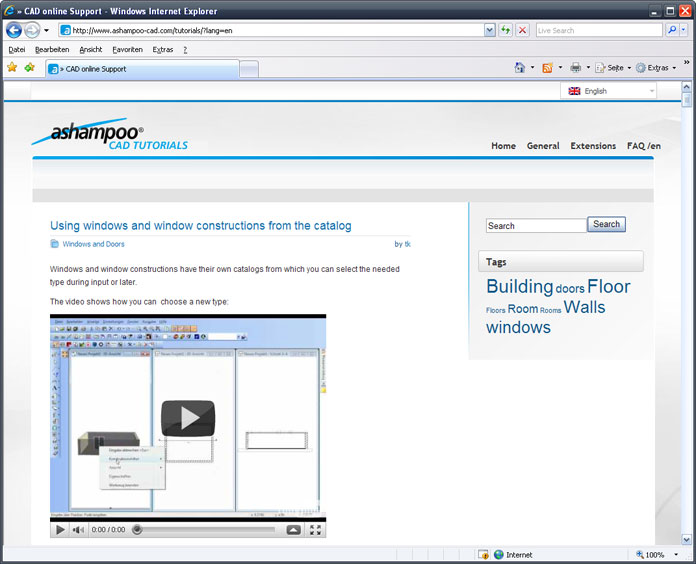 Extensive CAD planning couldn't be easier!
Plan your building and furnishing projects yourself on your PC with Ashampoo 3D CAD Professional 3. From furnishing a living room, via a loft conversion through to the planning of a complete complex of buildings this software will provide you with all necessary highly-professional functions.

With the new start wizard you can start your planning immediately, regardless of how experienced you are with CAD software. In the start wizard's menu you have the option to watch training videos or you can edit an already existing sample project. The integrated project wizard enables you to quickly and easily create a ground plan of your project and to adjust important basic settings.

It's simple to plan even complex building projects with Ashampoo 3D CAD Professional 3. Also individual ideas are realized quickly with this software. The new functions in the 3D construction will enable you to use for example subtraction solids as well as rotation and sweep solids. The feature enables the creation of your own 3D objects or the realization of complex building projects, like a roof terrace.

Ashampoo 3D CAD Professional 3, which is the most extensive software in the software series CAD & Construction by Ashampoo, combines a quick start and intuitive handling with highly professional CAD features, and therefore it also meets the highest demands. Create exact realistic views (2D and 3D) as well as lists and plans for further use in your project and also use the many effective export options, like for example the quantities plug-in, the 2D-DXF/DWG export or the CINEMA 4D export.
Program highlights
Free 3D construction of objects
Window construction plug-in
Usage of subtraction solids
Start wizard and project wizard
Surface editor for indvidual surfaces
Extensive catalogs with objects, materials, textures and symbols
Storage of individually created objects in the object catalog
2D and 3D views (also parallel)
Creation of ground plans using a sketch or an image
Export of views, stock lists, objects and buildings
Quantities plug-in
2D DXF / DWG import and export
CINEMA 4D export



Please note: The Ashampoo Kitchen Catalog Extension and the Ashampoo Office Catalog Extension include several hundred 3D objects for detailed and realistic kitchen and office planning.
Easy start in CAD planning
Getting started with a CAD project couldn't be easier with Ashampoo 3D CAD Professional 3. With the start wizard you can start planning immediately. Watch a training video on how to construct a roof or edit one of the already existing sample projects. A very quick start can be made with the project wizard, with which you can, in two simple steps, adjust the basic settings and draw the ground-plan of a floor or room on the basis of different basic shapes.
New features
Free 3D Construction
With the new 3D construction functions you will not only design your own 3D objects for the catalog, but you will also be able to make use of the extended constructive possibilities, which exceed the predefined construction elements. New 3D constructions, called solids, are created by combining 3D elements. There are four different types of solids: Primitives are cubes, cylinders, pyramids etc.
Extrusion solids are created from a closed 2D contour for which additionally a height value is specified.
Rotation solids are created from a closed 2D contour which is rotated around a specified axis.
Sweep solids are created from a closed 2D contour which follows a specified path.

The created 3D solids can be edited with further functions like merge, union or boolean operations. This way the combined solids form new 3D objects.
Then selected 3D constructions can be saved to a catalog as a 3D object. The constructions can also stay unchanged in the project and are going to be saved together with the project. You could also save the constructions as their own unit in a separate catalog.

In addition to the usual furnishing, 3D constructions can be used for objects like carports, balconies, baseboards, stucco profiles, downspouts and lots more. The catalogs contain a number of sample constructions and over 120 predefined 2D profiles for the use in sweep solids. Here you'll find common profiles for stucco elements as well as steel beams and other general contours.

Usage of subtraction solids
All 3D constructions can be subsequently converted into subtraction solids. Subtraction solids are used for the manipulation of existing elements, like walls, roofs etc. In the properties dialog of a subtraction solid it can be specified which types (construction areas) and which layers will be affected by the subtraction solid. This way you could, for example, draw a sweep solid with the contour of a building's excavation part and subtract this solid from the terrain.
With global subtraction solids any desired parts of a building can be joined up in 3D and generated as a 3D cross-section layer.
Examples for the use of subtraction solids are roof terraces, access ramps etc.
Extended representation of doors in 2D
A new feature of Ashampoo 3D CAD Architecture 3 is the extended representation of doors in 2D views. Up to now door construction elements have always been identical in 2D views. Now together with numerous new doors in the 3D object catalogs, the 2D representation was extended, too. Consequently also doors with side panels, sliding doors and folding doors are now displayed exactly in 2D.
Extended visibilities roof constructions
For roofs you can now choose different visibilities for views of roofing, timber framework and further details. This also applies to 2D views, in which the current representation can be disabled. This way the timber framework will be visible.
Edit and use your own favorites
Now you can assign frequently used files or folders to the category Favorites. This way you can easily navigate from the list to the right place within your directories.
More features in Detail
Window construction
With this module it's possible to create own window types and save them to a catalog for reuse. The window can be created on an adjustable grid with predefined frame-types. The measurements of individual window components are being administered via 'profiles' that can be altered at any time. In addition, users are able to modify their windows with sash-bars, bolts and jambs.
Individual design of surfaces
Simply create 3D surfaces with the surface editor. The surface editor could be used to design, for example, tiled sections, facade elements, working surfaces, pre-wall installations etc. The free input method editor generates any surface for every possible usage (for example walls, roofs or the surface of a table).
Input assistance for planning and construction
Numeric input assistance can be used during the whole planning and construction process. Specific tools provide support and enable numeric input, wall modification, 3D object rotation during input and height modification. All available tools can be activated or deactivated by pressing the relevant keys.
Integrated quantities plug-in
The quantities plug-in generates a digital compilation of data providing room-specific information such as dimensions in 2D/3D view and allows for a deeper evaluation of the planning process according to the German DIN 277 and the 'Wohnflächenverordnung' (Residential Space Ordinance). Result list can be generated in different format and can be adjusted to your own design, if necessary. The quantities plug-in enhances the transparency of large projects and thus also facilitates the planning process. Quantities plug-in – range of functions
CINEMA 4D export
Let your 3D projects become real! With the integrated CINEMA 4D plug-in you can export your project to the CINEMA 4D format. These export files can then be edited with the appropriate software. This way you will bring your building dreams to life. CINEMA 4D export features
Improvements of features
Standard features
Design and construction Creative planning with numerous 3D objects Realistic images Garden design with realistic landscape forms Export and import functions

Extend your creative possibilities with new 3D objects. The Ashampoo Kitchen Catalog Extension includes kitchen lines and devices for your kitchen catalogs. Numerous new 3D objects for your office planning are included in the Ashampoo Office Catalog Extension.
Requirements
Operating System:
Windows® XP, Windows Vista® and Windows® 7 (32bit/64bit)

Computer:
Any computer that runs one of the above operating systems at a reasonable speed. Please install the latest video drivers for best results.

CPU:
1200 MHz (or higher) x86 CPU

RAM:
Min. 1 GB RAM

Hard Drive Space:
1000 MB

Software:
Microsoft .NET Framework Version 2.0
C++ Redistributables

Languages (3):
German, English, French

Trial period:
40 Days (10 days + 30 days after e-mail registration)

Download link:
http://www.ashampoo.com/ashampoo_3d_cad_professional_3_sm.exe (1014.25MB)