Burn, back up, copy and convert any file type–with a premium burning software!
Get the best burning software for your PC! The new Ashampoo Burning Studio is the comfortable way to burn your data securely, copy CD, DVD and Blu-ray discs without effort and gives you access to a range of top-of-the-line multimedia features. Create your own movies and slideshows, modify existing discs or create video discs with animated menus. Extract audio from music CDs, back up your files instantly and, while you're at it, create perfect covers for your projects! Write important data to any disc with powerful compression and password protection and say goodbye to data loss. Get ready for a brand new Burning Studio!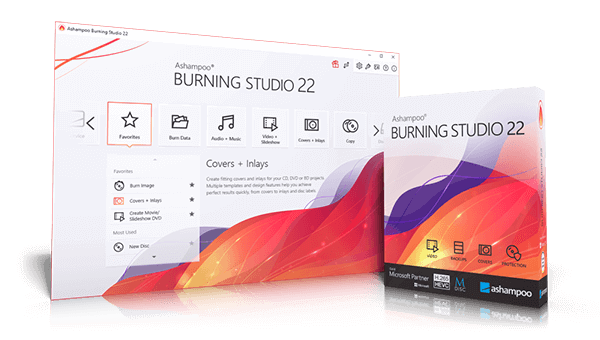 Benefits at a glance
Burn, copy and backup data with unbeatable ease of use
Create, cut and burn high-quality movies
Your photo memories as gorgeous slideshows
Create and burn audio discs complete with covers
Modern H.265 decoder for stunning video quality
Smart backup plans for reliable data backups
Perfectly arranged tracks in the best format for your car radio
The new Ashampoo® Burning Studio 22 is a powerful disc burning software that burns data, movies and music to CD, DVD and Blu-ray discs. In addition, the program boasts extensive multimedia features. You can produce and edit movies and slideshows or create video discs. Custom animated menus, opening and closing credits as well as customizable auto-play settings offer loads of exciting possibilities. Resulting files and discs are playable on almost any device thanks to built-in support for popular formats like MPEG-4, H.264, AAC, MP3 and WMA. Not only does the program also create MP3 and standard audio discs but also supports disc-ripping with automatic track naming and cover search. The integrated cover editor makes it particularly easy to create custom covers, booklets and inlays or disc labels. Thanks to disc spanning, data can be spread across multiple discs automatically and scratch protection ensures readability even for damaged discs. The backup section features smart planning options to back up data from cellphones and tablets to any medium. Version 22 features H.265 support for better multimedia versatility and a new search engine for automatic disc artwork and metadata retrieval during disc ripping. Customizable desktop shortcuts now offer instant feature access without going through the program menu first. The user interface has been further optimized for usability and new presets and templates for CD, DVD and Blu-ray artwork have been added. Special emphasis has been placed on overhauling various technical underpinnings to future-proof all features regarding burning, backups and conversions.