Your ultimate streaming recorder Find, record, save, convert and enjoy music, movies, radio & more
Save your favorite songs from any music streaming service easy, fast, legal, and top quality. Enjoy your music collection on all devices! Create your own movie collection as well!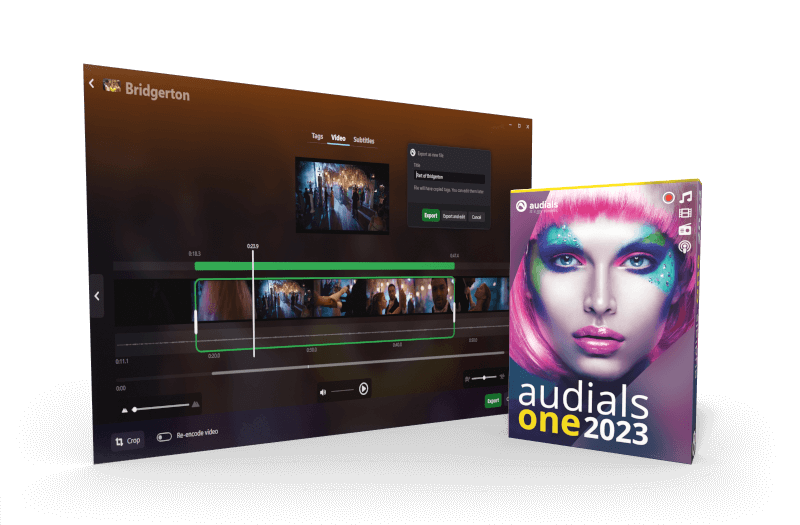 Your new video streaming browser & recorder
Audials works like a web browser and enables you to search for movies and series from any video streaming service and then play them back immediately, allowing you to watch the video while it's being recorded. Select "Record from beginning " to save the entire movie. You can also record the video in the background which lets you continue to use other functions while it's being recorded. This works for any video streaming website! Simply choose a video and save it. Thanks to our brand-new overview of streaming sources, it's easier than ever to find your favorite services.
Faster & easier recording scheduler
The new web browser can also be used to automatically save multiple movies one after the other. Simply search for videos using Audials and add them to your movie list. The recording scheduler will then play them in the background. Download huge collections of movies overnight!
Saving videos easier than ever
The new video streaming browser lets you browse video platforms directly from within Audials, enabling you to save all your desired content in no time at all. You can also easily select the format and resolution in up to 4k.
Edit out ads with ease
Use our brand new editor to remove unwanted parts from your videos, such as trailers, adverts and recaps. It even lets you view each individual frame of a movie sequence and remove it if you wish. Edit your movies, clips & series in a single click. The only parts of the video that will be re-encoded are the ones you change.
Automatically detect & remove ads
For videos recorded using Audials, the software automatically detects which parts contain trailers or ads. It then highlights them in the video editor, enabling you to easily remove them.
Remove black bars
If your recorded video contains black bars that irritate you, then simply cut them away with pixel precision by zooming in.
Subtitle search engine
This function enables you to find subtitles in almost any language and add them to your recordings at exactly the right time. Don't worry about missing any important dialog in your movie. Simply click on this function to automatically insert subtitles during recording.
Movie dialog in all languages
Set your preferred languages so that the subtitles are automatically detected and inserted in your language. Switch back and forth between subtitle languages with ease. Sounds simple? It is when you're using Audials one!
Play videos with subtitles
The video player now features useful extra functions and provides subtitles to help you better understand movie plots.
Impressive Netflix 5.1 surround sound
Enjoy unparalleled sound quality and experience an immersive cinema atmosphere. Some providers let you stream certain movies with 5.1 multi-channel audio. Audials one lets you take advantage of this and captures your recordings with cinema quality, even if your PC doesn't support this.
New video player
The video player includes useful extra features and displays subtitles to help you understand the plot of the movie. It also offers functions such as fast-forward, slow-motion and a preview along the timeline.
Improved encoder
GPU encoding has been greatly improved for use with the latest graphics cards. Witness new, more efficient encoding. Smaller files can now be generated with no loss in quality. You are guaranteed crystal-clear video quality.
Enjoy, discover and download music faster
Download music via our newly designed, easy-to-use main screen for artists, genres and top charts. Browse, edit and enjoy your own personal music as well as music from around the world in an extremely simplified format.
Make the most of your own music
Not only do you now have a much better overview of all your favorite artists, but you'll also be the first to see the top hits and biggest tracks in music. Albums are displayed in a clear fashion and can be folded out. Play relevant playlists right away and discover similar artists easier than ever before. All your music from various storage locations will be displayed in one place.
Download music with ease
Find music efficiently and download with ease. Discover entire discographies of every artist in the world by simply unfolding their albums which you can listen to or save right away. Round off your music experience with an array of playlists for pure music enjoyment!
Genres, styles & the hottest top charts
Discover new music by the hottest artists and enjoy the many excellent Audials Charts playlists. Creating your own personal style has never been so much fun. Select artists from your favorite genres and receive suggestions of similar artists and playlists.
Where would you like Audials to browse?
You can download all the music in the world from all major streaming services! Specify which ones you want to get music from, and even prioritize your favorite music sources.
Recordings more precise than ever
You can effortlessly record music streams in top quality and with utmost precision. All your favorite features have now been enhanced in this new version.
Download music streams safely
You can easily create your own legal copies and monitor whether the streaming service is able to detect if you're recording. We'll provide you with helpful tips prior to the recording process. Take back control of your recordings with the numerous settings options! Pay attention to data privacy to prevent any nosy portals from collecting your data.
Improved tag control
You now have more options when it comes to album tags. If you choose for Audials to search for the tags, it will automatically find everything and save it together with the respective song. However, you can also easily modify everything manually.
Specify file names and recording folders
Decide for yourself how you want Audials to name your recorded files, and apply your customizations to your entire music collection in a matter of seconds. You can also define whether and how you want Audials to organize your recordings into folders. Choose whether you want the folder or file name to not only include the artist and song title, but also the album, song number or genre, etc.
User-friendly duplicate management
In case you've accidentally recorded the same version of a track twice, you can easily manage and adjust this with the help of numerous options, such as find, prioritize or delete duplicate versions.
New design
Windows, menus and the user interface now feature a brand new design in the options. Changing something manually has an immediate effect on all other areas of the software.
Completely revamped settings
A wide range of options for adjusting the settings makes operation smoother in this modern design.
Highly optimized for Windows 11
Rounded corners and softer colors: the modern design of Audials blends in well with the new Windows 11. We have tested its functionality with this operating system extensively. Of course, Audials is also still compatible with Windows 10.