Scrum Product Owner m/w/d
Festanstellung Voll- & Teilzeit
Ashampoo GmbH & Co. KG
Du bist Product Owner und suchst eine neue Herausforderung, bei der Du Dein Produkt mit viel Eigenverantwortung voranbringen kannst? Du kommunizierst bevorzugt offen, selbstbewusst und geradeheraus und arbeitest gerne in einem motivierten Team? Dann würden wir uns sehr über Deine Bewerbung freuen!
Wer wir sind:
Wir sind ein mittelständisches Unternehmen mit offenen, familiären Umgangsformen.

Seit über 20 Jahren entwickeln und vertreiben wir Software, mit großen Partnern und Millionen Kunden. Unser Ziel: Leistungsstarke Produkte, die jeder einfach bedienen kann. Dabei kombinieren wir erfolgreich Eigenentwicklungen, Whitelabels und Fremdprodukte, um viele verschiedene Anwendungsbereiche abzudecken.
Das bringst Du mit:
Die Formulierung von User Stories, Backlogpflege und Taskpriorisierung gehen Dir locker von der Hand
Du stehst gerne im offener Austausch mit Stakeholdern und kannst verschiedene Meinungen, Interessen und Anforderungen gegeneinander abwägen
Du triffst eigenverantwortliche Entscheidungen zur Ausrichtung des Produkts am Markt
Du hast Erfahrung bei der Arbeit mit verteilten Teams und 100% Remote Teams
Du hast mindestens Basiskenntnisse in der Software-Entwicklung oder warst früher selber Entwickler.



Du kannst die technischen Herausforderungen der Produktentwicklung verstehen und abwägen.
Das erwartet Dich bei uns:
Du übernimmst das Product Ownership in einem agilen Scrum-Team. Wir möchten, dass Du das Produkt wirklich als "Deins" betrachtest und es mit Herzblut lenkst und vertrittst. Dein Team wird möglicherweise auch Remote-Entwickler beinhalten. 
Unsere Produkte richten sich an private Endverbraucher. Wir arbeiten also nicht nach Kundenaufträgen, sondern konzipieren unsere Produkte nach unseren eigenen Vorstellungen und bieten sie dann unseren Kunden an. Dadurch gibt es bei uns viele Freiheiten, eigene Ideen umzusetzen.
Du bist auch für die strategische Produktvision verantwortlich und solltest eine Vorstellung haben, in welche Richtung sich das Produkt langfristig weiterentwickeln soll, um am Markt erfolgreich zu sein.
Um die Entwicklung möglichst einfach und komfortabel zu gestalten, können unsere Produkt-Teams auf diverse Unternehmensressourcen zurückgreifen. Sei es Design, Kundensupport, QA oder Marketing-Knowhow: Es gibt viele Bereiche, in denen jederzeit unkompliziert Unterstützung bereitsteht.
Was die Arbeit bei uns besonders macht:
Uns ist wichtig, dass sich unsere Mitarbeiter wohlfühlen. Frühstück und Mittagessen sind für alle kostenlos, ebenso Kaffee und kalte Getränke. Dresscodes haben wir nicht. Unser schönes, stylisches //CRASH Building bietet für Kick-offs, Präsentationen und Video-Calls jede Menge Optionen – seien es offene Thinktanks, Projekträume oder kreativ eingerichtete Meetingräume. Wenn Du stattdessen lieber einige Tage pro Woche im HomeOffice arbeiten möchtest, ist dies auch kein Problem (in Hochzeiten der Pandemie sogar ganz ohne Beschränkung). Deine Hardware kannst Du größtenteils selber wählen. Fort- und Weiterbildungen sind bei uns immer möglich. Der Bus fährt dich fast vor die Haustür. Auch noch typisch für uns: mehrmals im Jahr machen wir den Laden für Teamevents dicht. Warum das alles? Weil wir, ohne ein zufriedenes Team, nicht das wären, was wir heute sind und in Zukunft sein werden. Wir freuen uns auf deine Bewerbung!
---
Starte eine 360° Tour durch's //CRASH Building:


Our Address
//CRASH Building
Schafjückenweg 2
26180 Rastede
Phone:
04402 9739-200
Contact:
Lara Eilers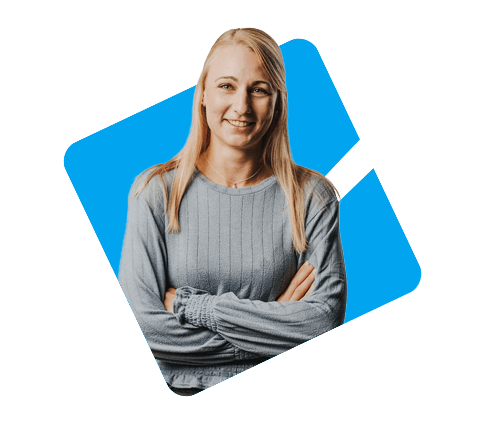 ---
---
Our office, the //CRASH Building, is ideally accessible from Oldenburg. Via beautiful country roads you can reach us by bike in 35 minutes from downtown Oldenburg. Bus 440 departs hourly from Pferdemarkt, taking you to your destination in just 13 minutes. If you have the option of coming to the office by car, you can reach us in just a few minutes via the A 29 or A 293.
Our Benefits
Frühstück & Mittag for free
Getränke & Snacks for free
We process your data within the scope of applicant management for the purpose of deciding on the establishment of an employment relationship in accordance with § 26 GDPR. Find more information in our
privacy policy
.
Back to summary