Significantly extends the lifetime of SSDs and prevents wear and tear
Solid state drives (SSDs) are an essential part of today's computer hardware. To ensure longer life and optimal functionality, regular monitoring is required. Enter SSD Fresh, an innovative software solution for continuous real-time SSD monitoring. The software provides live information on the status of SSDs, enabling quick responses in critical situations. An easy-to-read temperature gauge helps keep track of an SSD's temperature, while S.M.A.R.T. analysis provides a detailed evaluation of the SSD. With just one click, system settings can be optimized to prolong the life of the SSD. In addition, SSD Fresh provides live analysis of write operations and a clear overview of programs that consume the most data.
Permanent real-time protection
Clear temperature display
One-click system optimization
Innovative S.M.A.R.T. analysis
Detailed overview of relevant SSD information
Live analysis of write operations to SSD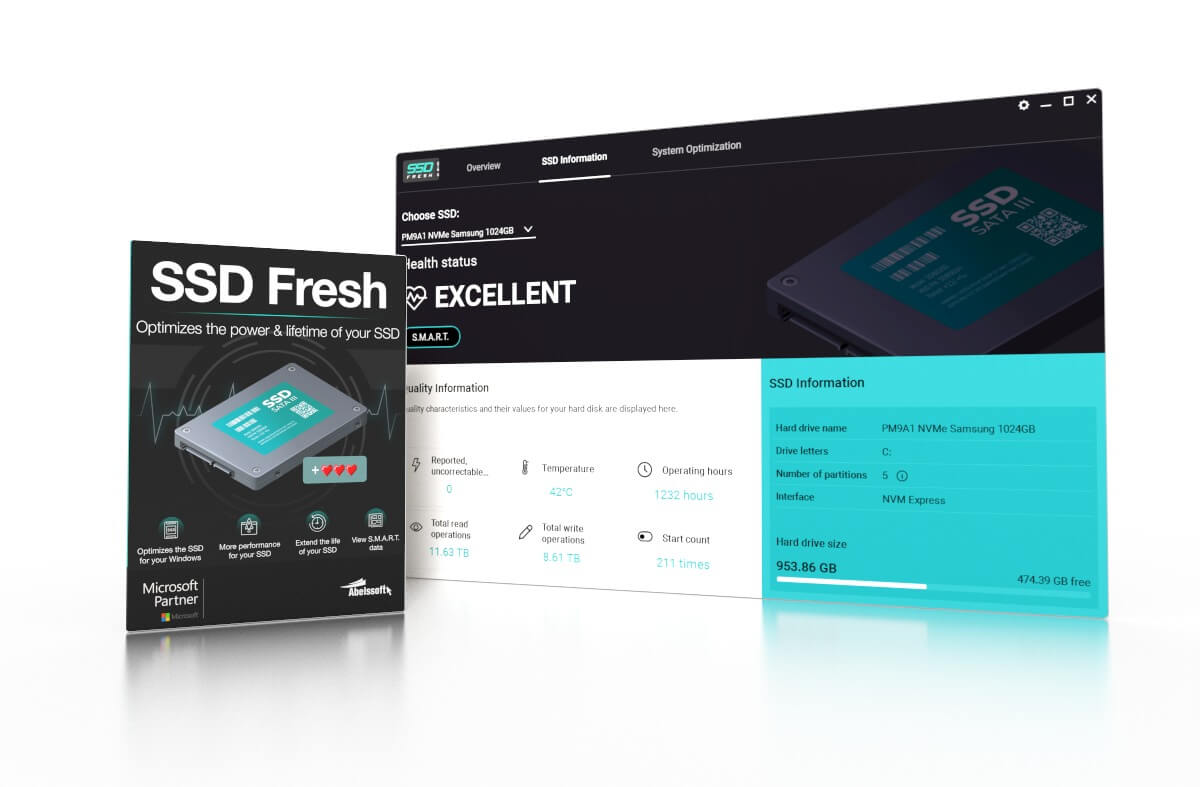 What is the condition of my SSD? SSD Fresh shows you in real time!
SSD Fresh shows you the condition of your SSDs in real time and informs you about temperature, number of write operations and more. With this clearly presented information, you can react as soon as the condition of your SSD hard drives becomes critical and measures need to be taken.
Significantly extend the life of your SSD - simply with a mouse click
Superfluous read and write accesses drastically reduce the lifespan of SSDs. With SSD Fresh, you can optimize the system settings simply with a mouse click or carry out more detailed optimizations manually. In this way, you deactivate unnecessary services and accesses and take perfect action against SSD hard disk wear.
S.M.A.R.T. data: All relevant information about my SSD
Reading out the S.M.A.R.T. data provides you with vital information about your SSDs. This includes read error rate, number of write operations, number of operating hours and more. With this knowledge, errors can be detected at an early stage to prevent sudden hard drive crashes.