The anti-tracking solution for everyone
F-Secure FREEDOME VPN protects your online privacy and keeps you safe from hackers, trackers and intrusive ad profiles. Say no to online surveillance and get F-Secure FREEDOME VPN today!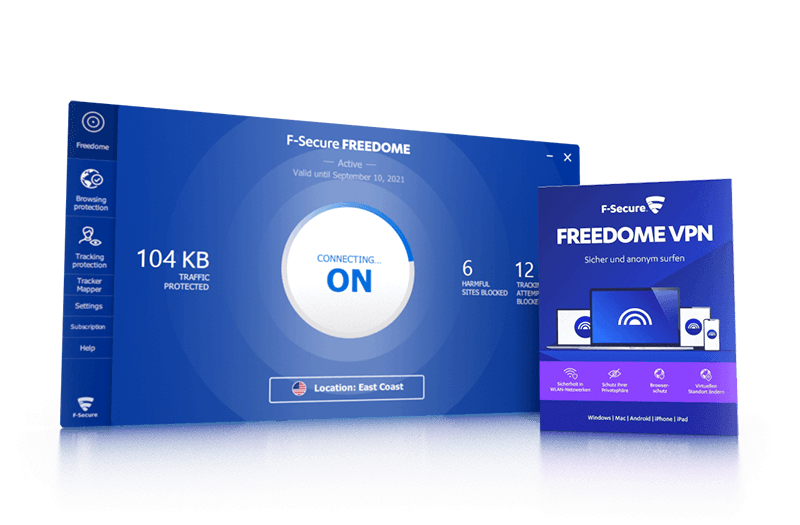 Privacy protection: Encrypt your connection and hide your real IP from websites to protect your privacy.
Browsing protection: Protect yourself against malicious and dangerous websites.
WLAN protection: Protect your internet connection to avoid spying on public Wi-Fi networks.
Trusted Wi‑Fi networks: Optionally disable VPN tunneling on Android devices in trusted networks, e.g. your home network.
Whitelist apps that bypass VPN: Disable VPN for specific apps on Android devices. This may be necessary for some apps that block VPN users.
Virtual location: Pick your location from over 20 countries to avoid geoblocking and add an additional layer of protection to your privacy.
Tracking protection: Prevent ad companies from tracking and monetizing your web browsing behavior.
Tracker mapper: Get a detailed 24-hour picture of your recent online connections across all your devices.
Malware protection: Scan Android apps for malicious content, like viruses, trojans and ransomware.
Use on Android TV: Enjoy streams from all over the world on your Android and compatible TVs.
Kill switch: Cut all traffic in the event of intermittent VPN failure and prevent your data from leaking to the internet. Works with Windows, Mac and Android.
Protection statistics: View details on the amount of traffic protected through FREEDOME as well as the number of tracking attempts and blocked websites.
Multi-language support: F-Secure FREEDOME supports over 20 languages.
Unlimited traffic: Surf the web and download files completely free from bandwidth and transfer limits.
Backed by over 30 years of security experience
Protect your online privacy
FREEDOME VPN is made by a respected cyber security company with over a 30‑year track record in fighting for consumers digital rights. Hide your IP address and online traffic from prying eyes, access content across geographic boundaries and prevent user tracking!
Safe also on the go
Public Wi-Fi protection
Public Wi-Fi networks, e.g. in malls, restaurants or hospitals, are unsafe without VPN. Your online traffic can easily be inspected and recorded by others. F-Secure FREEDOME VPN protects your privacy on public Wi-Fi through encrypted network tunnels.
Online anonymity
Hide your real IP address
Change your IP location and select from over 20 states so websites and ad providers no longer learn your real IP address! F-Secure FREEDOME VPN also comes with additional browsing and malware protection to block malicious content–and a kill switch should all else fail!
Unlimited traffic across the globe
Always maximum safety and privacy wherever you are
There's no cap on your network traffic, so feel free to stay online 24/7 and download whatever you want! And best of all: F-Secure FREEDOME VPN works with and protects all your devices, whether Windows, Mac, Android or iOS! Even your Android TV is now anonymous online!