The ultimate sharpness
SHARPEN projects guarantees razor-sharp photos, no matter whether your shots suffer from focus deviations, incorrect focus positioning or blurriness. Owners of high resolution digital cameras know that resharpening is the final and most important step in professional image processing. And they will benefit the most from the improved sharpening algorithms in SHARPEN projects 3!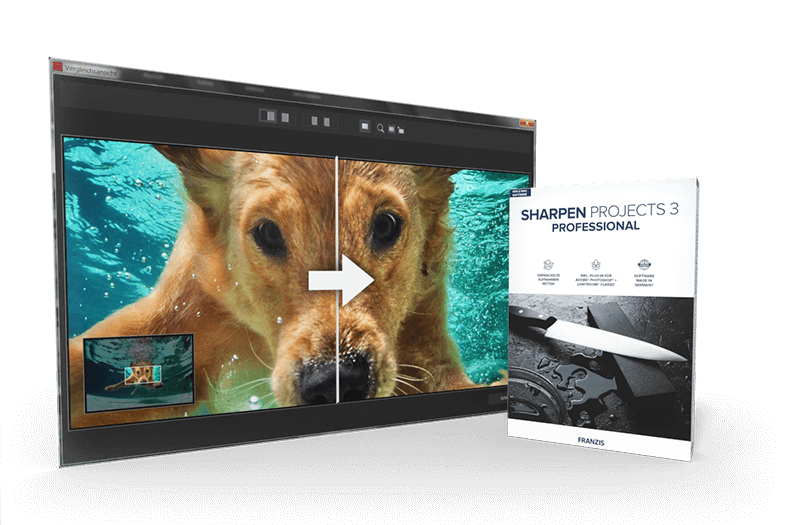 New for you
NEW: Intelligent masking
NEW: "Pro Infinity" mode
NEW: Oversampling mode
NEW: "Color filter" module built into selective drawing
NEW: Resize shots before saving for Facebook etc.
PRO: Plug-ins for Adobe Photoshop®/Lightroom® Classic
The technology behind SHARPEN projects
Slight camera shakes can quickly lead to pixel blur that affects groups of up to 30 pixels and utterly ruins your pictures! SHARPEN projects uses Adaptive Multiscale Deconvolution that analyzes up to 100 pixels around affected areas to counteract this effect. This technology goes beyond what similar products can do and will give your pictures superior visual clarity that matches high-end tools!
Benefits at a glance
Portraits: Sharpen mouths and eyes selectively
Sports photography: Correct motion blur
Eliminate blurriness caused by long exposure times
Bring out details in macro shots
Sharpen telephoto shots masterfully
Perfect sharpness for print-ready blowups
Powerful mist and fog correction
Adaptive Multiscale Deconvolution: Innovative blur correction with 100x detection zone
Adaptive Gradient Sharpening - brilliant sharpness for landscapes, still portraits, macro shots and product photos
State of the art scratch and image error correction
Resharpen with twice the mathematical precision!
No more blackbox: SHARPEN projects shows you when perfect sharpening has been achieved–with mathematical precision! Version 2 now supports different quality modes.
Version 1 already set the bar high with state-of-the-art 100x100 pixel blur analysis. But SHARPEN projects 3 ups the ante once more with twice the pixel count both horizontally and vertically! This is perfect particularly for owners of high pixel density cellphone cameras and DSLRs with large sensors.
Natural resharpening without loss of fidelity
Natural Grain Engine is the magic formula for naturally-looking shots despite resharpening. This new technology puts an end to portraits that look like window mannequins.
Thematic presets
Presets help especially casual users who don't use professional sharpening software on a daily basis achieve great results. They offer a thematic-approach with fine-tuning for specific themes, e.g. macro shots, soft edges, contours, etc.
Special functions for macro photographers
There's never enough sharpness with micro shots! Especially around the edges, where even decent lenses fail.