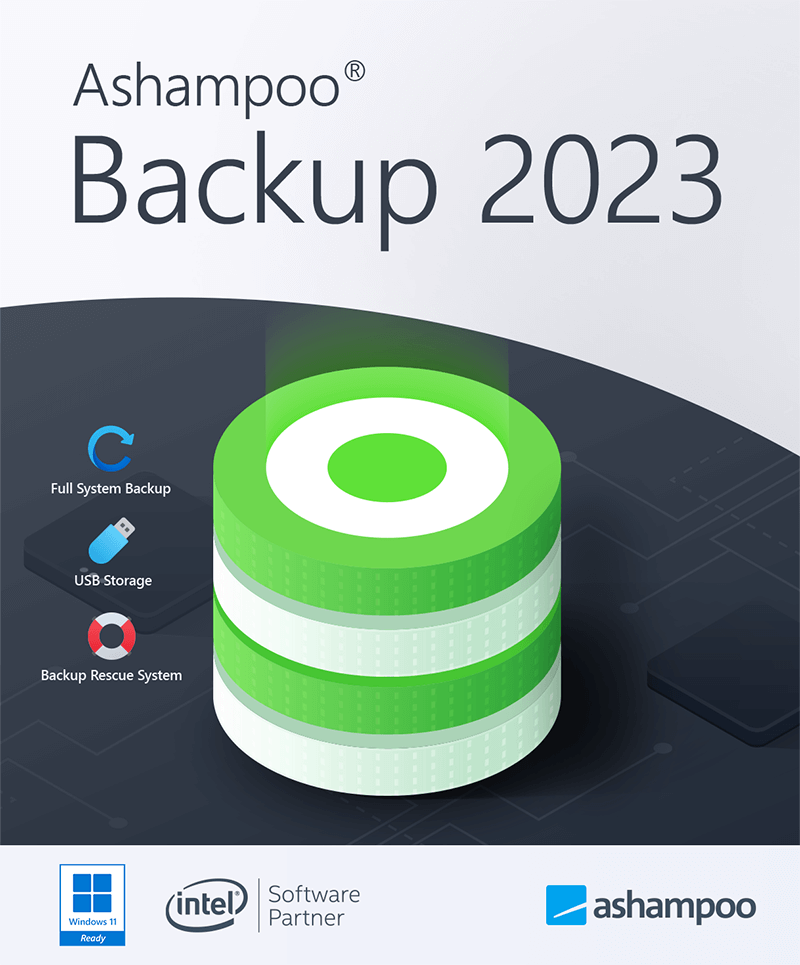 Ashampoo® Backup 2023
Product info
Overview
Version: 17.03
ID: 2059
Release date: 2023/01/30
Trial Period: 30 days
Category: System Utilities
Pricing and languages
Price: EUR 29.99, USD 29.99, GBP 19, AUD 49.99, BRL 59, CAD 49.99, CHF  29.99, CNY 199, DKK  229, HKD 299, HUF  8,500, MXN 499, NOK  269, NZD 49.99, PLN  129.99, RUB  1,999, SEK  299, TRY  189, TWD 999
Languages: Belorussian, British English, Bulgarian, Catalan, Chinese (simplified), Chinese (traditional), Czech, Danish, Dutch, English, Finnish, French, German, Hungarian, Italian, Korean, Latvian, Norwegian, Norwegian Nynorsk, Polish, Portuguese, Portuguese (Brazilian), Rumanian, Russian, Serbian, Serbian, Slovakian, Slovenian, Spanish, Spanish (Argentina), Swedish, Turkish
Size: 96,00 MB
Program artwork and Ashampoo logo
Download mediapack
The media package contains all relevant graphics for use in your work. Aside from program artwork, it also includes our logo.
Download media package here
Highlights
- complete backups in just a few clicks
- restore even corrupt or infected systems with ease
- no more data loss with always up-to-date backups
System requirements
Operating System
Windows 11, Windows 10
Requirements
Any device that supports the operating systems listed above.
Other
An Internet connection is required to activate the program. The program license is verified repeatedly at regular intervals.
Full administrative rights are required to use the program.
Keywords
Image, Tool, Data , Storage, Files, Drive, Cloud, System, Software, Incremental, Machine Copy, Process, Protection, Backing, Backup software, Backup and Restore, Recovery, Hard drive backup software,