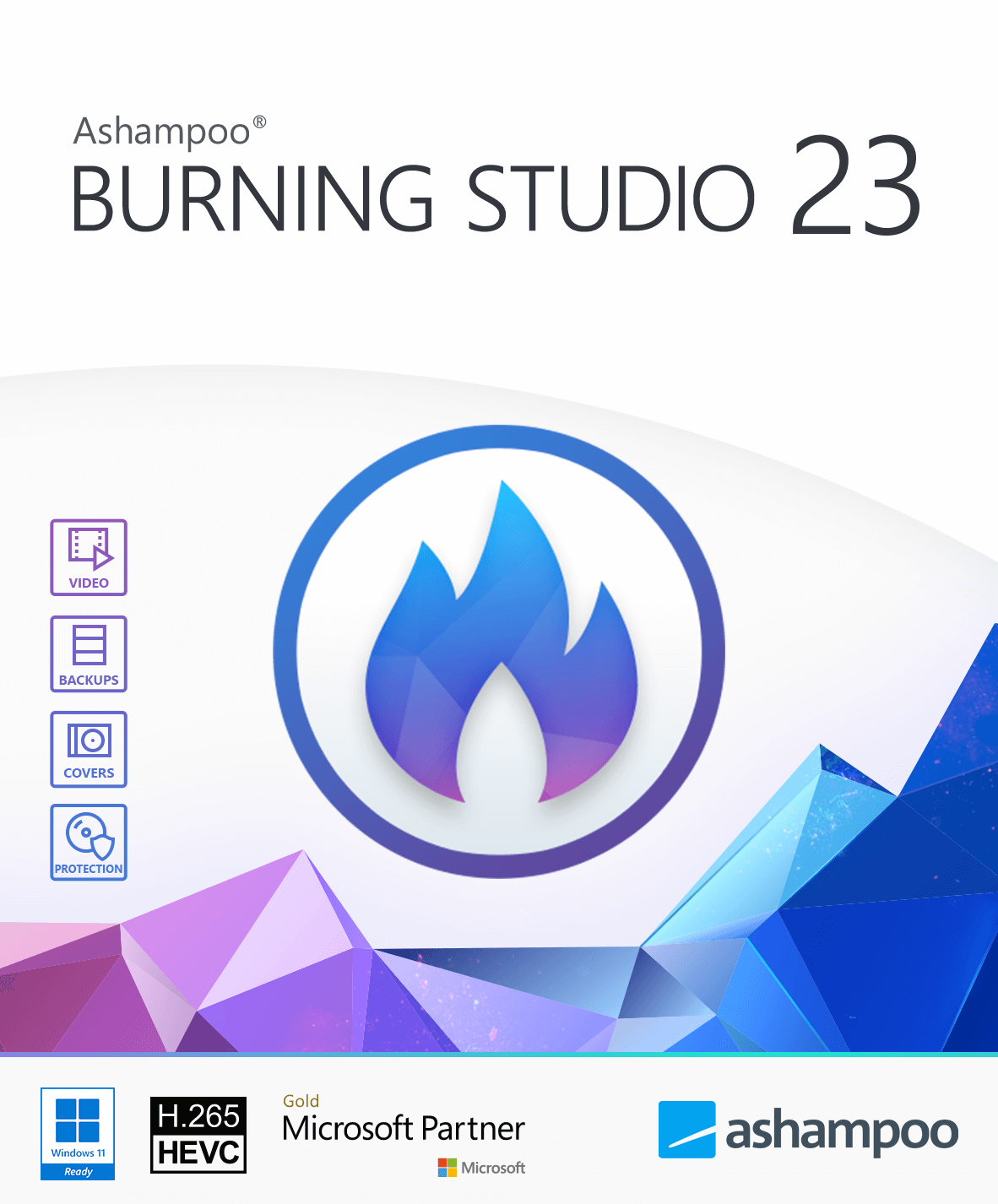 Ashampoo® Burning Studio 23
Product info
Overview
Version: 23.0.12
ID: 6010
Release date: 2021/12/06
Update release date: 2022/12/20
Trial Period: 30 days
Category: Burning Software
Pricing and languages
Price: EUR 49.99, USD 49.99, GBP 43.99, AUD 69.99, BRL 149.99, CAD 69.99, CHF  59.99, CNY 379, DKK  389, HKD 499, HUF  15,500, MXN 799, NOK  429, NZD 69.99, PLN  199.99, RUB  2,699, SEK  489, TRY  299, TWD 1,599
Languages: British English, Bulgarian, Catalan, Chinese (simplified), Chinese (traditional), Czech, Danish, Dutch, English, Finnish, French, German, Greek, Hungarian, Italian, Korean, Latvian, Norwegian, Norwegian Nynorsk, Polish, Portuguese, Portuguese (Brazilian), Rumanian, Russian, Serbian, Serbian, Slovakian, Slovenian, Spanish, Spanish (Argentina), Swedish, Turkish
Size: 170,00 MB
Program artwork and Ashampoo logo
Download mediapack
The media package contains all relevant graphics for use in your work. Aside from program artwork, it also includes our logo.
Download media package here
Highlights
- Fully Windows 11 compatible
- Extensive audiobook module
- Auto-sort audiobook chapters
- More project versatility with intermediate buffering
- Enhanced cover search
- Quick ripping tool
System requirements
Operating System
Windows 11, Windows 10
Systems with ARM processors are not supported.
Software:
Microsoft .NET Framework 4.5
RAM
2 GB
Hard Drive Space
250 MB for installation
Up to 9 GB for temporary files (DVD)
25/50 GB for temporary files (Blu-ray)
100 GB for temporary files (Blu-ray XL)
Graphic card
DirectX 9 Hardware Pixelshader v2.0, min. 128 MB RAM.
Sound Card
Any standard sound card (on-board or USB)
Other
An Internet connection is required to activate the program. The program license is verified repeatedly at regular intervals.
For some services an Internet connection is required Internet connection may be required to verify the serial number during usage of certain features.
Keywords
Ashampoo Burning Studio, burn, CD burner, DVD burner, Blu-ray burner, backup, multimedia suite, burning software