Turn your personal photo albums into memorable movies!
Movavi Slideshow Maker is the easy way to turn your photos into stunning slideshows. Background music, various transitions, overlays and opening/closing credits help you create a special atmosphere perfect for private, education and business use cases. Add a sense of dynamics to your photos and use voice narration, texts, sound effects and logos to make your slideshow special - no prior knowledge required thanks to intuitive work flows.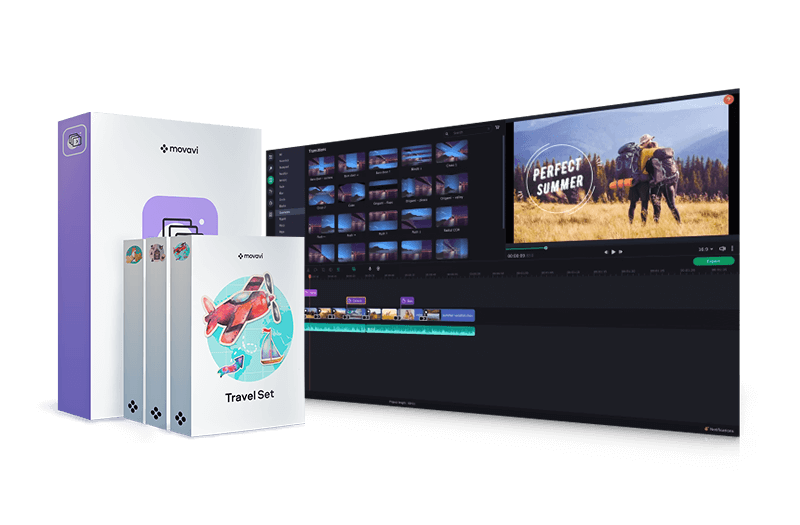 Support for popular video and image formats: JPG, PNG, BMP, RAW, MP4, MOV, AVI, and more
Montage Wizard creates themed slideshows automatically
Video track management: trim or delete segments, rotate frames, enhance quality, insert stylish filters, connect slides with smooth transitions
Adjustable sound: set volume, reduce noise, apply audio filters
Professional special effects and tools: Chroma Key, object animation, lookup tables, and more
Collections of themed titles, transitions, music, and backgrounds
Travel Set, Family Set, Seasons Set effects included
Three awesome effect packages included
Family Set

Create memorable family videos for your nearest and dearest.

61 Titles
39 Stickers
33 Transitions
16 Backgrounds
20 Audio files
Seasons Set

Add the bright colors of the four seasons to your videos and slideshows for extra pizzazz.

69 Titles
34 Stickers
33 Transitions
18 Backgrounds
15 Audio files
Travel Set

Transform your ordinary vacation videos into a awesome travel diary.

150 Titles
47 Stickers
45 Transitions
18 Backgrounds
21 Audio files
A great-looking slideshow in a couple of clicks!
Have a collection of travel photos? Maybe whole albums of birthday parties or other memorable events? Now you can turn these photos into stylish slideshows with Movavi Slideshow Maker! When your creation is complete, you can save it in any video format or convert it for viewing on any device. You can also make the project portable so you can edit it on other computers. You can even upload the video to YouTube or Google Drive right from within the program.
Preserve happy memories

Want to make your loved ones feel special? Create a personalized video slideshow. It's the perfect gift to convey your emotions and preserve unique vacation and family holiday memories for a lifetime.
Congratulate and motivate

Congratulate the people you're most proud of as they cross their major milestones. Celebrate a friend's birthday or wedding, or celebrate your children's graduation. Use captions and voice-over to tell your unique story.
Promote your brand

Build a personal brand on social media and expand your influence. Tell customers more about your business and products and gain more profit and loyalty. Upload to YouTube, Vimeo, or Google Drive right from the app.