Is it possible to make an already well-engineered defragmentation software even better?
Whenever it saves data, Windows scatters file fragments all over the hard disk to improve write speed at the cost of read speed. Defragmentation remedies this by rearranging data fragments sequentially for faster file access times. This not only improves performance but also reduces the wear and tear on your hard disks!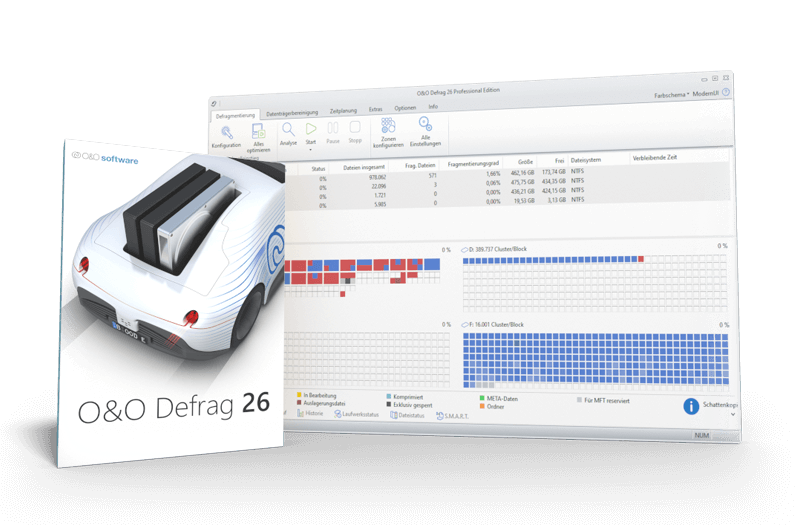 Maximum performance for your PC
Defragment your PC at the click of a button
Prolongs the lifespan of your hardware
Even faster system and program launches
"Check & Repair" Function
Remove unwanted Apps with O&O AppBuster
Two Interface styles, Classic & Modern
Easy handling for beginners and pros alike
Faster web browsing
Less wear and tear and full performance with O&O Defrag
Optimizing your computer not only means it operates at optimum speed and efficiency, it also means it will live longer. Deploying O&O Defrag saves you time through increased speed, and money through decreased wear and tear on your hardware. We have further improved O&O Defrag for you with some great new features. The new O&O Defrag Pro takes system optimization to a new level.
"Check & Repair" Function
New also in the modern UI is the Check & Repair function. O&O Defrag Pro checks your hard drive or SSD for inconsistencies that can lead to problems. The component memory and the Windows system files are checked for errors. After the check is complete, O&O Defrag will show you whether and which errors were found. Most errors can be corrected directly with the repair function.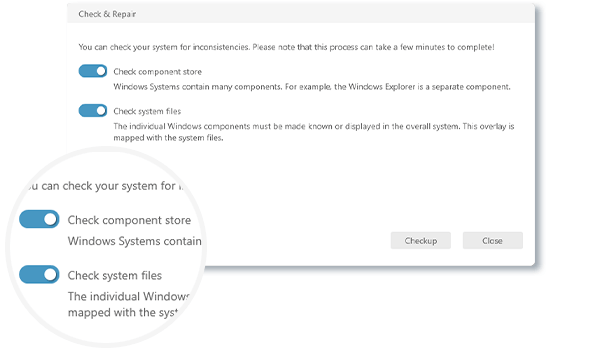 Remove unwanted Windows Apps with O&O AppBuster
O&O AppBuster shows you which apps are installed on the computer, even hidden apps are also displayed. O&O AppBuster lets you remove unwanted apps quickly and easily. Or, if one of these apps was accidentally uninstalled, it can be restored with just one click.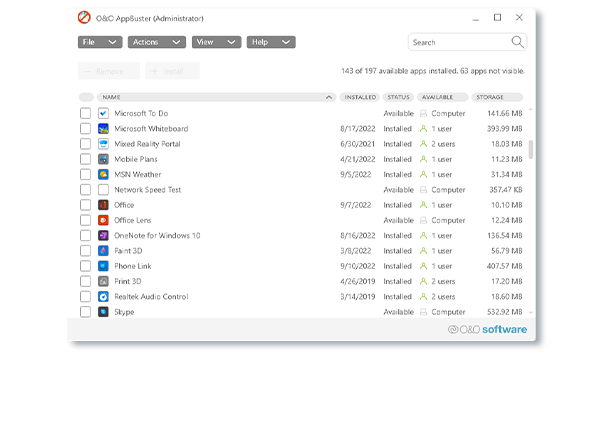 Two Interface styles, Classic & Modern!
Brand new in O&O Defrag Pro is a choice of two interfaces: Classic and modern! The Classic is the familiar UI, but we now offer a modern interface, much simpler and streamlined for set and forget fans. Simply choose your style and let O&O Defrag do the rest for you. In O&O O&O Defrag Pro you can switch at any time between the classic view with all professional settings and the modern view reduced to the essentials.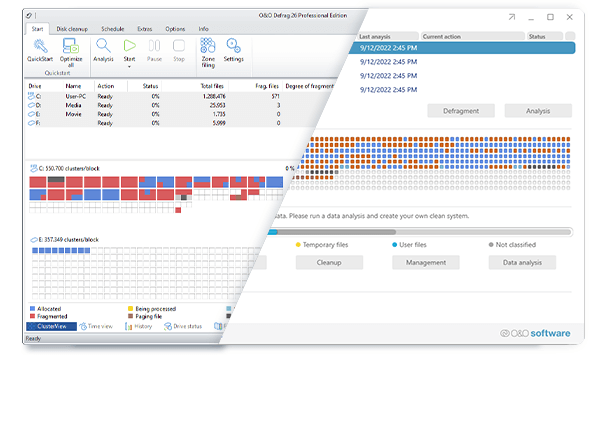 Automatic background defragmentation
Automatic defragmentation can be configured with just three clicks and optimizes your disks behind the scenes with no negative impact on your computer's performance. You can set O&O Defrag to run defragmentation at a certain level of fragmentation, on particular days of the week, or whenever your screensaver is being used. Defragmentation can be paused and resumed whenever you want because O&O Defrag automatically recognizes where defragmentation was interrupted.
Recommended use
We recommend manual defragmentation for PCs that are being used heavily because only a user can decide when the time is right to give up the performance needed for running defragmentation. On computers using video editing or graphics applications, O&O Defrag can be configured to not start automatic optimization while certain programs are running. The default settings in O&O Defrag are more than adequate for ordinary desktop PCs running mainly internet or office applications. O&O Defrag is also perfect for notebooks. Whenever an external power supply is disconnected, O&O Defrag automatically goes into pause mode to save energy
Highlights
SOLID/Quick: quick and gentle surface optimization for SSDs that also wipes free space
SOLID/Complete: optimized algorithm that provides thorough disk cleaning for SSDs
SSD ClusterView: reports the level of fragmentation for SSDs faithfully and reliably
O&O DiskCleaner: detects and removes temporary and unnecessary files that consume space and increase fragmentation
Identifies most heavily fragmented files with Fragment Filter
Wipes free space to protect your privacy
Reduces and optimizes VM and SAN memory usage with Thin Provisioning
Time line to review the optimization effect of individual defrag activities
Easy to use: perfect for beginners and professionals
Improves system and application startup times
Up to 40% faster defragmentation
Defragments locked files
Efficiently prevents future disk fragmentation
Prolongs hardware lifespan
Speeds up web browsing
Improves your chances to recover lost files
Speeds up backup and file recovery processes
Defragments your PC at the click of a button