More memory,
more speed
The free Ashampoo Droid Optimizer app helps keep your smartphones and tablets fast and clean.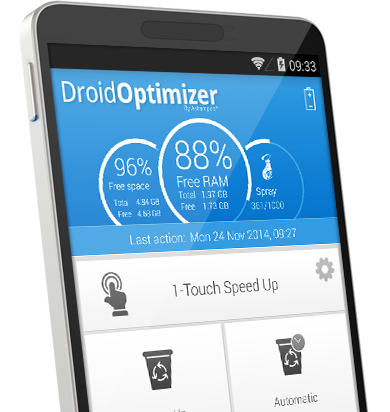 Download
Android is a trademark of Google Inc.


Ashampoo GmbH & Co. KG | Felix-Wankel-Str. 16 | 26125 Oldenburg / Germany
Company
Company
HILCHNER & BOGENA Beteiligungs GmbH
CEO
Sebastian Schwarz, Jens Klibingat
Supervisory board:
Rolf Hilchner, Heinz-Wilhelm Bogena
Sales Tax number
Ashampoo GmbH & Co. KG,
Ust.Ident.Nr. DE204940257
The registrar of companies
Ashampoo GmbH & Co. KG HRA 3618,
Handelsregister AG Oldenburg
HILCHNER & BOGENA Beteiligungs GmbH,
HRB 4490, Handelsregister AG Oldenburg
Phone
Phone: *
+49 441 93379-0
Fax
+49 441 93379-79
* Free support is being provided by e-mail within 48 hours. We do NOT provide telephone support.
About
Disclaimer
Ashampoo GmbH & Co. KG is not responsible for any content of linked websites.
Company
Ashampoo is one of the leading Internet-based companies worldwide in the field of software development, sales and web portal sites. Ashampoo's innovative software products set technological standards right from the start and are known for their advanced, mature technology and usability.
Learn more about Ashampoo here
Memberships/Partner

Blu-ray Disc Association
Microsoft® Corporation

M-Disc

Intel® Software Partner Program