Ashampoo PDF Pro 2 - The complete solution to create and edit PDF documents
With PDF Pro 2, German-based software developer Ashampoo has released the next iteration of their PDF editor to create, edit, convert, merge and protect PDF documents with a wealth of new options. Ashampoo PDF Pro 2 now supports creating and editing interactive forms and features a side-by-side comparison view for PDFs. A new screenshot feature makes it easy to capture document contents and the legally valid bates numbering is equally well suited for small and large document archives. Furthermore, added support for PDF 1.4 achieves great backwards compatibility. In addition, colors can now be replaced throughout entire documents and the new unified editing mode, along with a clearer menu structure and more meaningful toolbars, provide greater visual clarity and faster results.
more
Back to top
Ashampoo Cinemagraph - vivid imagery and looped videos that will wow your audience
Oldenburg-based software developer Ashampoo presents Cinemagraph, a new fuss-free solution to create cinemagraphs in no time. Cinemagraphs combine the tranquility of static images with the dynamics of motion and command attention. This logical and intuitive cinemagraph software enables anyone to create vivid and engaging imagery. With the simple stroke of a brush, video portions are instantly rendered static or dynamic to capture and freeze their magic. Cinemagraphs are a genuine eyecatcher on every homepage and social media profile!
more
Back to top
Ashampoo ActionCam - video editing software for action cam and drone videos
With ActionCam, German-based software developer Ashampoo offers a brand-new solution to comfortably optimize and post-process action cam and drone footage easily in just a few clicks. Ashampoo ActionCam also merges separate clips into one and exports highlights individually. Automatic video stabilization and sharpening are also included to quickly fix issues like camera shakes or lens distortions, quite common with action cam or drone videos. For additional vibrancy and vividness, contrast, color and white balance settings are also optimized fully automatically.
more
Back to top
To many press releases at once?
Company info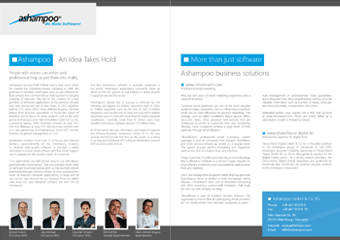 The basic idea – selling software only over the Internet – sounds simple today, but in 1999 this was revolutionary.
With a handful of staff, a 64kbit (ISDN) leased line and a small office, Rolf Hilchner, whose own sector knowledge goes back to the year 1984, started with the realization of this idea. Henceforth software, which was developed in-house, has been sold over the Internet, excluding specialized shops. This strategic orientation paid off.
Read the whole company portrait here