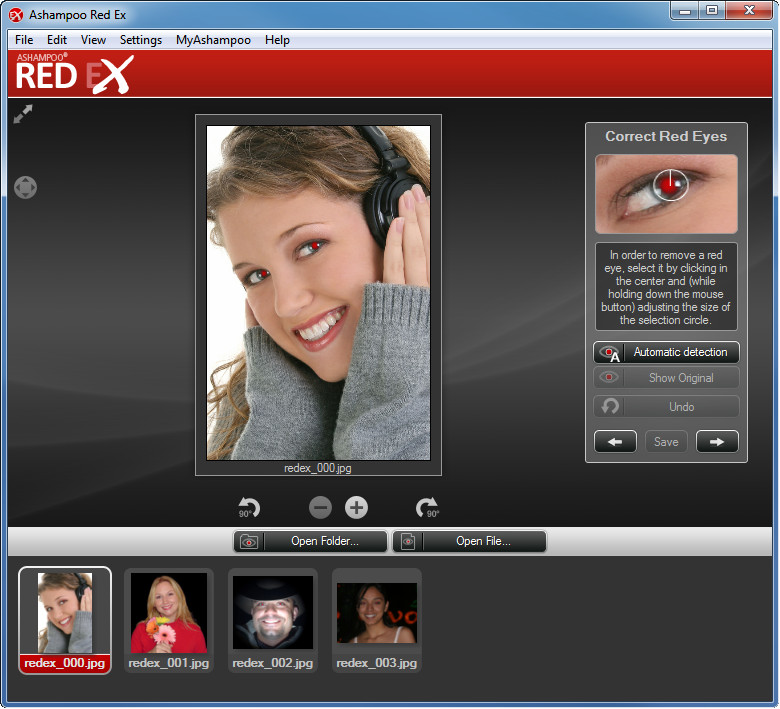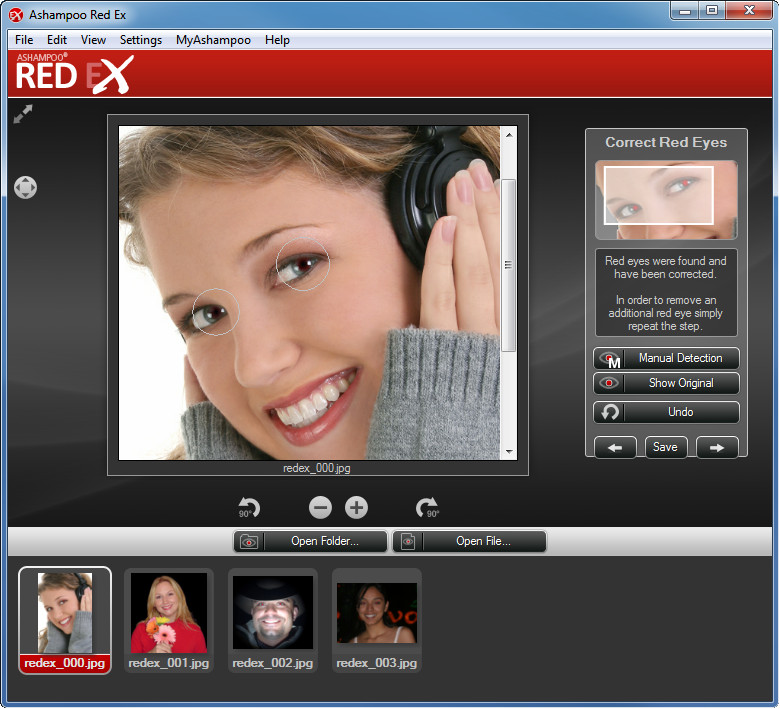 Never again red eyes in your digital photos!
Who doesn't know this: On a party lots of photos are taken and later when looking at the pictures, you realize that the eyes of a lot of guests appear red. This is really annoying!

Nevertheless, this flaw does not mean the end of beautiful and precious pictures full of memories. Without a big effort red eyes can be retouched easily with Ashampoo Red Ex. And thanks to excellent results you can still enjoy your pictures.

There's no prior knowledge in image processing required to use Ashampoo Red Ex. In the intuitive picture editor you get detailed descriptions on every step of the editing process. Even an automatic red-eye detection and correction is integrated.

Ashampoo Red Ex is your specialist for red-eye removal so that your digital pictures become perfect memories.
Program features
Automatic / manual red-eye correction
Load / Save these file formats: JPG, BMP, PNG, TGA and TIF
Quick comparison with the original
Comfortable preview bar with your photos as thumbnails
Easy description of each step directly in the editor
Red-eye correction on digital pictures can be this easy
Thanks to Ashampoo Red Ex you will never be annoyed about red eyes on your digital photos.

The red-eye effect occurs when a photo is taken with flashlight and this meets the eyes in an unfavorable angle. Then the retina reflects the flashlight and the eyes appear red.

Ashampoo Red Ex contains a sophisticated technology that automatically detects red eyes on the basis of defined parameters. The program replaces the red with a darker more natural tone, as if the red eyes had never been there.

For the use of the automatic detection of red eyes, you just have to drag a frame with your mouse around the area with the red eyes and Ashampoo Red Ex will do the rest for you. Of course, a manual red-eye removal is always possible.
Descriptions directly in the picture editor
The picture editor provides you with information on each step of the editing process, so that you will always know which action Ashampoo Red Ex is performing or rather which step is coming next.
Comfortable navigation through your picture collection
In the integrated bar at the bottom of the user interface of Ashampoo Red Ex the photos from a folder are displayed as thumbnails. This way you can quickly and easily access all pictures.

With the straightforward postprocessing including the automatic red-eye detection the red-eye effect will be a thing of the past.
Requirements
Operating System:
Windows® XP, Windows Vista®, Windows® 7.

Computer:
Any computer that runs one of the operating systems above.
Graphics card: min. resolution 800 x 600 with 1 MB memory and 16-bit color (high color)
Recommended: resolution 1280 x 1024 or better, true color

RAM and disk space:
1 GB RAM or more, hard disk space 75 MB

CPU:
1500 MHz (or higher) x86/x64 CPU

Languages (31):
German, English, Dutch, French, Hungarian, Russian, Polish, Norwegian, Portuguese, Spanish, Swedish, Turkish, Slovenian, Czech, Chinese (simplified), British English, Portuguese (Brazilian), Hebrew, Arabic, Dansk, Croatian, Greek, Taiwanese, Catalan, Vietnamese, Slovakian, Finnish, Low German, Spanish (Argentina), Belorussian, Georgian

Trial period:
40 Days (10 days + 30 days after e-mail registration)

Download link:
http://www.ashampoo.com/ashampoo_red_ex_sm.exe (10.34MB)