You can feel the incredible optimization power of Ashampoo® WinOptimizer 18 right from the get-go! Take care of eight major problem areas of Windows in just a single click and kick your system into overdrive. Get rid of junk data, like web browsing traces, fix useless Registry entries, remove broken shortcuts and disable unnecessary services. WinOptimizer 18 is your one-stop, one-click performance, security and stability booster! Optimize your security, system and autostart settings in just a single click! Reclaim your system resources and enjoy faster startup times and a smoother overall Windows experience thanks to more available memory. Naturally, all features are future-proof and ready for the latest Windows updates!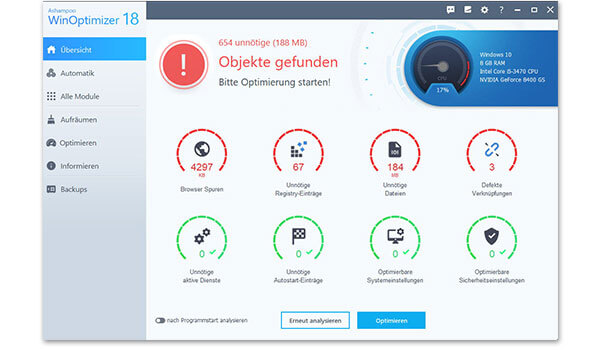 Windows collects a lot of data and makes some foul compromises regarding system security. Win10 Privacy Control and Antispy, both included in the program, give you back control of your system! You decide which passwords, telemetry data or photos are sent out or, even better, kept private. Crack down on unsolicited tracking of your PCs, personalized ads or far too nosy programs!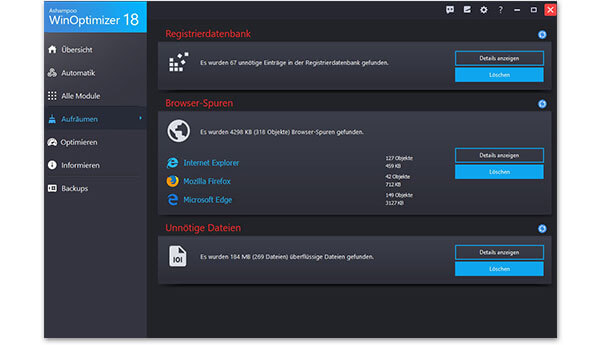 Windows is continually evolving, thanks to updates, and so is Ashampoo® WinOptimizer! Our development team works hard to guarantee smooth operation before and after all Windows updates. Windows 10 received over a dozen updates in the past year and we analyze each one meticulously. Continual program updates ensure your WinOptimizer keeps up to speed with Windows, no matter what the change. This includes fixing issues introduced through Windows updates, because WinOptimizer not only cleans your PC but also repairs it.