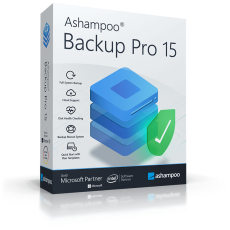 The backup solution for optimal security
Ashampoo® Backup Pro 15 creates backups from any file type, even entire operating systems. The program works fully automatically in the background to prevent data loss. Restoring backups will help with system failure, malware infections or hardware issues.

Your PC is under constant threat from all kinds of malware. A single wrong click, a security hole in your system, or an infected email is all it takes to trigger disaster! Antivirus programs can never detect and neutralize all malware. Experts believe 300,000 new threats are created and distributed every day. Ransomware that targets your wallet in return for access to your files is particularly prevalent. Do you really want to negotiate with online criminals? Backups are the only solution that offers 100% security. Once your system becomes infected, simply restore your backup and you're in the clear again!
Well laid out user interface with all important information
Single-click access to all important menus
Presets for ready-to-use backup plans
Handy backup plan overview
Detailed information on each backup
Up-to-date cloud support
Extensive online help and printable PDFs
Better stability, flexibility and performance