More than just screenshots with Ashampoo Snap 8
With Ashampoo Snap 8, world-wide operating software developer Ashampoo releases a complete package to create, edit and publish screen captures of any kind. Aside from numerous new features such as object text recognition and enhanced video capturing, the application is now slimmer and offers a better user experience turning Ashampoo Snap 8 into a best of breed screenshot tool that provides every user with a superior work flow.
more
Back to top
Ashampoo Droid Optimizer - Speed at the touch of a button!
After continued use, many apps begin to launch slower and the overall system performance degrades. Many background apps hog up valuable memory, restart frequently and drain both your battery and your nerves.
The gratis, ad-free optimization tool from Ashampoo prevents exactly that. Thanks to "1-Touch-Speed Up", a single touch is all it takes to optimize your system. In addition, "Privacy Advisor" will give you more transparency: You will learn about your apps' security permissions with a focus on potential threats. "Junk Finder" helps you find and remove file clutter and "Good-Night-Scheduler" automatically disables battery-intensive tasks at fixed intervals to help you conserve energy.
more
Back to top
Beyond compression - Ashampoo ZIP Pro
(Oldenburg, Germany, 2.2.2015) The new Ashampoo ZIP Pro, developed by renown software manufacturer Ashampoo, compresses, encrypts, backups and manages all data files. Besides extensive compression procedures and backup tasks, Ashampoo ZIP Pro also facilitates data sharing, e.g. via Dropbox and Google Drive through the integrated cloud uploader.
more
Back to top
To many press releases at once?
Company info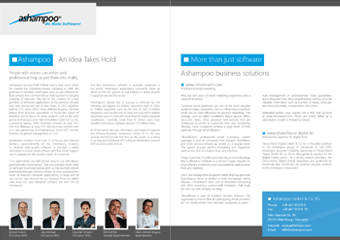 The basic idea – selling software only over the Internet – sounds simple today, but in 1999 this was revolutionary.
With a handful of staff, a 64kbit (ISDN) leased line and a small office, Rolf Hilchner, whose own sector knowledge goes back to the year 1984, started with the realization of this idea. Henceforth software, which was developed in-house, has been sold over the Internet, excluding specialized shops. This strategic orientation paid off.
Read the whole company portrait here