Ervaar de meest realistische koraalrif dat je kan vinden zonder een echte aquarium te moeten kopen.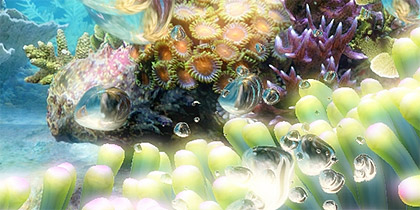 Live Aquarium HD 2 laat u uit 2 uiterst gedetailleerde 3D onderwater scènes kiezen. U kunt uw aquarium met maximaal 100 vis uit de selectie van 27 zeer gedetailleerde vissoorten, met complexe zwemmen gedrag en kunstmatige intelligentie, "bevolken". Met behulp van uw muis, kunt u met je vis huisdieren spelen en ze op hun staarten of neuzen aanraken. Zij zullen stoppen om te inspecteren of vlug in veiligheid verdwijnen. U kunt ook de vissen voeren, maar in tegenstelling tot de echte vis, zullen ze niet, als je vergeet ze regelmatig te voeden, buik naar boven draaien en aan de oppervlakte van het water drijven.
(aanvullende soorten en omgevingen beschikbaar via in-applicatie aankoop).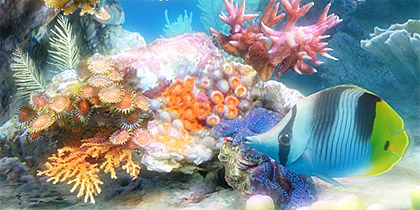 Ontspan en geniet van buitengewone beelden en rustgevende geluiden met onze schermbeveiliging Live Aquarium HD.
Ontstress
Onthaast na een lange werkdag
Laad uw batterijtjes weer op en wees creatief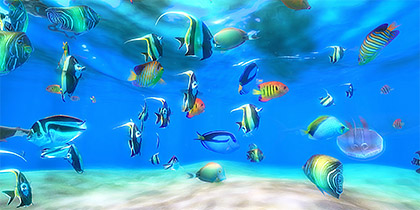 | | |
| --- | --- |
| Live Aquarium HD 2 | |
| Meeslepende ervaring door ondersteuning van meerdere monitors. | |
| Complex gedetailleerde koraalriffen in 3D | |
| Ondersteuning voor 3D-brillen en -monitors. | |
| Totale interactie met vissen en hun omgeving. | |
| 25 sterk gedetailleerde vissoorten met ingewikkeld zwemgedrag en uiterlijk. | |
| Geavanceerde grafische effecten zoals schittering van regenboogkleuren en complexe wateroppervlakken. | |
| Vier verschillende geluidsomgevingen. | |