Corte com precisão e remova os elementos de imagem indesejados
Cortar objetos e inserí-los nas fotografias existentes com apenas uns cliques. Criar montagens de fotografias perfeitas com um realismo fantástico que irá parecer completamente natural. Aceda à sua criatividade e crie novas experiências fascinantes de fotografia.
Funcionalidades em destaque:
| | |
| --- | --- |
| | Montagens de fotografias fantásticas que irão surpreendê-lo |
| | Remover objetos indesejados das suas imagens com o clique de um botão |
| | Utilizar áreas de focos para efeitos criativos |
| | Máscaras sobre o mais difícil, mesmo os objetos complicados, tal como pelos finos, em segundos |
| | Incluí os plug-ins para Adobe Photoshop e Adobe Photoshop Elements |
| | Limpeza inteligente / correção de erro |
Tecnologia de ponto para resultados garantidos
Edge-based inside-out-matting is the most important new feature in CutOut 5.0. Simple drag the brush around a masked object and CutOut 5.0 will automatically detect inside and outside areas.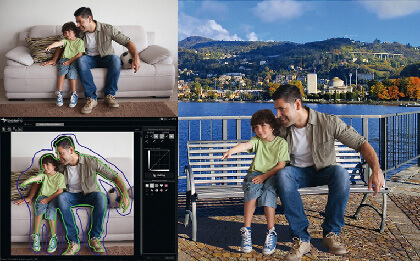 Corte de objetos com alguns cliques
Work like a pro with chroma keying: Choose your background color and extract your object to a monochrome background with a single mouse click. This procedure is used by movie makers and professional model agencies alike to achieve many special effects!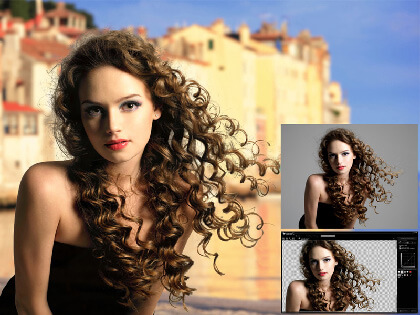 Criatividade sem limites
Layer-based photo editing allows you to place your objects in front of various backgrounds - there's no limits to your creativity. CutOut 5.0 allows you to take single elements from your photos and combine them into a realistic new image composition.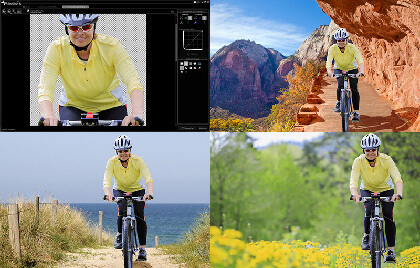 Retocar imagens com problemas
Recorte 5.0 fornece ferramentas inteligentes para retocar ou remover objetos indesejados das suas fotografias. As ferramentas avançadas, tais como a limpeza inteligente ou o pincel de erro permitem-lhe retocar as suas fotografias como um profissional.
Editor de fotografia sem limites
CutOut 5.0 not only allows you to cut out objects - it provides full image editing capabilities! Adjust foregrounds and backgrounds with numerous exposure, color and saturation functions and perfect your results with multiple transformation tools. It's everything you need in one application!