Find, record, download and convert music, movies, series, videos, TV and radio broadcasts
Audials One 2020 is the total solution to download movies, series, music or audiobooks from the internet fully legally. If it's available online either directly or through streaming services, Audials One 2020 will find it and download it in high quality! With its unique search engine, comfortable recording scheduler and versatile converter feature, Audials is your ticket to boundless entertainment. Whether you're using Amazon Prime™, Netflix™, Deezer™, Spotify™ or any other portal, Audials One 2020 will save your favorite show to your hard disk, permanently!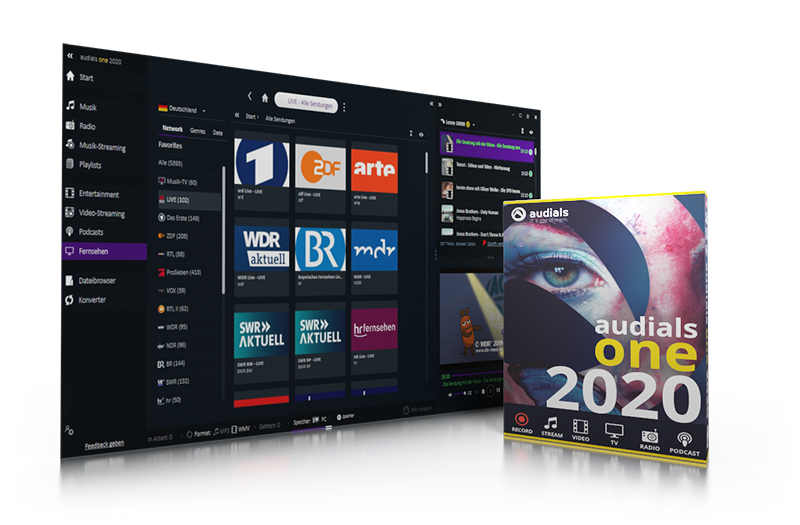 Benefits at a glance
Record video streams from Amazon Prime, Netflix, YouTube and many other portals.
Record directly from your graphics card
Batch-process multiple YouTube links in one go
Record at maximum speed without quality loss
All the latest device profiles for current-gen smartphones, notebooks, gaming consoles and many others
Always perfect music quality from any streaming source
Audials One 2020 is your high-quality internet stream recorder!
Audials comes pre-configured for all popular video streaming services and portals. Highly optimized recording procedures ensure high quality recordings even with today's adaptively encoded video streams and it's all fully legal.
Audials One records anything your stream including audiobooks!
Audials can identify and record tracks that are streamed on Spotify™, Deezer™, Napster™, Tidal™, Amazon Music™ and a number of other services including all tag information. Anything playable on a website or streamable through a software player can be recorded and converted and saved, e.g. as MP3 files. Naturally, this also works perfectly with audiobooks from Spotify™ and Deezer™.
Get the music charts and the entire music universe free of charge
Audials also brings you the top songs from the rock charts, the schlager charts, the German music video charts, the pop charts, the dance charts, the US single charts, the 80s charts and the US music video charts. You can also enjoy compilations and samplers, similar music and a whole lot more. With the unique "MusicZoom" universe, you can even browse through every artist in the world on a map of genres. Audials makes all your musical wishes come true!
Top image quality like the original - brilliantly crisp
Optimum video quality and a significantly better performance, especially when recording high-resolution Full-HD and Ultra-HD video. This is only possible with the new Audials. We have completely revised the video recording engine, enabling the most important recording sources and browsers to directly access the graphics card in order to guarantee top-quality recordings. Audials One 2020 now uses state-of-the-art encoding technology to achieve the best possible image quality, in particular for modern mp4 formats such as H.264 and HVEC.
Spotify Drag & Drop - Super fast perfectly trimmend and tagged
Audials 2020 lets you drag multiple Spotify playlists or albums into Audials 2020 which can then be viewed, downloaded and saved at extremely high 15x speeds within minutes. This enables you to quickly and effortlessly obtain a large number of tracks, which have most certainly been precisely trimmed at the beginning and end of the song. Tags and album art are always included.
Get the power features of the Audials app exclusively!
Get exclusive pro app power features that are not included in the free version only with Audials One There are no limits to what you can choose from thanks to the latest artists, tracks and weekly charts. Immerse yourself into the infinite expanse of music using the Music Styles or Music Zoom features! The Audials Radio App's powerful features will enhance your music experience and make sure you always have the best tracks wherever you are.