For a three times better PC
Install every program on up to three PCs!
Ashampoo® WinOptimizer Ultimate Edition was compiled by our experts to ensure your PC feels and performs like new. Ashampoo® WinOptimizer 17 provides perfect system maintenance, Ashampoo® UnInstaller 8 removes unwanted applications down to the last byte and Ashampoo® Driver Updater keeps system drivers always up to date for maximum performance all the time. Individually, each program is excellent - together, they are unbeatable!
Ashampoo® WinOptimizer 17
Quite possibly the most comprehensive Windows optimization suite ever!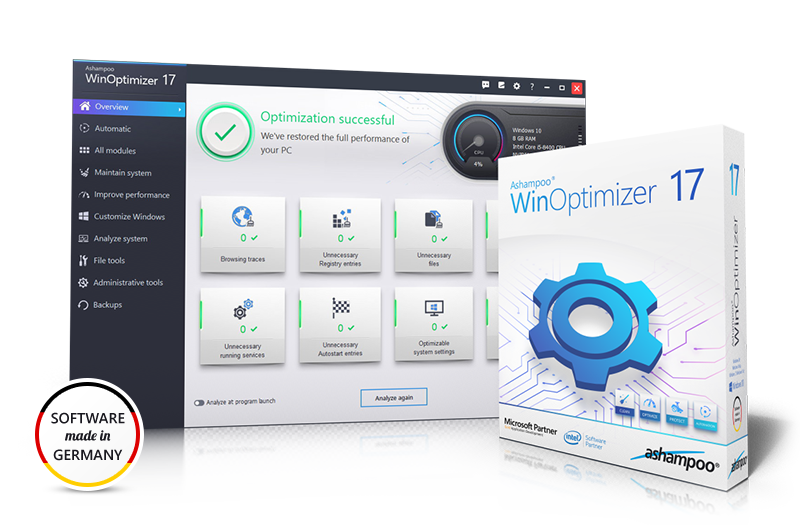 Ashampoo® WinOptimizer 17 cleans, protects and optimizes your PC like no other program can. Gain new disk space, disable unwanted services and boost your PC performance to the max! Protect your privacy and customize Windows to your needs. Enjoy steady performance and a lean, secure system!
| | |
| --- | --- |
| | Robust early warning system against system failure |
| | Start page with eight optimization tools |
| | Handy task scheduler for maintenance and optimization |
| | More than 30 modules for the perfect Windows system |
| | Enhanced Uninstall Manager with additional details |
| | Brand new cleaner modules |
| | Two program skins available |
| | Full secure boot support |
| | Full secure boot support |
| | ADS Scanner for hidden data streams |
Ashampoo® UnInstaller 8
Eliminate unwanted programs, toolbars and plugins down to the last byte!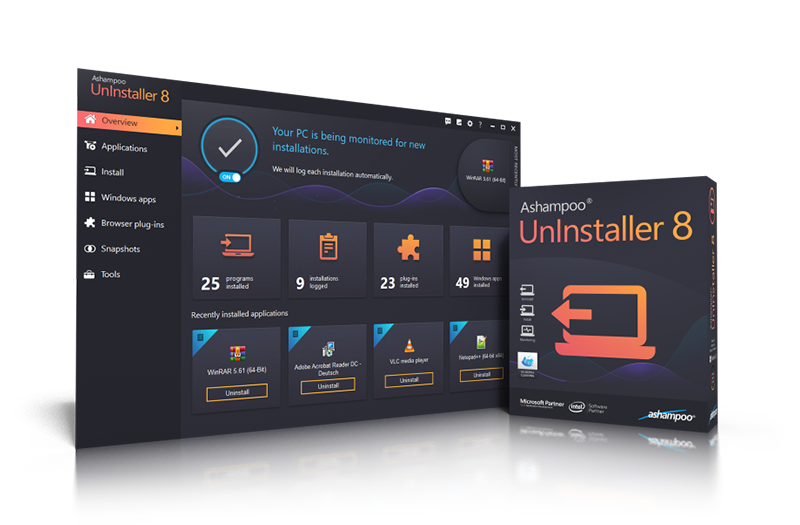 Ashampoo UnInstaller is the solution to install, test and, if needed, uninstall applications with absolutely no leftovers. You are in control of what stays and what goes on your PC! Eliminate unsolicited software installations, browser extensions and toolbars at the click of a button! The program carefully monitors each installation to allow for total removal, including temporary files, later on thanks to detailed logging and Deep Cleaning technology! The built-in snapshot feature allows you to compare different system states and instantly identify any and all changes made by installers or programs.
| | |
| --- | --- |
| | Software-profiles for perfectly clean uninstalls even without installation logs |
| | Permanently wipe sensitive data during uninstalls |
| | Removes even the most complex and convoluted setups |
| | Automatic leftover file scans also for default uninstallations |
| | History of uninstalled applications |
| | Full Opera support |
| | Up-to-date modules and cleaners |
| | Fast uninstalls via drag and drop on program icons |
| | Enhanced Deep Clean technology |
| | More details on program installations |
| | Easier handling across the board |
| | Microsoft-certified program drivers |
| | Multi-purpose tray menu |
| | No mercy: deletes even locked files |
| | Faster feature access |
Ashampoo® Driver Updater
For the perfect system - always the latest drivers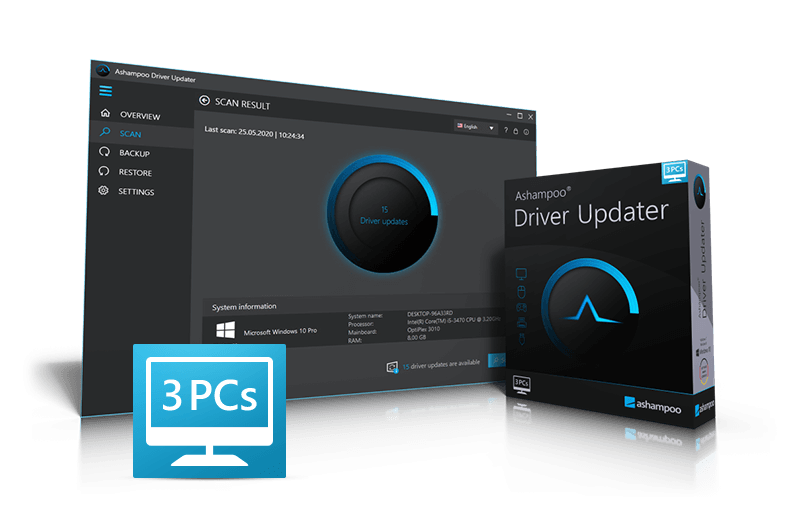 Wrong or old drivers are the enemy of every computer system. Often, drivers are missing or hopelessly outdated. Ashampoo Driver Updater not only finds the best drivers but also installs them for you.
| | |
| --- | --- |
| | Maximum system stability |
| | Over 150,000 devices supported |
| | More than 400,000 drivers available |
| | Always up-to-date driver database |
| | Comfortable driver backup and restore features |
| | Fix defective systems with ease |
| | The perfect choice for Windows 10 - it finds all drivers |
| | Full gaming performance through optimized use of system components |
| | Greatly facilitates the transition to Windows 10 |
| | Fixes WLAN, sound and printer issues |
| | For a faster, more stable system |
| | Fully optimized system usage |
| | Installs all required drivers with a single click |
| | Reduces the risk of system crashes and freezes |
| | Fewer crashes |
| | Fast, stable system |
| | 1 click repairs |
| | The best graphics |
| | The best gaming performance |
| | The perfect sound |