For a three times better PC
Install every program on up three PCs!
Ashampoo® WinOptimizer 16 Ultimate Edition was compiled by our experts to ensure your PC feels and performs like new. Ashampoo® WinOptimizer 16 provides perfect system maintenance, Ashampoo® UnInstaller 7 removes unwanted applications down to the last byte and Ashampoo® Driver Updater keeps system drivers always up to date for maximum performance all the time. Individually, each program is excellent - together, they are unbeatable!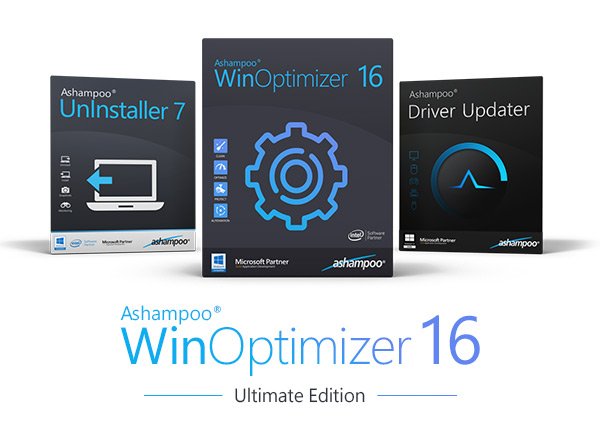 Ashampoo® WinOptimizer 16
Only Ashampoo® WinOptimizer 16 completes your PC!
Over time, even modern systems slow down or become faulty and cluttered with junk files. Especially Windows 10 collects more data than its users would like. Ashampoo® WinOptimizer 16 takes care of these issues - with unparalleled speed and efficiency. It doesn't take any prior knowledge or lots of time and your computer will feel like new again! Let WinOptimizer help you make the most of your PC and protect, clean and optimize your machine for maximum performance and privacy every time.
Conserve energy efficiently and preserve battery life
Start page with eight optimization tools
No more unwanted browser extensions
Ingenious navigation bar with access to all features
Clean multiple user accounts simultaneously
Brilliant visuals at any resolution on any display
Ready for future Windows updates
Extended system details view with new categories
New Windows 10 customization tweaks
More details about running services
New and dramatically faster DiskSpace Explorer
Over 80 new and faster components
Provides an instant speed boost
Fixes annoying errors and crashes
Robust early warning system against system failure
Ensures a permanently clean system
Effective privacy protection
Frees precious disk space
Provides superior gaming performance
Extensive system overview
Optimized failure protection
Ashampoo® UnInstaller 7
Installation monitoring with in-depth cleaning
Ashampoo UnInstaller 7 removes unwanted programs, Windows apps and plugins. Additional tools help maintain and clean your system.
Say goodbye to unwanted or harmful software
Complete remove SPAM applications
Uninstall malicious plugins and extensions
Comprehensive installation monitoring
Effective system maintenance with handy file tools
Perfect uninstallation of nested setups
Comfortable uninstallation of multiple programs
Remove Windows 10 and Windows 8 default apps
Create detailed installation logs from two snapshots
Ashampoo® Driver Updater
Provides optimal performance through up-to-date drivers!
Wrong or old drivers are the enemy of every computer system. Often, drivers are missing or hopelessly outdated. Ashampoo Driver Updater not only finds the best drivers but also installs them for you.
Finds and updates missing or outdated drivers
Guarantees optimal performance and a rock solid system
Easy to use thanks to smart automatic features
Get the best gaming performance out of your PC
Fixes WLAN, sound or printer issues
More than 400,000 drivers for over 150,000 supported devices
Always up-to-date database for all common Windows versions
Proven security concept with functionality and backup checks