Ashampoo Backup Pro 11: The safety net for every Windows PC!
Ashampoo Backup Pro 11 is a new and versatile backup application that can store individual files or entire disk partitions on online or offline storage media. With the increasing risk of ransomware and virus infections, the use of a backup solution is highly recommended. According to a study by the Federal Office for Information Security (BSI), ransomware infections have increased by 32% in 2016. Based on this data, the BSI advises companies and private users to adopt a systematic backup strategy. For emergency cases, Ashampoo Backup Pro 11 comes with a newly developed emergency application with UEFI support to create rescue disks that can restore corrupted systems. The design and handling of Ashampoo Backup Pro 11 has been completely overhauled to make the program more intuitive and self-explanatory.
more
Back to top
To many press releases at once?
Company info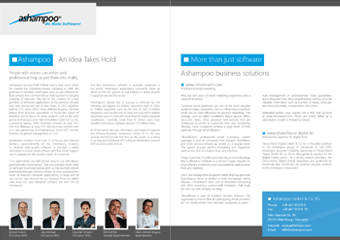 The basic idea – selling software only over the Internet – sounds simple today, but in 1999 this was revolutionary.
With a handful of staff, a 64kbit (ISDN) leased line and a small office, Rolf Hilchner, whose own sector knowledge goes back to the year 1984, started with the realization of this idea. Henceforth software, which was developed in-house, has been sold over the Internet, excluding specialized shops. This strategic orientation paid off.
Read the whole company portrait here