Ashampoo group constructs new office building in Rastede
The Ashampoo group of companies is in the process or constructing a new company building in the Rasteder Business Resort am See (Schafjückenweg 2) that will house Ashampoo and CleverReach. The project will cost about 9 million euros and create 3,500 square meters of office space for 120 employees by the end of 2018. The building contractor is H&B Immobilien GmbH and construction drawings were provided by the Oldenburg-based kbg architect's office.
Back to summary
Summary:
• Ashampoo and CleverReach companies will move into a single building
• Over 3,500 m² of office space for 120 employees
• Total construction costs amount to over 9 million euros
• Project completion is scheduled for the end of 2018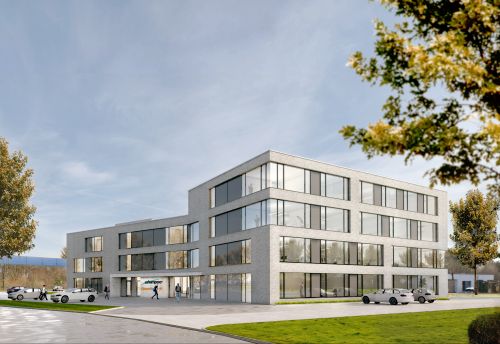 Two successful international IT companies under a single roof
Moving the Ashampoo software company from its current location in Oldenburg-Etzhorn and CleverReach, the email marketing service provider, from Mühlenstraße in Rastede into a single building will allow the two companies to bundle their efforts and to benefit from synergy effects. "We've been planning to house all companies of the group under a single roof for a long time. I'm pleased this goal is now within our grasp.", says Rolf Hilchner, member of the supervisory board for Ashampoo and CleverReach and CEO of H&B Immobilien (building contractor).
A gain for Rastede as an industrial location
Jörg Bensberg, administrative head of the Ammerland district, welcomes the relocation of the entire group of Ashampoo companies, "I am delighted that, once again, an innovative and highly successful company affirms the economic benefits of Rastede as an industrial location through their new building." The mayor of Rastede, Dieter von Essen, also welcomes the new residents, "I'm delighted that, through another future-oriented project, Ashampoo not only strengthens Rastede's position as a business hub but also saves and creates new jobs in the region."
Back to top