Ashampoo Photo Recovery - a lifesaver for deleted photos
The immaterial value of photos can't be measured in gold: Weddings, birthdays or high school graduations are one of the most memorable moments of our lives. All the more annoying when digitally stored memories are lost either by accidentally erasing a flash drive or through faulty memory cards. With Photo Recovery, German software developer Ashampoo releases an easy to use file recovery software for lost images. The program also recovers corrupt files or rare formats - even images embedded in PDF or word documents are part of the package.
more
Back to top
Ashampoo Home Designer Pro 3: Plan and design your own home
With Ashampoo Home Designer Pro 3, German software developer Ashampoo releases a software that allows non-specialist users to plan, design and create their own dream houses. Ashampoo Home Designer Pro 3 includes everything from walls, ceilings, windows, doors, recesses, slots, sky windows, solar panels, chimneys, beams to electrical appliances as both 2D and 3D objects. All area, length and volume calculations are done automatically and the new version now supports 64-bit systems natively for better performance and stability.
more
Back to top
To many press releases at once?
Company info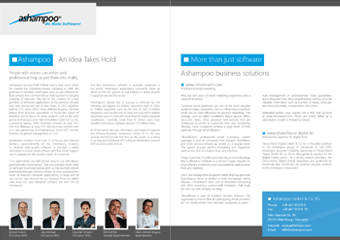 The basic idea – selling software only over the Internet – sounds simple today, but in 1999 this was revolutionary.
With a handful of staff, a 64kbit (ISDN) leased line and a small office, Rolf Hilchner, whose own sector knowledge goes back to the year 1984, started with the realization of this idea. Henceforth software, which was developed in-house, has been sold over the Internet, excluding specialized shops. This strategic orientation paid off.
Read the whole company portrait here