Ashampoo UnInstaller 6 - trouble-free installations
more
Back to top
Ashampoo Photo Commander 14 gives full control over photo collections
more
Back to top
Ashampoo Movie Studio Pro 2: Professional video editing with Dolby Digital, 4K and turbo conversion
more
Back to top
Free Ashampoo AntiSpy for Windows 10 fixes security gaps in Windows 10
With Ashampoo AntiSpy, globally active software developer Ashampoo gives Windows 10 users the opportunity to easily stop the default collection and linking of sensitive data by Windows 10.
more
Back to top
Ashampoo Movie Studio 2
more
Back to top
Ashampoo already set for Windows 10
more
Back to top
Ashampoo Privacy Protector: Data encryption, archiving and trace removal in one application
more
Back to top
Store data for eternity with MDISC and Ashampoo
more
Back to top
An affordable and comprehensive office suite? Ashampoo Office 2016 is the answer!
more
Back to top
Look behind the scenes of the tech world with the new Ashampoo blog
blog.ashampoo.com
) that deals with everything around software and digital lifestyle. The editorial team behind it aims to provide visitors with a closer look at everything around todays world of information technology. This includes satirical as well as travel reports but also product tutorials to spice up their lives.
more
Back to top
Ashampoo WinOptimizer 12: Brand new and ready for Windows 10!
more
Back to top
Ashampoo Music Studio 6 - more features, better usability, more joyful music experience
more
Back to top
More than just screenshots with Ashampoo Snap 8
more
Back to top
Ashampoo Droid Optimizer - Speed at the touch of a button!
After continued use, many apps begin to launch slower and the overall system performance degrades. Many background apps hog up valuable memory, restart frequently and drain both your battery and your nerves.
The gratis, ad-free optimization tool from Ashampoo prevents exactly that. Thanks to "1-Touch-Speed Up", a single touch is all it takes to optimize your system. In addition, "Privacy Advisor" will give you more transparency: You will learn about your apps' security permissions with a focus on potential threats. "Junk Finder" helps you find and remove file clutter and "Good-Night-Scheduler" automatically disables battery-intensive tasks at fixed intervals to help you conserve energy.
more
Back to top
Beyond compression - Ashampoo ZIP Pro
more
Back to top
To many press releases at once?
Company info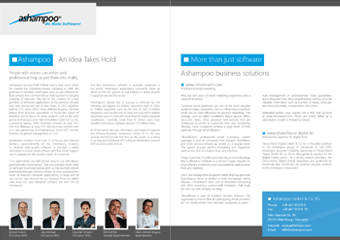 The basic idea – selling software only over the Internet – sounds simple today, but in 1999 this was revolutionary.
With a handful of staff, a 64kbit (ISDN) leased line and a small office, Rolf Hilchner, whose own sector knowledge goes back to the year 1984, started with the realization of this idea. Henceforth software, which was developed in-house, has been sold over the Internet, excluding specialized shops. This strategic orientation paid off.
Read the whole company portrait here