Versatile software for editing, organizing and burning music
Ashampoo Music Studio is a proven music software to edit, rip, organize and burn music and sounds in general. You can even design fitting covers for your projects, create device-compatible playlists or turn your songs into the perfect mix tape for your next party!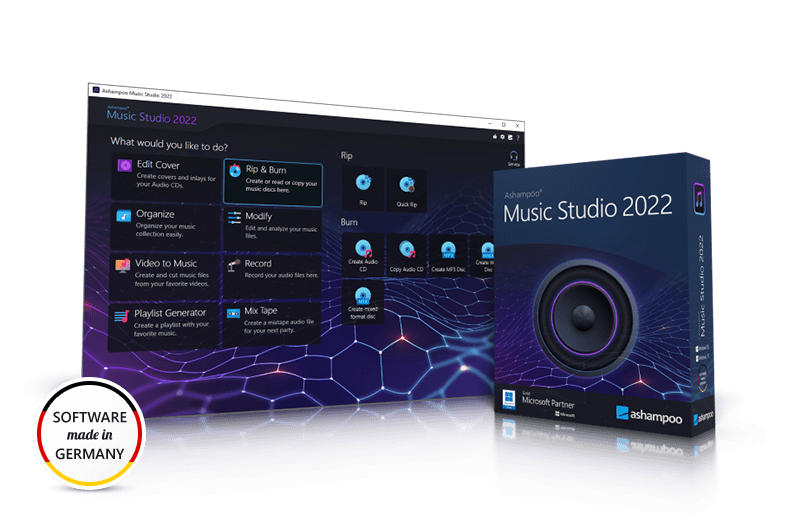 Perfect mix tapes for every event
Create mix tapes for your next party in just a few clicks! Set the mood with fitting transitions and fades, pick a file format and sound quality and you're good to go. Casual party, wedding or other formal occasion - create the right ambience with Ashampoo Music Studio 2019!
Cover designer included
No CD or DVD should be without a cover. Ashampoo Music Studio comes with a versatile cover designer to create covers and inlays. Select from multiple templates, use clever auto-functions, like the mosaic feature, to create the right cover for every project in no time.
Create playlists
Playlists allow you to play your songs in any order on almost any device. With its support for multiple audio formats (M3U, PLS, WPL, XSPF, etc.), playlists created with Ashampoo Music Studio are compatible with nearly every device.
Rip CDs quickly and easily
Turning music and audio books into a more space-saving form is a breeze with this music program. Thanks to a gigantic database, your tracks will be auto-named and fitted with the right cover art before they're saved to a format of your choosing.
Fast song renaming
Incomplete or inconsistent file names can ruin your song collection. Ashampoo Music Studio includes smart auto-naming based on customizable file naming schemes. Bring order to individual tracks or entire folders at the click of a button and save time and effort with this nifty feature!
Extract audio from videos
Ashampoo Music Studio quickly extracts audio tracks from videos. Whether you want to enjoy that epic soundtrack from your favorite movie standalone or turn sounds and quotes into ring tones – this music program will get the job done, and fast!
Useful tools for your sounds
Ashampoo Music Studio comes with multiple useful tools, e.g. to edit metadata, normalize songs or analyze your audio files. It's everything you need in one handy music program. Go check it out. You'll be amazed how quickly you can achieve great results!
Edit audio files
Not all recordings come out perfectly out of the box. That's where audio editing comes into play. The built-in editor not only crops or cuts files into individual segments, but also supports volume adjustments, including muting entire sections. Edit your tracks and produce the songs you've always wanted!
Record audio files
Ashampoo Music Studio also supports recording your own audio files on your home PC. Simply pick the audio source and click "Record". Afterwards, use the built-in tools to edit your audio.
| | |
| --- | --- |
| Burn | |
| Up to 18 tags per track | |
| Create compatible playlists | |
| Audio disc ripping, individual format selection, extract anywhere | |
| Extract audio tracks from videos | |
| Create custom recordings | |
| Edit | |
| Enhanced music editor with optimized work flows | |
| Organize titles and add additional info | |
| Snap to position when tracks are moved | |
| Faster results with keyboard shortcuts | |
| Auto-split audio files with smart splitting | |
| Edit metadata | |
| Normalize and adjust volumes between multiple tracks | |
| Convert audio files into different formats | |
| Convert audio files into Flac | |
| Convert audio files into Ogg | |
| Convert audio files into WAV | |
| Split and mix music | |
| Produce | |
| Improved cover search | |
| Fresh design for faster menu access | |
| Cover editor with new user interface | |
| Create CUE-based playlists | |
| Burn audio discs | |
| Burn MP3 discs | |
| Create custom slim-case covers | |
| Create new tracks with Title Mixer | |
| Burn WMA discs | |
| Burned mixed-mode discs | |
| Create custom jewel-case covers | |
| Create custom CD labels | |
| Cover Studio with new and modern templates | |