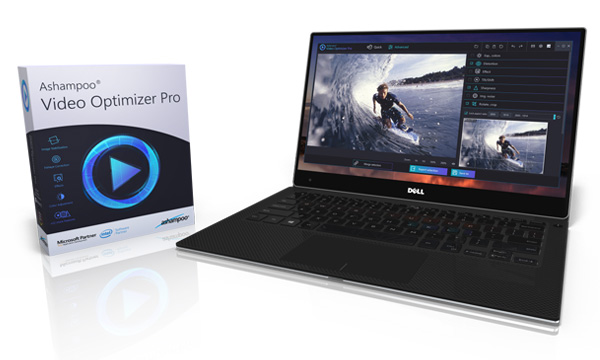 Optimize exposure, white balance, contrasts & colors
Improve contrast and saturation and make your videos and photos more vivid. Adjust white balance to make your captures look warmer or cooler or give them a color tint. Adjust brightness, shadow color and highlights or apply a vignette effect.

Effects
Use the many visual effects to give your photos and videos that special look & feel.
Tilt-shift
Use the tilt-shift filter to create a selective blur and give your captures a unique look. It can also be used to create a "miniature" effect which makes real landscapes look like miniature toys.

Remove lens distortions
Remove fish-eye effects from videos and photos (defishing) often caused by action cameras and other wide angle lenses. The program features a series of built-in camera profiles and you can easily create custom profiles for every camera and lens you use.

Camera shake reduction
Optically stabilize your videos, ideal for hand-held footage and action clips.
Noise reduction
Remove noise from videos and photos caused by poor lighting high ISO settings.

Sharpen photos and videos
Improve the sharpness in your photos and videos and make them look more crisp.

Rotate & Crop
Rotate videos and photos by 90 / 180 / 270 degrees or custom angles and crop them to size.
Deflickering
Remove flickering from timelapses and videos recorded under difficult lighting conditions.

Change playback speed
Many actioncams can record video with 60fps or more. Video Optimizer Pro allows you to slow down or speed up your videos, e.g. for a slow-motion effect.