Enhance, cut and stabilize videos with ease
Video editing can be a frustrating experience with loads of fidgety fine tuning–unless you're using Ashampoo® Video Optimizer Pro 2! This powerful movie editor brings out the best in your shots, fully automatically and with batch-processing support! Stabilize shaky videos, optimize colors and contrasts, and sharpen your footage at the click of a button. Digital noise caused by unfavorable lighting or the dreaded flickering are also easily fixed. Create stunning videos with slowmo or time-lapse effects and say goodbye to lens distortions, Add texts and images to add subtext to individual scenes and add additional polish to your videos with 20 presets that combine filters, effects and color settings. The well laid out video editor section lets you cut, rotate and merge individual clips with incredible ease, no previous knowledge required!
Quick fix or extensive edits–two worlds combined in Video Optimizer
Ashampoo® Video Optimizer Pro 2 is as multi-faceted as the needs of its users. Quick Mode is perfect to fix any number of videos quickly. Stabilize, sharpen, and denoise your shots in just a few clicks. Use the numerous other functions and effects to instantly enhance the quality of your videos with smart auto-features! Extended Mode is your creative playground and home for perfectionists with a need for maximum control and manual fine-tuning. With large previews and ample customization options, this mode offers the perfect environment to cut your footage into separate sections and optimize and adjust each of them individually. You can also easily exclude sections from exports to remove entire scenes from your movie.
20 brilliant presets for stunning color patterns
Our presets include more than just color filters. Our team has created extensive profiles that include lighting, color tones, saturation, vignettes, and much more. What would usually take you hours of manual tuning to find the perfect balance is now just one click away. From cold and unfeeling Scandinavian vibes to warm shades of red, you won't believe how quickly you can change the entire mood in your videos! Naturally, you can also create your own presets and reuse them in other projects.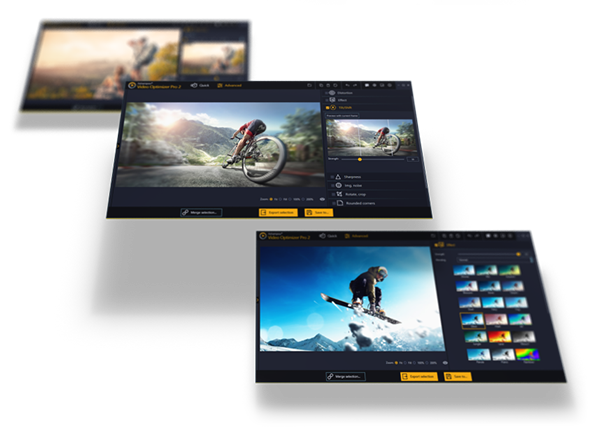 Enhance colors and contrasts and make your videos shine
Ashampoo® Video Optimizer Pro 2 can enhance your videos by optimizing colors and contrasts. Your videos will feel more energetic and realistic after just a few clicks. You can adjust white balance settings to add coldness or warmth to your scenes, which is especially useful with digital cameras that tend to produce rather cold visuals. Of course, you can always make manual adjustments until you're fully satisfied with the results. This works wonders for old footage, too. Selective editing of brightness, hue, shadows and highlights then provides the final finish for the perfect image. With Ashampoo® Video Optimizer Pro 2, there are no more mediocre shots!
Stabilize shaky footage automatically
Clips taken with cellphones, DSLRs, or action cams (GoPro) tend to be shaky, ruining otherwise great moments. How about fixing this all to common annoyance right at home? Ashampoo® Video Optimizer Pro 2 offers powerful video stabilization for your shaky footage! Even handheld shots taken in motion will become smoother and more realistic. Enhance your clips and say goodbye to wobbly videos!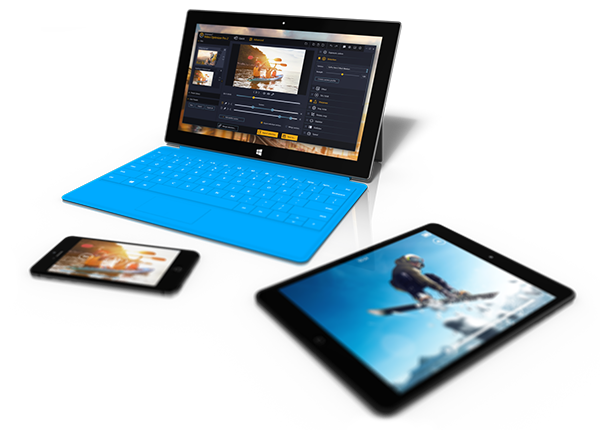 Denoise and deflicker your videos
The darker the footage, the more prevalent the dreaded digital noise. Unfavorable lighting then often adds nasty flickering to the mix. Poor lighting furthermore contributes to blurriness by making it harder for your lens to focus. Ashampoo® Video Optimizer Pro 2 auto-detects these issues. Your footage is then sharpened and stabilized, turning dark and blurry shots into passable videos.
Cut, rotate and resize your videos
Ashampoo® Video Optimizer Pro 2 not only enhances the quality of your videos but also supports cutting, rotating and cropping your shots. The new details view allows for even more precise adjustments. Select any number of sections and export highlights only or merge multiple photos and videos together into a single clip! Rotate and flip your videos at fixed intervals or freely and do away with crooked image horizons! Focus on individual image portions or resize the entire image as needed!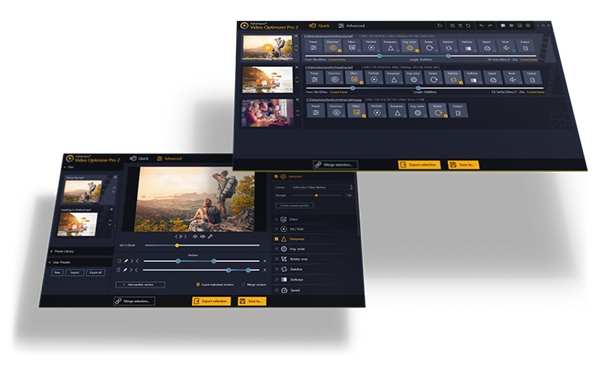 Work with slowmo and time-lapse effects
Change the speed of entire videos or individual sections with slowmo and time-lapse effects. Slowmo is great to accentuate details and the magic of the moment. Time-lapse works best to speed up less significant portions or showcase lengthy developments without the need for cuts. We highly recommend you try out these effects with the built-in tilt-shift effect. It's truly magical! Ashampoo® Video Optimizer Pro 2 makes working with these effects a breeze and adds an entirely new dynamic to your videos!
No more fisheye and lens distortions
Many cameras provide anything but realistic images, in some cases by design. Action cams in particular often come with wide-angle lenses to capture all of the action. While great at first, the viewing experience can quickly suffer, especially on larger screens! Ashampoo® Video Optimizer Pro 2 fixes these lens distortions for a more harmonious and natural image. The program comes with multiple camera profiles geared towards the most popular camera models. You can even quickly create your own in case your model isn't supported by default.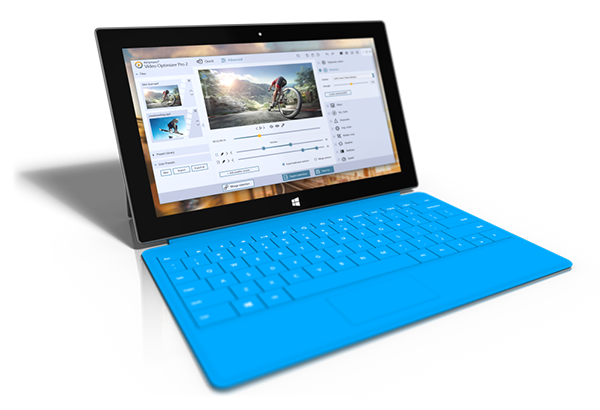 Add texts and effects
Custom text and effects add more individual flair to your videos. Ashampoo® Video Optimizer Pro 2 makes it particularly easy to add texts and external images to your scenes, from comments and explanations to funny cliparts and stickers. Color filters help set the mood and the tilt-shift feature selectively softens individual image portions to turn objects into miniatures. For a more pleasant touch, you can even round the corners of your video in just a few clicks or with the help of handy sliders!
Numerous formats, metadata editor and super-fast encoding
Ashampoo® Video Optimizer Pro 2 comes with a metadata editor to add details like author, copyright and title to your videos. The program supports all popular formats and codecs in all resolutions (including HD, 2K, 2.7K, and 4K) and also processes H.265, as used by GoPro cameras! To save you time and effort, all of these features are also supported in batch processing mode. Enhance and edit multiple videos, fill in missing metadata, or apply any of the numerous effects in a single click! Ashampoo® Video Optimizer Pro 2 has been speed-optimized and uses full H.265-based hardware acceleration on NVIDIA cards for an extra boost to help you edit your videos in record time.