Ashampoo Photo Recover 2 recovers your deleted files–from any storage device!
Photos hold an irreplaceable, immaterial value, and loss due to accidental deletion or technical issues can cause major grief. That's when Ashampoo Recovery 2 comes into its own: The recovery tool scans your hard disks, USB drives, and storage cards for deleted photos and recovers even corrupted files!
These events will cause the loss of your digital photos:
Photos have been deleted by mistake
The memory card in your digital camera or cellphone is defective
A USB flash drive has been formatted or has become defective
The memory card in your cellphone has been formatted
The file system is corrupt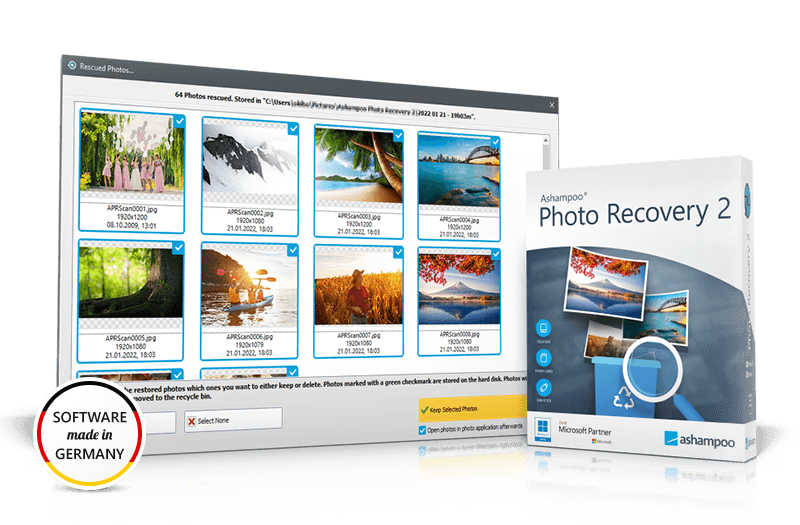 Accidentally deleted photos? Corrupted storage card?
Photo Recovery recovers most deleted photos–in just a few clicks! The program allows you to restore photos from various storage media in just a few steps. Even metadata, like EXIF or IPTC information, is restored. Ashampoo Photo Recovery is powerful photo recovery software for everyone!
New for you
Fully Windows 11 compatible
More performance with 64-bit support
New supported formats (HEIF, updated RAW support)
Faster scanning and verification of deleted photos
Future-proof technology with improved codec use
Enhanced removable storage detection
Leave no photo behind
Recover your photos with ease! Simply select a location and you will be presented with a preview of all image results. This includes even images embedded into PDF or Office documents. Finally, select the images to be restored and you're done!
Smart search for perfect results
Smart search not only allows you to filter for specific formats but also to search based on file size and resolution. This feature is particularly handy with large hard disks that can contain thousands upon thousands of files. Stay in control and never lose focus, even when your dealing with massive photo libraries, thanks to smart search.
Recover photos from formatted drives
Unlike traditional undeleter software, Ashampoo Photo Recovery not only recovers files that were "just" deleted but also recovers data from formatted disks. Even photos believed to be forever lost can now be safely recovered.
Install it today and recover what you can!
Did you know that the more data is written to your hard disk or memory card the harder it becomes to recover deleted files? Don't waste time and download Ashampoo Photo Recovery 2 today. Be prepared and save your photos before it's too late!