Declutter and fix the Registry in the blink of an eye
Ashampoo Registry Cleaner has become a classic among the small but powerful Windows tools. Now, version 2 is finally here! So why do you need Registry Cleaner? Can you remember how fast and responsive your PC was the day you took it out of he box? Whip your Windows Registry back into shape with Registry Cleaner 2 and regain some of that power!
Program functions and features
Intuitive, simple user interface
Optimized search algorithms
Eliminates redundant and extraneous entries fully automatically
Repairs invalid and corrupted entries
Detects Registry entries that may harm user privacy
Backup system
Supports Windows 10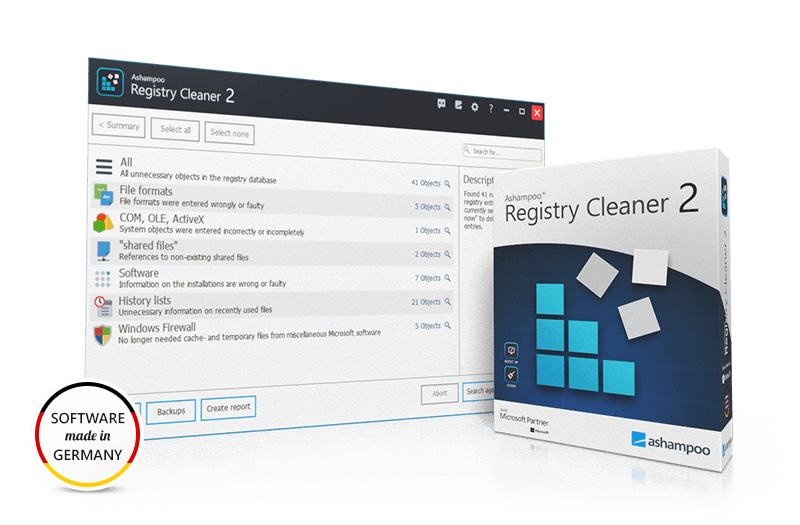 What is Windows Registry?
Windows stores common application settings and configuration data in a central database called Windows Registry. Over time, this database can become cluttered with leftover data from no longer installed software and entries can even become corrupted. Since so many applications rely on the Registry for information, clutter and data corruption can cause noticeable performance drops and make your PC feel sluggish and unresponsive. Frequent error messages or problems when uninstalling programs can also be caused by Windows Registry issues.
How Ashampoo Registry Cleaner 2 works
Ashampoo Registry Cleaner 2 scans your Registry to detect and fix corrupted, redundant or invalid entries. By cleaning and compacting your Registry, your overall system speed will increase since read operations that target the Registry will perform faster. For extra safety, Ashampoo Registry Cleaner 2 comes with real-time backups to undo any modifications at the click of a button.
Fix and clean with built-in failsafe
Highly advanced search algorithms based on 20 years of extensive experience ensure perfect scan results and a total and safe makeover of your Registry. Registry Cleaner 2's default settings only detect entries that are safe to remove or repair. This provides great cleaning results at maximum safety for your operating system. For added safety, backups are created for all modifications.
Small, refined and highly efficient
With its simple and self-explanatory handling combined with optimized search algorithms, Ashampoo Registry Cleaner 2 cleans your Registry quickly and highly efficiently. It takes just a few clicks to get the job done, which makes it ideal for newcomers. No knowledge of the inner workings of the Windows Registry is required!