Record, edit and share screenshots and videos
How to make a screenshot? With great ease!
With Ashampoo Snap, capturing screenshots or videos almost feels like magic! Anything you see on your screen is faithfully captured along with numerous smart settings. The built-in editor takes care of post-processing and file management. But Snap also gives you multiple tools to make your screenshots more meaningful: Auto-numbering, comments, shapes, cliparts and other items help you tell your story visually and in style! Whether you're working from home, quickly need to explain a procedure or plan to create an entire tutorial, Snap has got the tools you need!
Benefits at a glance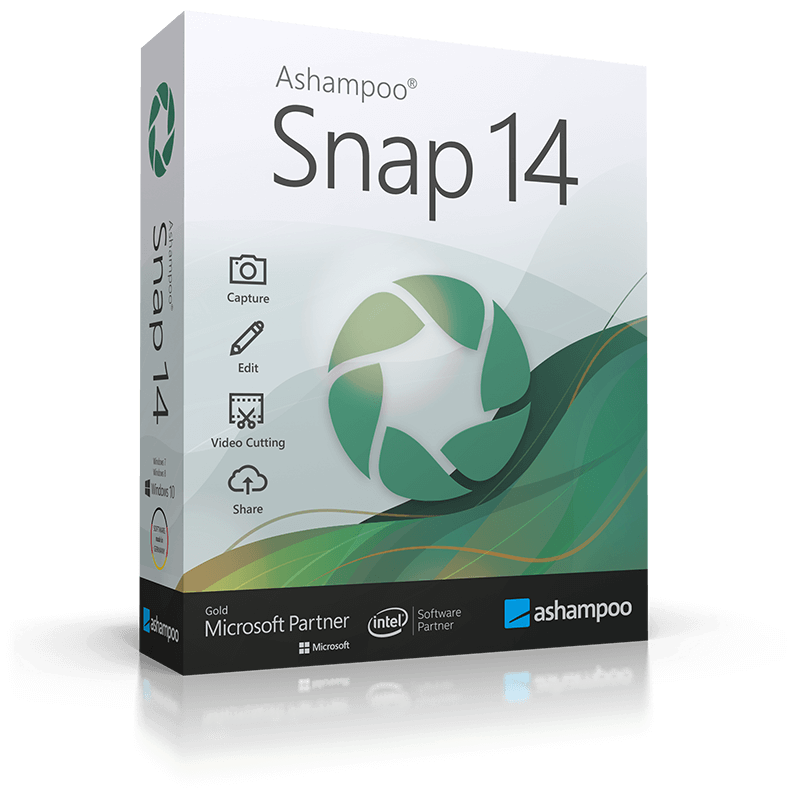 Fully Windows 11 compatible
Brand-new image editor
Simplicity meets power: new user interface
Excellent video quality up to 4K
Enhanced audio quality with higher bitrates
Toggleable toolbar labels
New heart, new soul
The image editor has always been at the core of Ashampoo Snap, as it provides all the tools to annotate, illustrate and polish your screenshots with comments, arrows, cliparts and effects. For Ashampoo Snap 14, it has been completely remade! We wanted to provide you with a streamlined, highly functional and fuss-free design that gets the job done without distractions–and we believe we've succeeded! See for yourself and experience a level of visual clarity and intuitive handling that you've never seen before in a screenshot editor!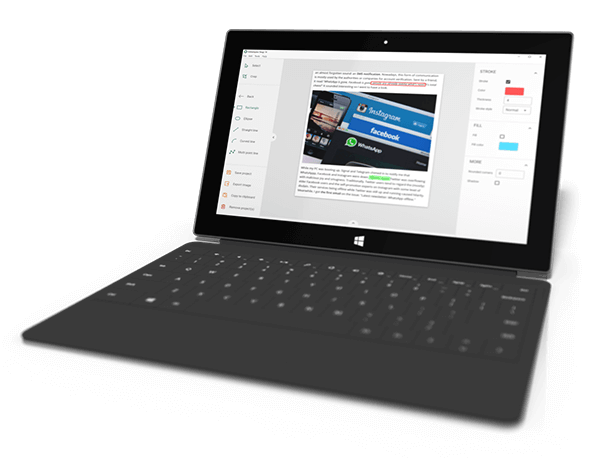 A winning concept
Balancing simplicity and functionality is an enternal struggle. After all, what good is a software that is super easy to use but barely offers the most mundane of features? Snap's new image editor manages to offer simple handling while retaining the powerful feature set that defines our Snap line of products. Optimized workflows and favorites for quick feature access help you achieve your goals free from distractions and mouse acrobatics. Even if you've never used Snap before, you'll be working productively within minutes. Visualize and communicate your thoughts and ideas in style and turn a thousand words into a single picture!
Capture and share desktop contents with ease
Would you like to share your screenshots and videos with friends and family or upload them to social networks? With Ashampoo Snap, all options are open to you–at home and work! Ashampoo Snap can share your files across all popular online and cloud services, including Twitter, Facebook, Dropbox, OneDrive, Google Drive etc. For an even simpler way, upload your files to Ashampoo Webspace–it's completely free. Naturally, you can always take a more traditional or professional route and email your files as well.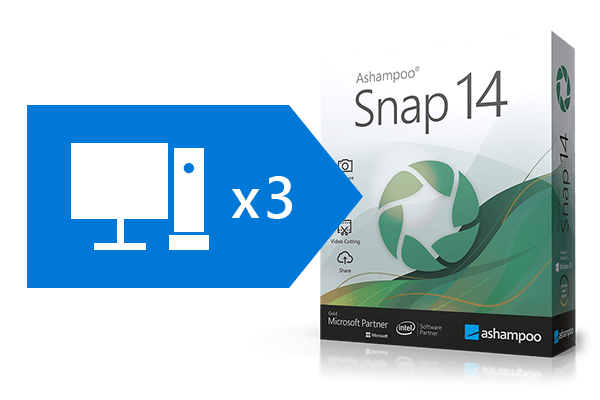 Use it on up to 3 PCs in your household
If you use Ashampoo Snap at home, you can run it on up to 3 PCs! If you use it commercially though, it's one license per installation.
Smart desktop capturing and sharing
Once active, Snap's magic eye auto-detects elements below your mouse pointer (browser windows, program menus, images, etc.) and offers instant 1-click capturing with pixel precision. But it doesn't stop there: Snap can also capture custom rectangular or freehand regions and even supports scrolling content! Naturally, the program supports all possible kinds of sharing options, including email and Ashampoo Webspace!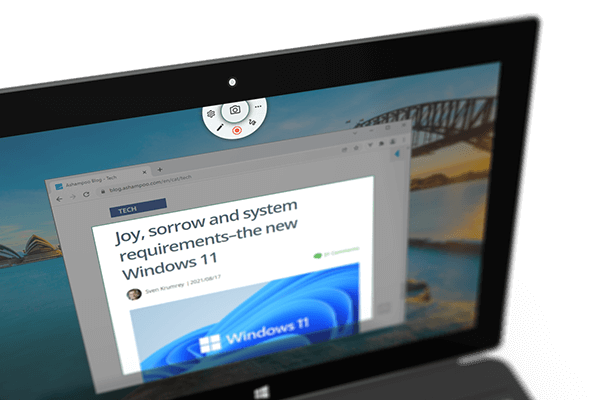 At home and in the office: Get to the point more quickly
Ashampoo Snap makes screen and video captures easier than ever before. Work faster, smarter, and be more productive with 1-click actions. Boost your creativity with versatile design options and benefit from the new streamlined image editor. Create screenshots and with pixel-precision quickly and accentuate your projects with annotations, arrows, shapes, and cliparts. Highlight issues or points of interest visually in your documents and ignite your readers' creativity with clever combinations of texts and images. You won't believe how quickly Ashampoo Snap will boost your productivity and become a fixture in our daily work!
Record, edit and share screenshots and videos
About Ashampoo

Users
20+ million

Downloads
500.000+ per month

World-wide
In over 160 countries

Experience
Over 23 years