Run your office like a pro!
Ashampoo Office is the all-inclusive suite for your office work. Ashampoo Office 8 is the powerful and fully compatible Microsoft Office alternative. Ashampoo PDF Pro is the indispensable tool for anyone who works with PDF documents! The program is as easy to handle as any word processor that creates and converts even protected PDF documents.
Ashampoo® Office 8
Create documents, spreadsheets and presentations effortlessly - and with stunning compatibility!
We've all seen Microsoft Office alternatives in the past but never one that is so affordable and greatly compatible with Microsoft document formats past and present. An office suite without compromise, without a lengthy training period, Ashampoo Office 8 lets you create documents, spreadsheets and presentations faster than ever before. It's has all the options and comfort you'd expect from a modern Office suite. And Ashampoo Office 8 doesn't save your files in some online cloud service but where they belong: on your PC! It's the Office suite you've always wanted!
Has all the markings of a great Office suite: Speed, power, and compatibility!
Compatible with MS Office, including Office 365 and Office 2019
Create documents, spreadsheets and presentations with great ease–and excellent compatibility!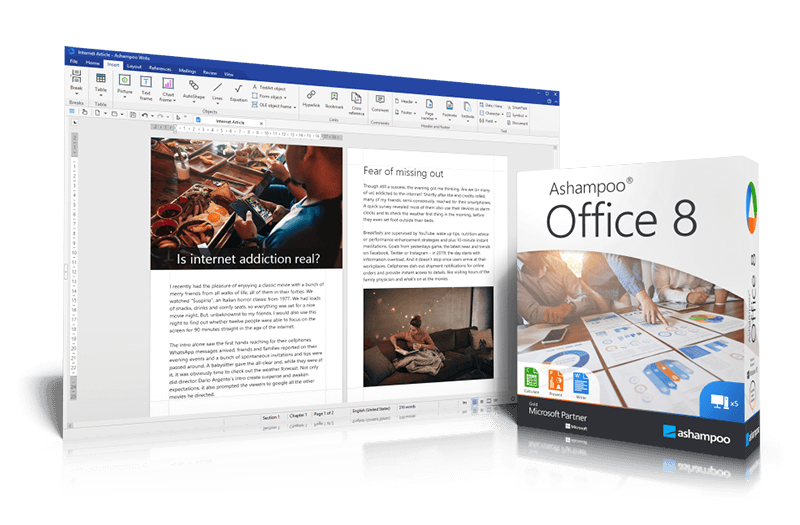 Spare yourself the hassle of manual imports and exports: Ashampoo Office 2018 uses Microsoft Office formats like DOCX, XLSX and PPTS as defaults. This means you can directly edit your Ashampoo Office documents in Microsoft Office without the need for conversion while preserving the original formatting to a T.
Ashampoo® PDF Pro 3
As easy as word processing
Ashampoo PDF Pro is the complete solution to manage and edit your PDF documents. The program has everything you need to create, convert, edit and protect your files. Create perfectly sized documents that are readable on any device and use encryption to protect your property when needed. Your PDFs are now as easily editable as Word documents!
Create PDF documents with ease
View all PDF formats
Edit PDFs as easily as Word documents
Sophisticated word processing