Safely encrypt sensitive data
Confidential documents, business records and TAN lists all belong in a safe place. Steganos® Safe™ 21 is a digital vault that protects everything you don't want anyone else to see.
Steganos Safe is a digital vault that protects your business reports, family photos, diaries or any other sensitive files that need protection. The program creates secure disks of up to 2 TB that act as ordinary system folders when opened and become invisible once closed. File access is only possible with the right password!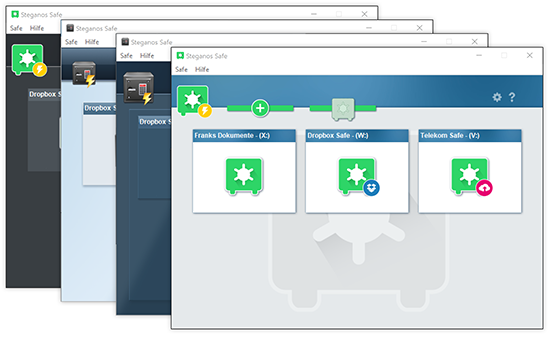 Easy to use
Data protection made in Germany – with the click of a button, Steganos® Safe™ 21 protects all types of sensitive data on your PC, in networks or in the cloud thanks to state-of-the-art 384-bit AES-XEX encryption with AES-NI-Hardware acceleration.
The clearly structured new user interface ensures that this highly professional security software package is intuitive and very easy to use.
Unparalleled protection
Steganos Safe technology protects your files on your PC, external drives and in the cloud. Thanks to the latest 384-Bit-AES-XEX encryption facilities with AES-NI hardware acceleration, Steganos Safe provides unmatched protection at staggering speeds, no backdoors, no master key, no duplicate passwords! For extra protection, your virtual safes can even be hidden from users' eyes.
384-bit AES-XEX encryption
Portable Safe Tool allows you to create securely encrypted drives based on flash drives, external hard disks, DVDs or Blu-ray discs. Cloud Safe brings powerful encryption to all of your Dropbox, Google Drive and Microsoft OneDrive accounts to protect your cloud files against unauthorized access.
Use it on up to 5 PCs in your household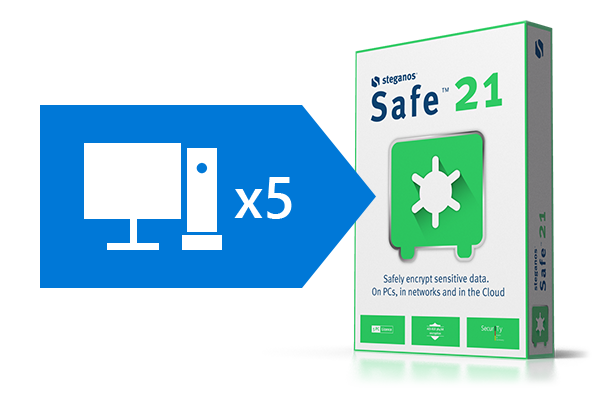 If you use Steganos® Safe 21 at home, you can run it on up to 5 PCs! A single license is enough to provide your entire family with Steganos® Safe 21! If you use it commercially though, it's one license per installation.
Highlights
Several user interface themes for you to choose from
Clearer Safe creation with more assistance
Use several Portable Safes on one drive
AES-XEX encryption with 384 bits (IEEE P1619) with NI-hardware acceleration for optimal protection against thieves, snoops and intelligence services
he unlocked safe seamlessly integrates itself in Windows as a disk drive and can be used from within any application
Maximum safe size: 2 TB
Supports data encryption in Dropbox, Microsoft OneDrive, Google Drive and MagentaCLOUD
Easily configure safes in your home network
Two-factor authentication for your Safes (supports Authy, Google Authenticator and more)
Numerous functions and possibilities when creating a safe: Define the storage location and the safe drive letter yourself
Several user interface themes for you to choose from
Automatically expanding safes that save you precious Flash Drive space
Safes are now simple to move and delete
Steganaos has been a guarantor of reliable protection against spyware and hackers for over 20 years. Since the founding of the company, Steganos encryption has never been broken and there are no backdoors, master passwords or duplicate keys!