Compress and decompress files fast and easily
Handling compressed archives, e.g. in the popular ZIP format, is common place for almost all computer users. File compression offers a space-efficient way to store and distribute large amounts of data, which is especially handy for portable and space-limited storage devices. Ashampoo ZIP FREE bundles all essential features to read, write, and repair compressed archives in a free application.
Safe and secure backups
The handy FREE ZIP to extract your archives
Ashampoo ZIP FREE offers modern convenient features, like jump lists and Windows Explorer integration for right-click file compression/extraction. The user interface borrows from the familiar Windows tile-based design and offers quick access to all essential program features. And just like the original, you can drag the tiles to rearrange the functions as needed.
Create and repair various types of archive
Extract ZIP, 7-ZIP, LHA, CAR, TAR, ZIPX, and many more formats
Ashampoo ZIP FREE supports numerous file formats. In addition to the popular ZIP format, this includes 7-ZIP, LHA, CAR, TAR, ZIPX, and many more. Not only can the program extract these archives but it can also repair them. This means you'll be able to access all or part of your files even in the case of damaged archives.
Create self-extracting and multi-volume archives
Create self-extracting archives with ease
Ashampoo ZIP FREE can create executable archives that extract themselves without the need for separate software! The program can also combine multiple archives into a single file for easier handling.
The compact and powerful software solution for your archives
Just the tool you need to extract ZIPs!
Ashampoo ZIP FREE compresses and extracts all common file formats–with Windows Explorer integration for lightning fast feature access. Create, convert, and repair your archives quickly, easily, and for free!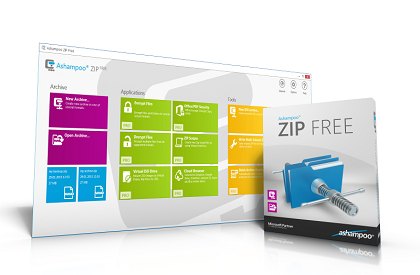 Ashampoo ZIP Free compresses and decompresses all common formats via a simple mouse click thanks to its Windows Explorer integration. Create, convert and repair archives fast, easy and free of charge.