Kaufmann für Büromanagement (m/w/d)
Festanstellung Voll- & Teilzeit
Ashampoo GmbH & Co. KG
Wer wir sind
Wir machen und vertreiben Software - weltweit, mit großen Partnern und Millionen Kunden. Seit über 20 Jahren entwickeln und vertreiben wir unsere Produkte über das Internet, B2C und B2B sind unsere Spielfelder. Unser Ziel: Leistungsstarke Software, die einfach jeder bedienen kann. Dabei kombinieren wir erfolgreich Eigenentwicklungen, Whitelabels und Fremdprodukte, um praktisch alle Bereiche abzudecken. Wir erweitern damit aktiv unser Portfolio und sind stets bereit, neue Wege zu gehen. Aktuell arbeiten wir z.B. an einem neuen Vertriebsweg, der Teile der IT-Landschaft ganz schön durchrütteln könnte.
Für unsere Unternehmensgruppe suchen wir übergreifend zum nächstmöglichen Zeitpunkt einen Kaufmann für Büromanagement (w/m/d) m/w/d für unser Verwaltungsteam inin Voll- oder Teilzeit (25 bis 40 h/Woche).
Deine Aufgaben:
Du übernimmst administrative Aufgaben in unserer Verwaltung.
Du verantwortest selbständige Rechnungs- und Auftragsbearbeitung.
Die Abwicklung des kompletten Zahlungsverkehrs und Überwachung der Zahlungseingänge liegt in deinem täglichen Aufgabenbereich.
Du übernimmst die Klärung von offenen Posten und des Mahnwesens.
Du übernimmst kleinere Projekte innerhalb der Verwaltung und



der Buchhaltung.
An der Optimierung und Weiterentwicklung bestehender Prozesse und Strukturen wirkst du proaktiv mit.
Deine Qualifikationen:
Du hast eine abgeschlossene kaufmännische Ausbildung oder ähnliche Qualifikation.
Du bringst eine gute Organisations- und Kommunikationsfähigkeit mit.
Ein sicher und versierter Umgang mit den gängigen MS-Office-Produkten gehören zu deinen



Skills.
Du arbeitest selbständig und strukturiert.
Eigeninitiative, Einsatzbereitschaft sowie ein hohes Maß an Diskretion, Loyalität und Zuverlässigkeit sind für dich selbstverständlich.
Du bringst sehr gute Deutschkenntnisse in Wort und Schrift mit.
Wie würden wir die Firmenkultur umschreiben?
Mit einem Wort: Herzlich. Bereits beim Betreten des //CRASH Building wird man mit einem freundlichen Lächeln und Hallo am Empfang begrüßt. Auch sonst herrscht hier auf jeder Etage ein lockerer Ton. Und nicht selten kommt es vor, dass unsere "Feelgood Christiane" sich bei uns erkundigt, wie es uns geht oder unser Koch Phil nachfragt, ob es uns geschmeckt hat. Man spürt schnell, dass wir es, trotz starken Wachstums geschafft haben, im Kern familiär zu bleiben. Zum Geburtstag werden sogar handgeschriebene Karten mit einem individuell formulierten Text verfasst. Klingt evtl. oldschool, finden wir aber großartig! Wir leben ein Miteinander und sind Teamplayer, die einander offen, hilfsbereit und persönlich begegnen.
Starte eine 360° Tour durchs //CRASH Building:


Our Address
//CRASH Building
Schafjückenweg 2
26180 Rastede
Phone:
04402 9739-200
Contact:
Lara Eilers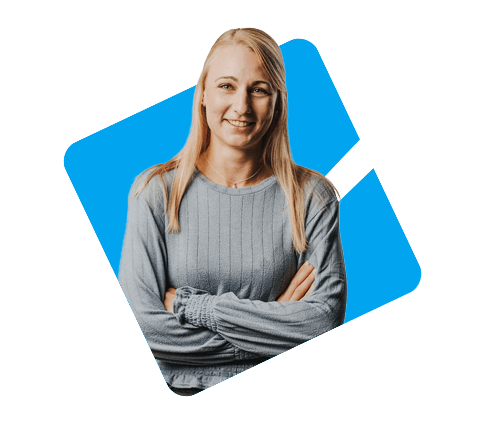 ---
---
Our office, the //CRASH Building, is ideally accessible from Oldenburg. Via beautiful country roads you can reach us by bike in 35 minutes from downtown Oldenburg. Bus 440 departs hourly from Pferdemarkt, taking you to your destination in just 13 minutes. If you have the option of coming to the office by car, you can reach us in just a few minutes via the A 29 or A 293.
Our Benefits
Frühstück & Mittag for free
Getränke & Snacks for free
We process your data within the scope of applicant management for the purpose of deciding on the establishment of an employment relationship in accordance with § 26 GDPR. Find more information in our
privacy policy
.
Back to summary