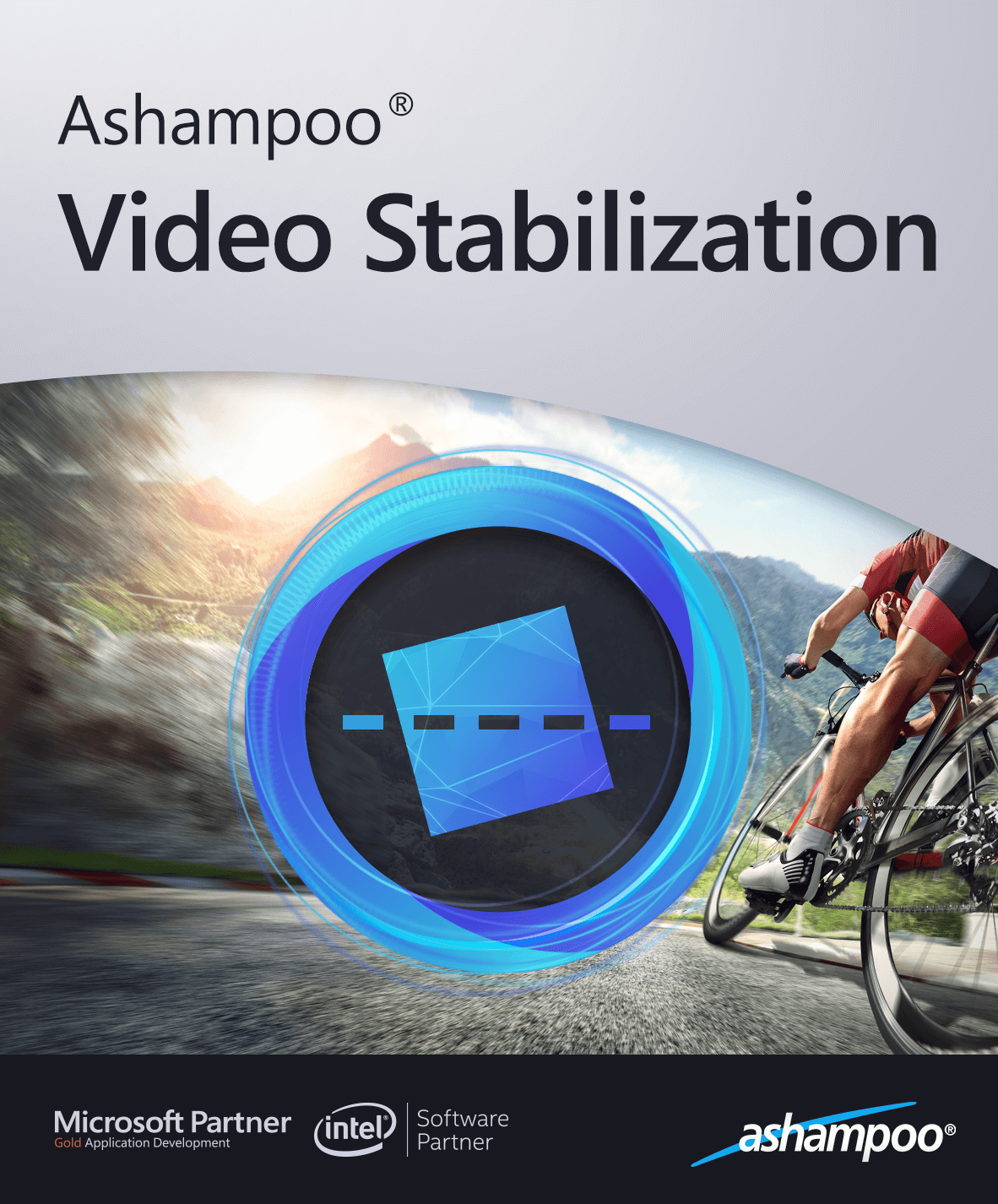 Ashampoo® Video Stabilization
Product infos
Overzicht
Versie: 1.0.0
ID: 0246
Release datum: 11.02.2019
Proefperiode: 30 dagen
Categorie: Multimedia
Prijzen en talen
Prijs: EUR  30, USD  30, GBP  25, AUD  50, BRL  120, CAD  50, CHF  30, CNY  200, DKK  230, HKD  300, HUF  8.500, MXN  500, NOK  270, NZD  50, PLN  120, RUB  2.000, SEK  300, TRY  190, TWD  1.000
Talen: Brits Engels, Catalaans, Chinees (traditioneel), Duits, Engels, Fins, Frans, Hongaars, Italiaans, Nederlands, Portugees (Braziliaans), Roemeens, Russisch, Slovaaks, Spaans, Spaans (Argentinië), Tsjechisch, Turks, Zweeds
Groote: 90,00 MB
Programma artwork en Ashampoo logo
Mediapack downloaden
Het mediapakket bevat alle relevante afbeeldingen voor gebruik in uw werk. Naast het programma artwork bevat het ook ons logo.
Download hier het mediapakket
Highlights
- Trillerige video's automatisch stabiliseren
- Optimaliseer witbalans, belichting en kleurverzadiging
- Video's eenvoudig draaien en verspiegelen
- Laat de foto's vrij ronddraaien
- Snijd video's in elk gewenst formaat bij
- Eenvoudige, intuïtieve videobewerking
Systeemvereisten
Besturingssysteem
Voor de volgende besturingssystemen heeft u de 64-bits versie nodig:
Windows 10, Windows 8, Windows 7
Software:
Windows Media Player 10
.NET Framework 4.0
Processor
DVD kwaliteit bewerking / productie - Dual Core processor met 2,4 GHz or beter
HD kwaliteit bewerking / productie - Intel Core i5 / i7 of soortgelijke quad-core processor
RAM
2 GB of hoger voor DVD kwaliteit bewerking / productie
4 GB of hoger voor HD kwaliteit bewerking / productie
8 GB of meer aanbevolen
Grafische kaart
DirectX 9
Pixelshader v2.0
Min. 128 MB RAM.
Min. 1280 x 1024
Anders
Er is een internetverbinding vereist om het programma te activeren.
Voor sommige diensten is er een Internetverbinding nodig.
Trefwoorden
Videostabilisatie, stabiliseer trillerige video's, videobewerkingssoftware om trillerige videobeelden te stabiliseren, Video-editor, Videostabilisator voor GoPro-camera's en andere Action Cams, Video Stabilizer, stabiliseer videofilms