Slimme profielen voor een snel succes
Ashampoo Video Fisheye Removal maakt een einde aan lensvervormingen! Meer dan 50 actie cam voorinstellingen (GoPro, Mobius ActionCam, Rollei, Sony en vele anderen) zorgen, met één druk op de knop, voor directe lenscorrectie. De ingebouwde live beeldvoorvertoning (preview) zorgt voor nauwkeurige handmatige aanpassingen aan de witbalans, belichting en kleuren. Ashampoo Video Fisheye Removal is de onmisbare hulp voor GoPro en andere action cam eigenaren voor 100% realisme!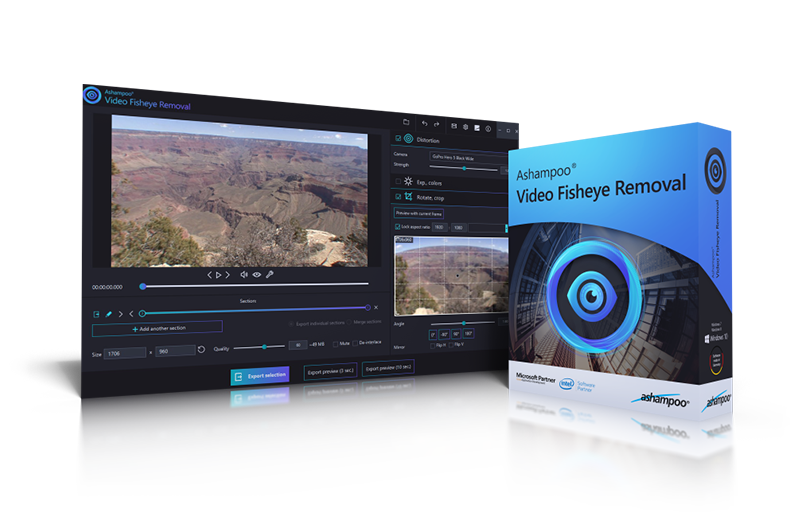 Roteer en snijd video's bij met ongelooflijk gemak
Ashampoo Video Fisheye Removal doet meer dan alleen het oplossen van visoogvervormingen (fisheye distorsions). Het programma kan ook draaien (90°, 180°, 270°, gepersonaliseerd) of spiegelt video's en slaat ze in verschillende populaire formaten op. En om u volledige controle over uw video-inhoud te geven, wordt ook het bijsnijden (cropping) ondersteund!
Corrigeer snel (quick-fix) belichting en kleurinstellingen
Waar andere programma's u door meerdere genestelde menu's hebben laten klikken, bundelt Ashampoo Video Fisheye Removal alle functies op één gemakkelijk toegankelijke locatie met schuifregelaars voor algemene en invoervakken voor fijne aanpassingen. Optimaliseer de witte belichting of kleurverzadiging en verander matige foto's in echte blikvangers!
Functies highlights:
Auto-corrigeer lensvervormingen
Meer dan 50 voorinstellingen (presets) voor alle populaire camera's
Optimaliseer de witbalans, belichting en kleurinstellingen
Draai en spiegel video's heel eenvoudig
Roteer video's vrij
Snij video's op elke gewenste grootte bij