Uninstall programs with in-depth cleaning technology
Ashampoo UnInstaller FREE gets rid of software for you, and free of charge! Every new installation is carefully monitored and all system modifications logged. UnInstaller then uses these logs to completely remove the software from your machine, when requested. Even nested setups, common with many popular download portals, are detected and fully removed. This allows you to try out new software without worries. Unmonitored installations are just as easily removed, thanks to in-depth cleaning technology that goes far beyond traditional uninstall routines. Even default Windows apps are now removable, with user-based ratings to help you spot unnecessary programs. Aside from software removal, UnInstaller FREE also comes with system maintenance and optimization tools. Internet Cleaner takes care of web browsing traces, freeing up disk space and protecting your privacy. Startup Tuner optimizes your Autostart entries for faster boot times and Service Manager does the same for your Windows services. File Associator manages your file type associations and File Wiper permanently deletes sensitive data.
Log file based software removal
Remove software with in-depth cleaning
Wipe sensitive data after software removal with File Wiper
Carefree removal of nested setups
System maintenance and optimization tools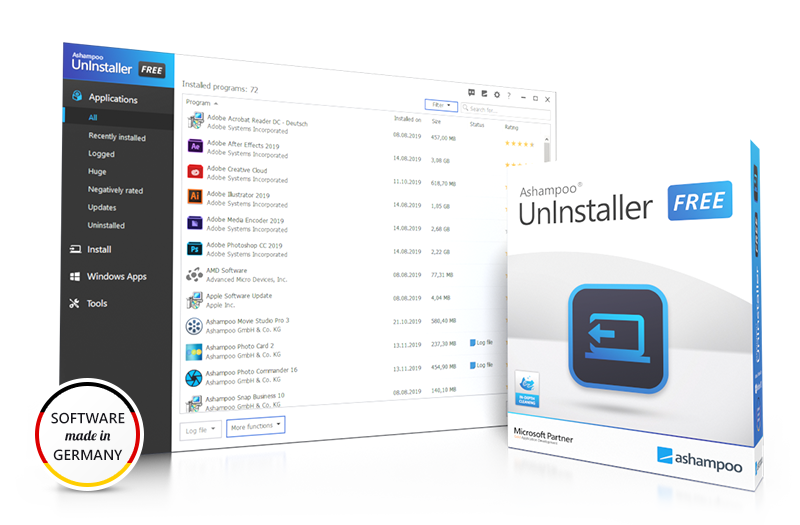 Powerful software free of charge!
Ashampoo® ZIP FREE is the fast solution for your file compression needs. Create and extract archives in all common formats instantly through Windows Explorer integration. It's the essential must-have compression suite to read, repair and write file archives. In the market for a free but fully MS Office compatible alternative? Take a look at Ashampoo® Office Free. Though light on resources, Ashampoo® Office Free comes with full-fledged word processor, spreadsheet and presentation applications that read Microsoft Word, Excel and PowerPoint files. Like all free Ashampoo products, Ashampoo® Office Free includes no feature restrictions and is forever usable free of charge! And so is Ashampoo® WinOptimizer FREE, your free Windows optimization suite for a fast and lean system. Boost the performance of your PC, remove file clutter and customize Windows to your needs. No learning curve, no risk!