The retro gaming power bundle!
With the Commodore 64 and Amiga 500 began a golden age of home computing with unforgettable fun-packed games. Relive the glorious past with this gaming bundle and enjoy 6 retro-style games on your PC, from action and adventure to racing!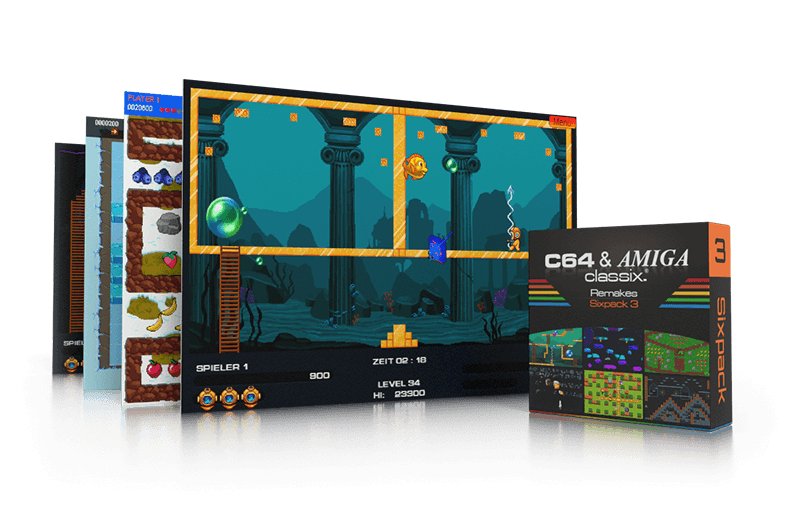 Bomber Warrior
Blast your way through various action-filled labyrinths and use clever strategy to use the various blocks to your advantage. Each level is packed with enemies and your goal is to destroy blocks to reach the goal and reveal the hidden exit that will take you to the next level. Warning: This game is highly addictive so make sure to bring lots of time!
Moon Battle
Moon Battle is a remake of the popular Invaders from 1983. Take control of a starship and blast your enemies 'til kingdom come! It's straight-forward, it's fun, it's nostalgic shoot 'em up glory for your PC!
Mo's Garden
You play Mo, a fearless gardener faced with all kinds of nasty bugs and terrible monsters. Armed with a syringe, your job is to inflate your enemies until they pop. But beware: The vermin can crawl through the ground and jump into your tunnels. Don't give up and save your garden!
Epyx Peng
Shoot bubbles with your harpoon to split them in two. Depending on their size, the bubbles can take a maximum of three hits before they disappear– often dropping handy power-ups, like a second harpoon, shields, or extra time. Fire away, but make sure not to touch the bubbles or you'll lose a life!
Star Taxi
Use your flying car to transport passengers between platforms or to the next level. Your car is delicate so make sure not to bump into things. And gas is expensive so try to take the shortest routes possible. The quicker you are, the more money you'll make!
Lode Jumper
Collect gold treasures through various levels in this witty platformer. You're up against 5 enemies that'll try to block your path and outsmart you. Use ladders, climbing bars, and well-placed explosives to outmaneuver your opponents and increase your wealth. Warning: This game is highly addictive so make sure to bring lots of time!