Best HDR image quality of all time
Spectacular photos instantly–that's what HDR projects is all about. Create photos that offer an unmatched level of contrast and detail. The professional edition comes with all the latest tools and pushes the envelope on what is technologically possible today. Whether ambitious hobbyist or pro user, you won't be disappointed. Make your photos shine like never before and experience a new world of colors with HDR!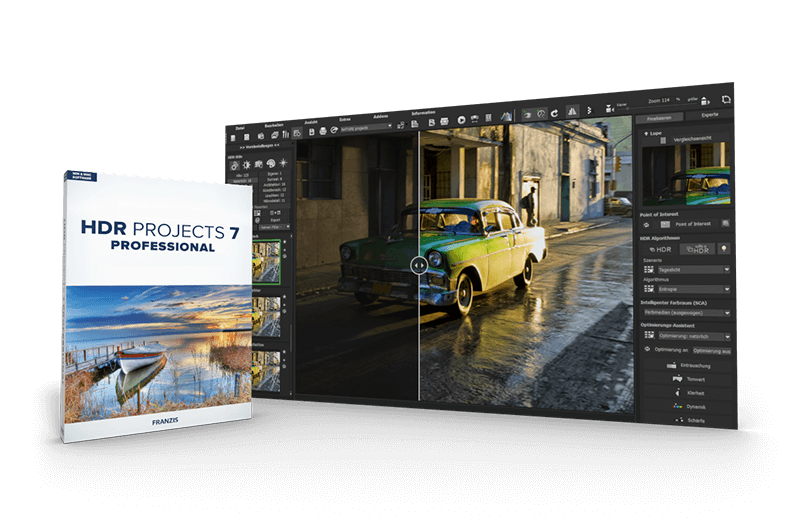 Comprehensive RAW module for professional photo editing/conversion plus extra features
Huge selection of 188 presets
Batch processing with auto-bracketing detection to develop dozens of HDR photos at the same time
Adobe® Lightroom Classic® / Photoshop® plug-in
Export bracketing: Create exposure brackets from JPGs or RAWs and process them with third-party tools
D65 color space support, that corresponds roughly to the average midday light in and Western / Northern Europe, for particularly true-color daylight shots.
Point of Interest view for fast and resource-saving image analysis and calculation
The highlight of HDR technology
In the new version of HDR projects, there are many improvements and extensions. You are guaranteed to find something new in every mode, whether in selective drawing, HDR Painter, expert mode, etc. Sit back and let the program do the work for you. A suitable HDR style and the right preset are quickly found. So you get the best exposure in every picture!
New features
Image alignment by scene type for landscape, architecture, and more
Color fidelity tone mapping for clear and realistic color reproduction
8 digital color filters for selective simulation of colored photo filters
5 new HDR weight presets for optimal use of light information in images
Advanced tools with additional presets, filters, and revised style settings
What HDR means for your images
With HDR, you get spectacular photos every time. Capture the finest details, and enjoy vibrant colors and stunning contrasts, whether you're working with an exposure series or a single image.
HDR colors for newcomers and pros
Load your images into HDR projects and let the program assemble them. HDR projects does all the work for you! Then simply pick the one you like best from over 100 suggested images, or enhance your image even further to suit your personal taste. There's no easier way to get perfectly exposed images!
Adobe® Lightroom Classic® / Photoshop® plug-in included
There are many paths to HDR projects 7 professional and, naturally, Adobe® Photoshop® / Lightroom® is fully supported! We've included a full-featured filter plug-in optimized for ease of use and tailored for the popular Adobe® software.
Faster, more versatile, and with an eye for details
Accelerated performance means calculations run faster. This shortens waiting times and lets you work more smoothly. But we've also thought of little things: In addition to the new note function in the Undo Timeline, images can now be saved scaled, e.g. for Facebook, Instagram and co.!
Edit mode: New HDR styles, presets and preset categories
Expert mode: New tone mapping, new layer distortion methods, and smart mask filter
Scratch and sensor error correction module: New quality modes
Selective drawing: New color filters + enhancements
HDR-Painter: New presets for HDR-weighting distribution