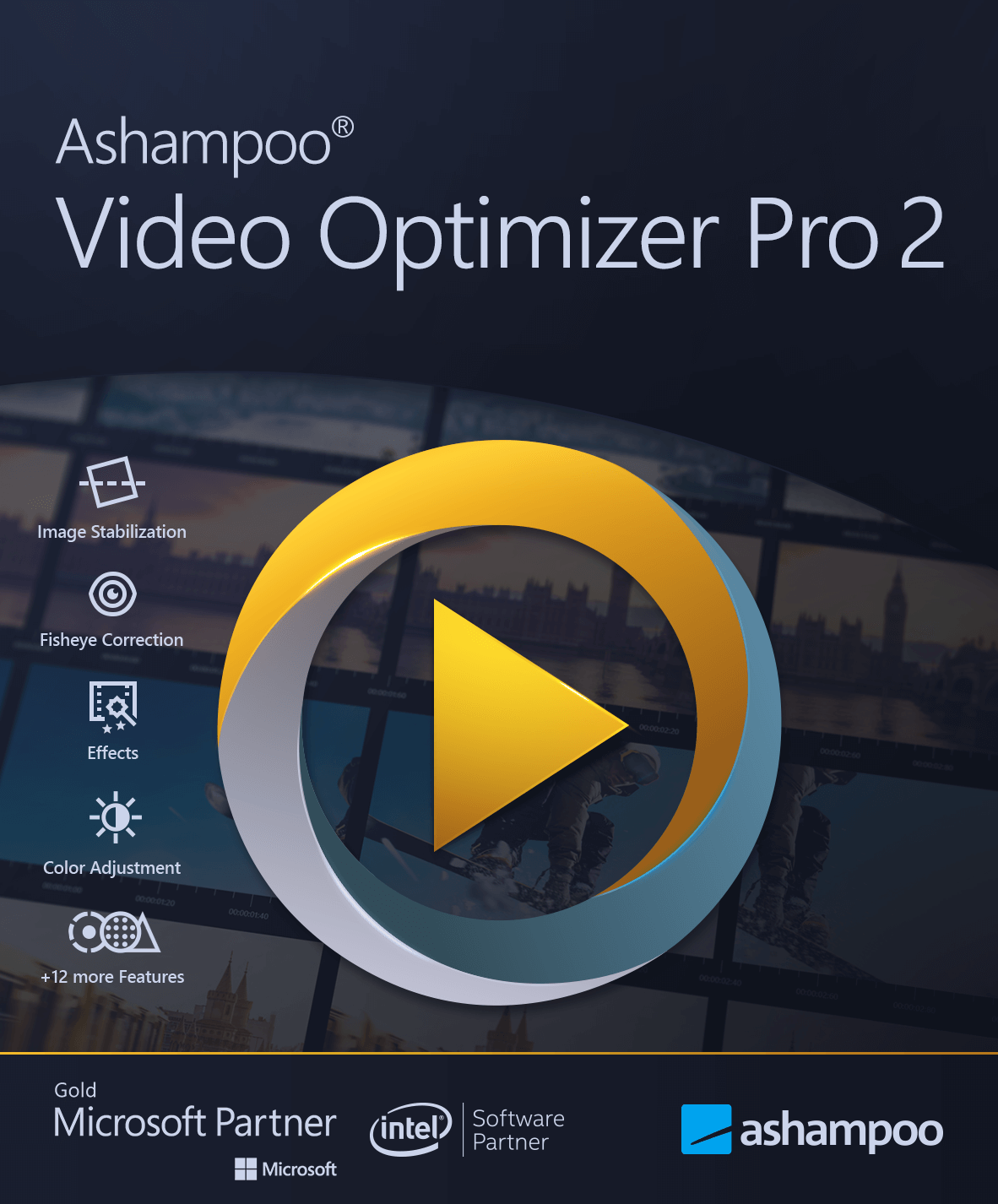 Ashampoo® Video Optimizer Pro 2
Product info
Overview
Version: 2.0.1
ID: 0846
Release date: 2020/08/31
Update release date: 2020/09/08
Trial Period: 30 days
Category: Multimedia Software
Pricing and languages
Price: EUR 70, USD 70, GBP 63, AUD 100, BRL 230, CAD 100, CHF  80, CNY 550, DKK  520, HKD 680, HUF  18,000, MXN 1,500, NOK  670, NZD 100, PLN  270, RUB  4,700, SEK  650, TRY  440, TWD 2,500
Languages: British English, Catalan, Chinese (simplified), Chinese (traditional), Czech, Dutch, English, Finnish, French, German, Hungarian, Italian, Polish, Portuguese (Brazilian), Rumanian, Russian, Slovakian, Spanish, Spanish (Argentina), Swedish, Turkish
Size: 92,00 MB
Program artwork and Ashampoo logo
Download mediapack
The media package contains all relevant graphics for use in your work. Aside from program artwork, it also includes our logo.
Download media package here
Highlights
Feature highlights:
- Shaky video auto-fix
- Lens distortion auto-fix
- Crisp visuals and perfect colors
- Slow motion and time-lapse
- Perfect for cellphone videos, action cams, digital cameras and drones
- Rotate and edit videos with incredible ease through built-in editor
System requirements
Operating System
You need the 64-bit version for the following operating systems:
Windows 11, Windows 10 (64-Bit), Windows 8 (64-Bit)
Software:
Windows Media Player 10
.NET Framework 4.0
Processor
DVD quality editing / production - Dual-core processor with 2.4 GHz or better
HD quality editing / production - Intel Core i5 / i7 or similar quad-core processor
RAM
2 GB or higher for DVD quality editing / production
4 GB or higher for HD quality editing / production
8 GB or more recommended
Graphic card
DirectX 9
Pixelshader v2.0
Min. 128 MB RAM.
Min. 1280 x 1024
Other
An Internet connection is required to activate the program. The program license is verified repeatedly at regular intervals.
For some services an Internet connection is required.
Keywords
add filters, Stabilize shaky footage and adjust colors, edit video, improve video, enhance video quality, crop video, add effects video, movie maker, enhance video, improve video quality, video, clip, create, edit, improve, video deshake, shaky video, fix shake video, Batch processing