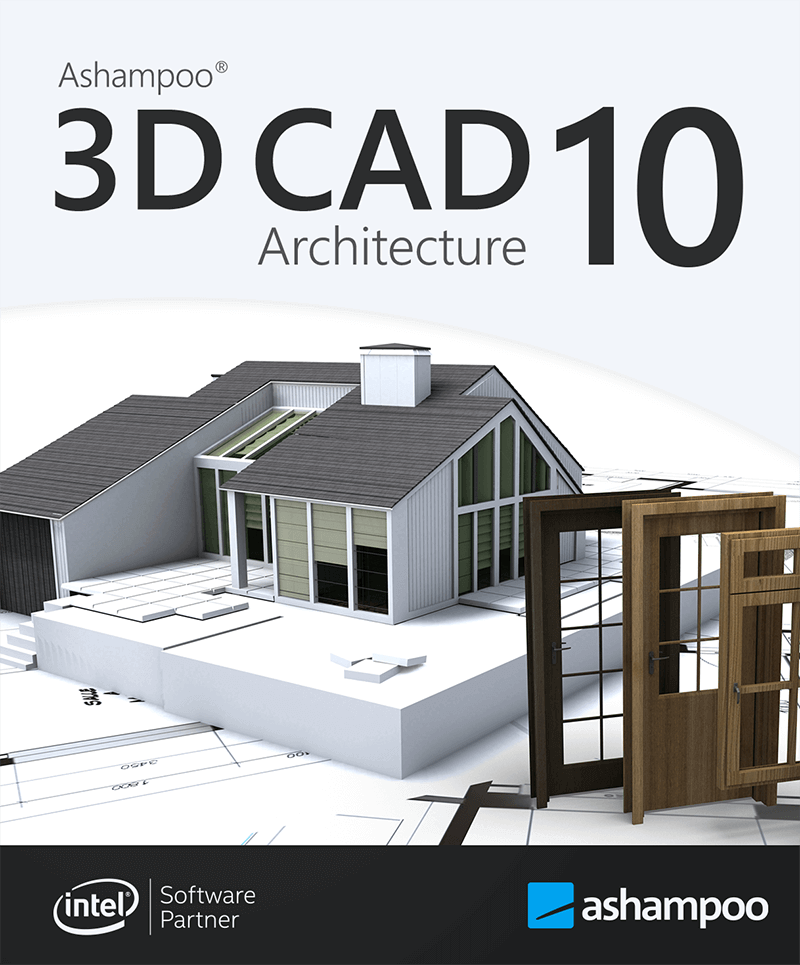 Ashampoo® 3D CAD Architecture 10
Product info
Overview
Version: 10.0.0
ID: 1860
Release date: 2023/06/01
Trial Period: 30 days
Category: CAD & Construction
Pricing and languages
Price: EUR 80, USD 80, GBP 70, AUD 120, BRL 270, CAD 120, CHF  100, CNY 600, DKK  540, HKD 760, HUF  24,000, MXN 1,600, NOK  700, NZD 120, PLN  300, RUB  5,400, SEK  750, TRY  500, TWD 3,000
Languages: British English, Dutch, English, French, German, Hungarian, Italian, Polish, Russian, Slovakian, Spanish, Turkish
Size: 1.813,00 MB
Program artwork and Ashampoo logo
Download mediapack
The media package contains all relevant graphics for use in your work. Aside from program artwork, it also includes our logo.
Download media package here
Highlights
- Auto-dimensioning for 2D floor plans and views
- Automatic item text, mark your walls and windows with a unique item number
- Door and Window catalog, extended catalog with US style windows
- Railings, railing editor dialog with multiple style options
- Railing style catalog, save your own railing design
- Fences, as a variant of railings, automatically following your 3D terrain design
- Retaining walls, used for your plot, garden and terrain design
- Balcony catalog with different railing styles
- New north arrow property dialog, including 2D preview, rotation options, scaling
- New plot element for terrain editing
- Automatic borders for terrain elements such as beds, terrace,etc.
- Extended catalogs, new doors, more than 250 new 3D objects, 200 new 2D symbols,etc.
- Automatic dimensioning for 2D floor plans, 2D top views
System requirements
Operating System
Windows 11, Windows 10
Systems with ARM processors are not supported.
Requirements
Any device that supports the operating systems listed above.
Other
An Internet connection is required to activate the program. The program license is verified repeatedly at regular intervals.
Full administrative rights are required to use the program.
Keywords
Ashampoo 3D CAD, CAD Software, 3D CAD Design Software