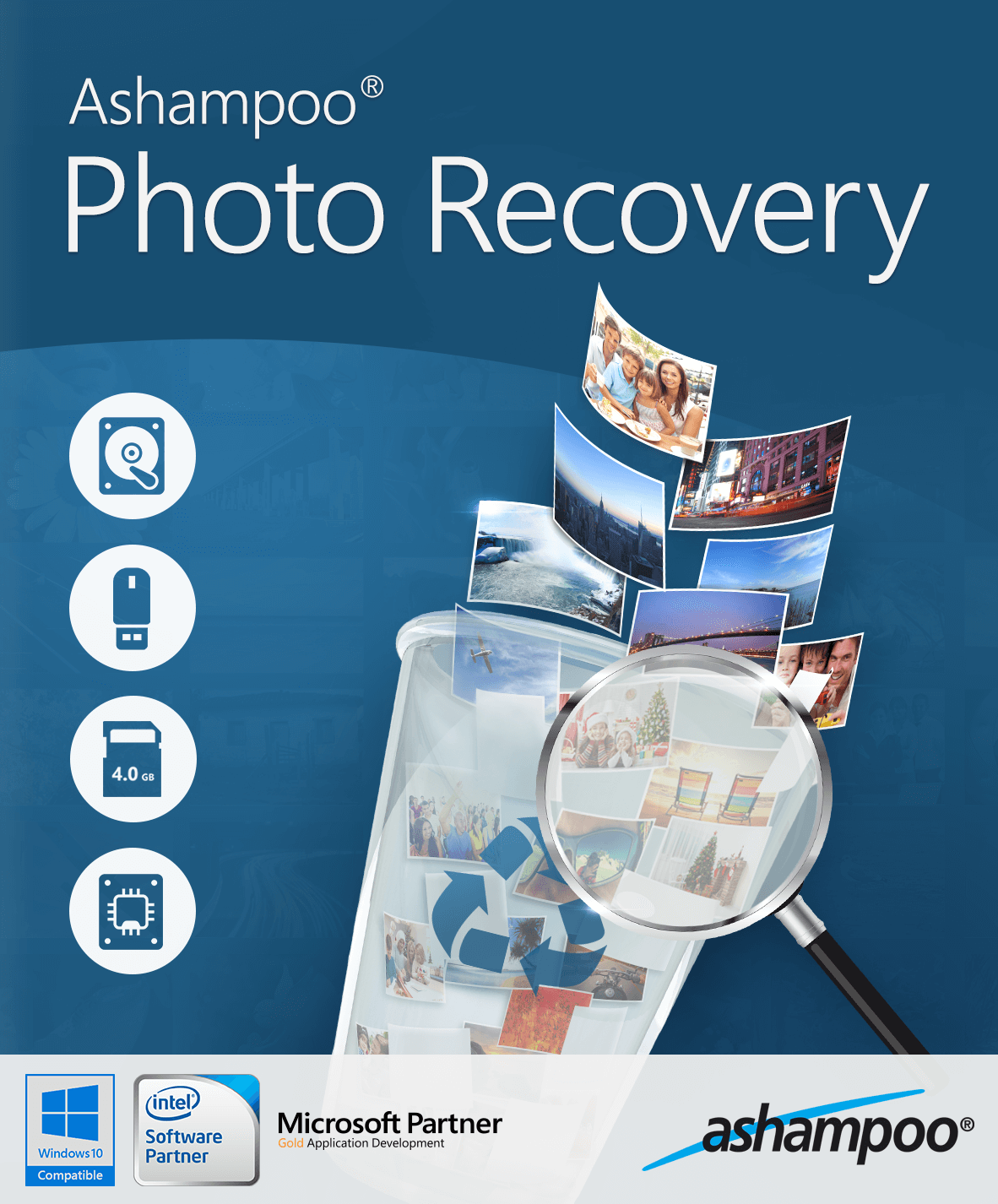 Ashampoo® Photo Recovery
Product info
Overview
Version: 1.0.5
ID: 0173
Release date: 2016/01/25
Update release date: 2017/04/12
Trial Period: 40 days
Category: Tools & Utilities
Pricing and languages
Price: EUR 39.99, USD 39.99, GBP 34.99, AUD 59.99, BRL 129.99, CAD 59.99, CHF  49.99, CNY 299, DKK  299, HKD 339, HUF  12,500, MXN 599, NOK  349, NZD 59.99, PLN  159.99, RUB  2,199, SEK  389, TRY  249, TWD 1,399
Languages: Arabic, Catalan, Chinese (simplified), Chinese (traditional), Czech, Danish, Dutch, English, Finnish, French, German, Greek, Hebrew, Hungarian, Italian, Japanese, Norwegian, Norwegian Nynorsk, Polish, Portuguese, Portuguese (Brazilian), Rumanian, Russian, Serbian, Serbian, Slovakian, Spanish, Spanish (Argentina), Swedish, Turkish
Size: 8,00 MB
Program artwork and Ashampoo logo
Download mediapack
The media package contains all relevant graphics for use in your work. Aside from program artwork, it also includes our logo.
Download media package here
Highlights
- Recover deleted or corrupted image files
- Scan all available drives
- Recover photos from formatted disks
- Recover metadata, e.g. EXIF or IPTC data
- Supports all common file formats such as JPG, PNG, BMP, GIF and RAW
- View photo results as thumbnails
-
System requirements
Operating System
Windows 10, Windows 8 / 8.1, Windows 7
Requirements
Any device that supports the operating systems listed above.
Other
An Internet connection is required to activate the program. The program license is verified repeatedly at regular intervals.
Keywords
Ashampoo Photo Recovery, recover photo, get back photo, photo recovery, image recovery, recovery, file recovery, deleted image, save picture, picture, photo, digital photo, deleted photo, lost photo, storage device, USB hard drive, memory card, USB flash drive, digital camera, smart phone, metadata, EXIF, IPTC, repair