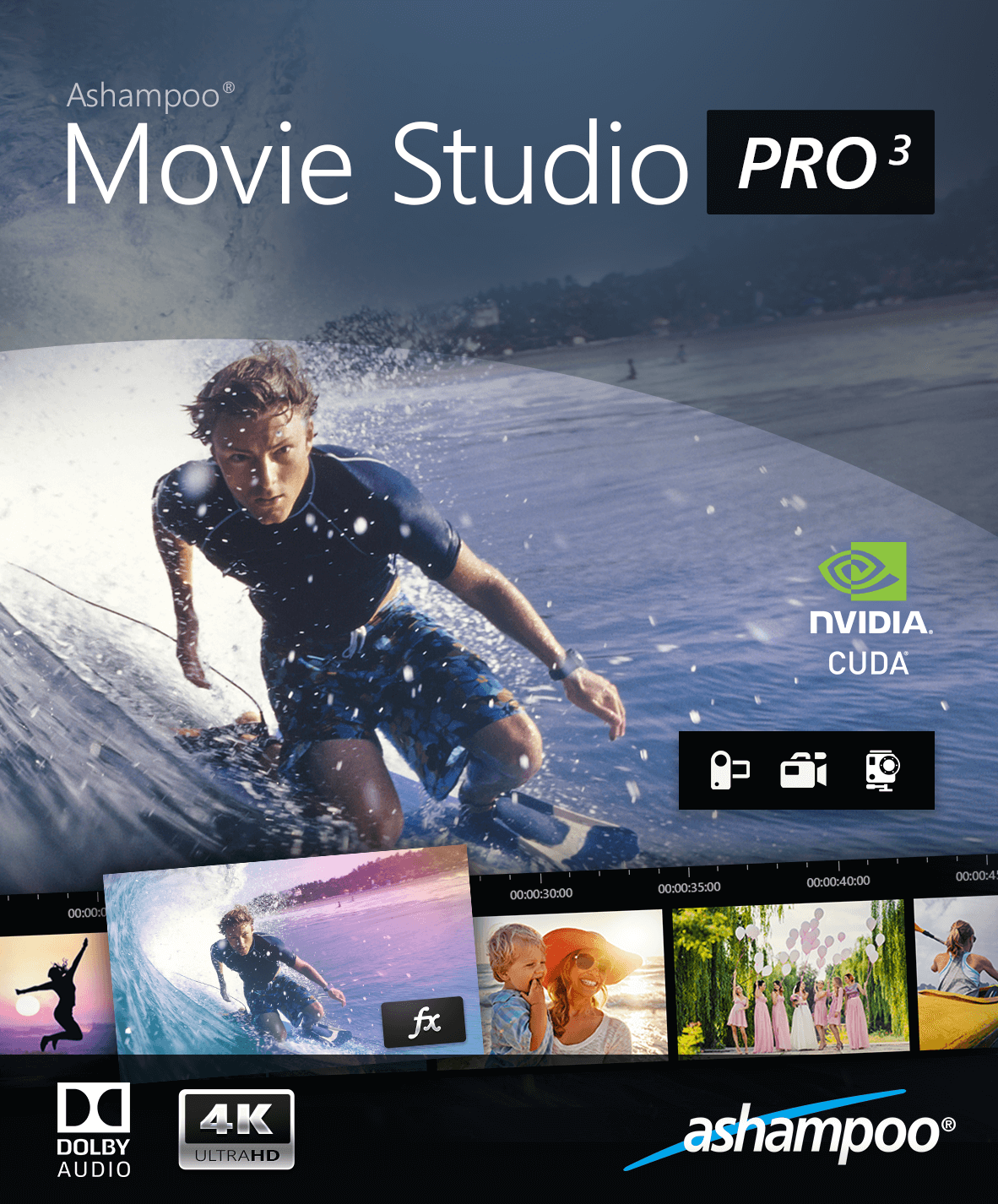 Ashampoo® Movie Studio Pro 3
Product info
Overview
Version: 3.0.1
ID: 0682
Release date: 2019/05/27
Update release date: 2019/06/25
Trial Period: 30 days
Category: Multimedia Software
Pricing and languages
Price: EUR 60, USD 60, GBP 50, AUD 80, BRL 200, CAD 80, CHF  70, CNY 460, DKK  400, HKD 570, HUF  17,000, MXN 1,000, NOK  500, NZD 80, PLN  250, RUB  4,000, SEK  550, TRY  380, TWD 2,000
Languages: British English, Bulgarian, Catalan, Chinese (simplified), Chinese (traditional), Czech, Danish, Dutch, English, Finnish, French, German, Hungarian, Italian, Norwegian Nynorsk, Polish, Portuguese, Portuguese (Brazilian), Rumanian, Russian, Serbian, Serbian, Slovakian, Slovenian, Spanish, Swedish, Turkish
Size: 433,00 MB
Program artwork and Ashampoo logo
Download mediapack
The media package contains all relevant graphics for use in your work. Aside from program artwork, it also includes our logo.
Download media package here
Highlights
- Quick and easy precision cuts
- Multi-track editor
- Create your own documentaries with professional designs and subtitles
- High-res 4K videos and perfect mobile device compatibility
- Redub, cut and comment videos
- New vibrant animations and transitions
- Export to hundreds of formats and resolutions for any purpose
System requirements
Operating System
Windows 10, Windows 8, Windows 7
Software:
Windows Media Player 10
Microsoft .NET Framework 4.0
Processor
Recommended Intel Core i3
Intel Dual-Core
Intel Core i5
Intel Core i7
RAM
Recommended 8GB RAM
2GB RAM
4GB RAM
8GB RAM
Graphic card
DirectX 9
Pixelshader v2.0
Min. 128 MB RAM.
Min. 1280 x 1024
CUDA support requires a NVIDIA GeForce 6 series card or higher with the latest drivers
Other
An Internet connection is required to activate the program. The program license is verified repeatedly at regular intervals.
For some services an Internet connection is required.
Keywords
video editing software, video editing, smooth transition, add filters, add stylish titles, stickers, effects, overlay, create, edit, video editing, suite, 4K, color grading, built-in effects, fast video editing, blu ray, dvd, avchd, mkv, video editor, movie editor, huge selection of titles, openers, lower thirds, convert videos, videos zuschneiden, timeline, audiospuren, videospuren, untertitel, transform videos with a variety of filters and graphic overlays, audio and video tracks, frame, precise editing, text layers, Family videos, Travel videos, wedding videos, fun videos, Drag and drop the clips, collection of designed themes and templates, animated openings, highlighting the best moments, Create unique transitions, disc menu layouts,