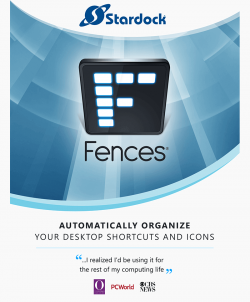 Stardock Fences® 4
Do you prefer your things organized? Get the perfect organizer for your desktop!


Screenshots
Fences® 4 - Maintain a distraction-free desktop.

Fences® 4 - Instantly access your Fences with hotkeys.

Fences® 4 - Customize how your fences look and operate.

More top products from Ashampoo: No PC should be without them!
About Ashampoo

Users
20+ million

Downloads
500.000+ per month

World-wide
In over 160 countries

Experience
Over 23 years

Ashampoo's
Free full versions