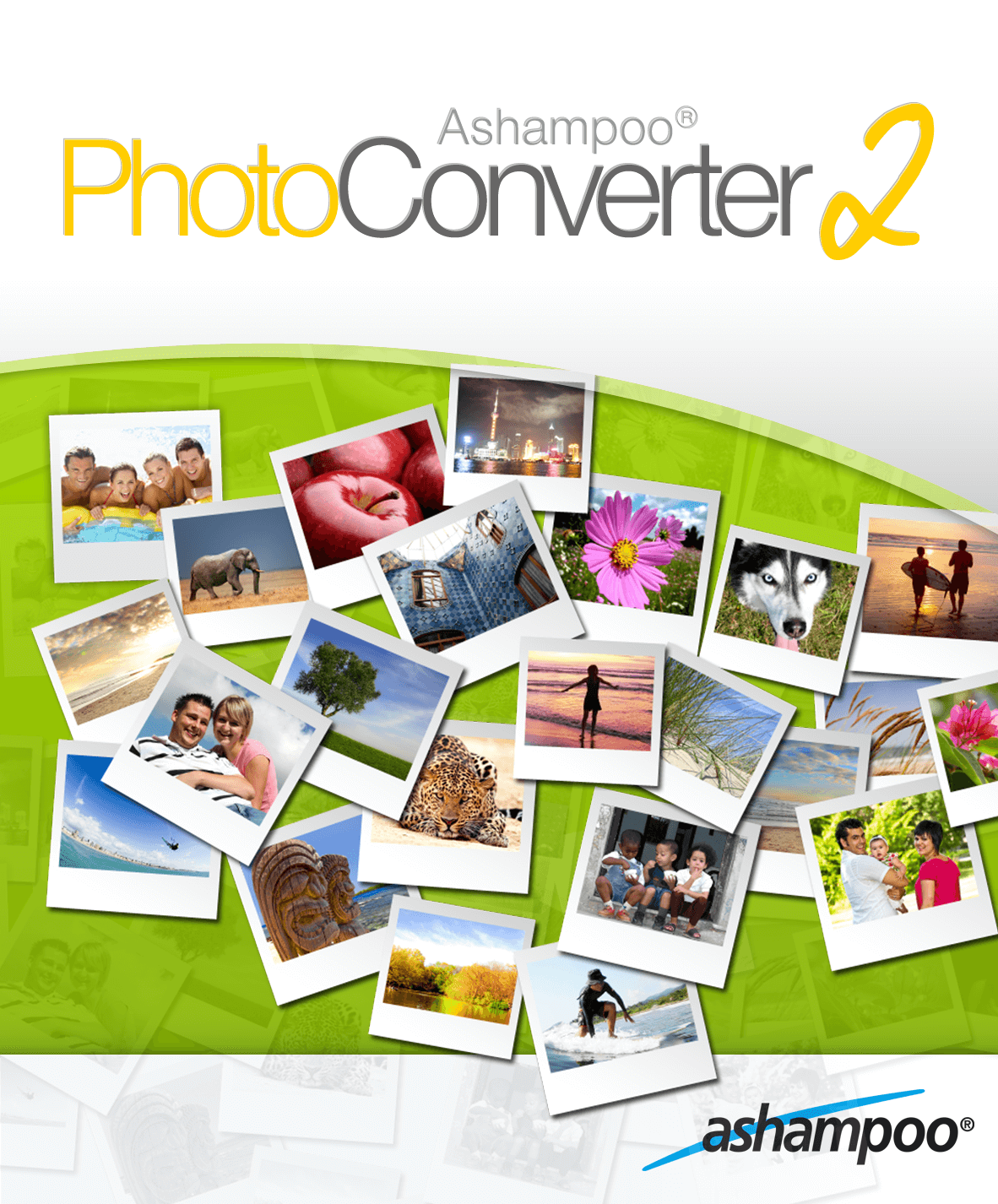 Ashampoo® Photo Converter 2
Product info
Overview
Version: 2.0.0
ID: 0180
Release date: 2012/08/15
Update release date: 2012/08/15
Trial Period: 40 days
Category: Tools & Utilities
Pricing and languages
Price: EUR 14.99, USD 14.99, GBP 9.99, AUD 19.99, BRL 39.99, CAD 19.99, CHF  15.99, CNY 99, DKK  109, HKD 149, HUF  4,900, MXN 249, NOK  149, NZD 19.99, PLN  59.99, RUB  949, SEK  149, TRY  93, TWD 599
Languages: Arabic, Belorussian, Bulgarian, Catalan, Chinese (simplified), Chinese (traditional), Croatian, Czech, Danish, Dutch, English, Finnish, French, Georgian, German, Hebrew, Hungarian, Italian, Korean, Norwegian, Norwegian Nynorsk, Polish, Portuguese, Portuguese (Brazilian), Rumanian, Russian, Serbian, Slovakian, Spanish, Spanish (Argentina), Swedish, Turkish, Ukrainian
Size: 12,00 MB
Program artwork and Ashampoo logo
Download mediapack
The media package contains all relevant graphics for use in your work. Aside from program artwork, it also includes our logo.
Download media package here
Highlights
No more trial-and-error. Ashampoo Photo Converter 2 features a built-in live preview for immediate feedback so you can review any changes prior to the conversion.

Aside from a vastly enhanced feature set, Ashampoo Photo Converter 2 now supports 1-Click optimization for colors and contrasts.

Despite multiple feature enhancements, the program manages to stay snappy and easy to use.

Features overview:

Convert
Select from 21 different formats

Align
Rotate images: 90° left/right or 180°
Mirror images
Flip images

Adjust
Resize using percent, pixels, centimers or inches
Optimize manually or let Ashampoo Photo Converter 2 auto-determine optimum contrast/color settings
Reduce compression artefacts
Strengthen colors

Other: Gamma, Brightness, Contrast, Temperature, Hue, Saturation, Change color depth
(2, 16, 256, 65k or 24.7M colors + alpha), Change RGB order (color channel swapping)

Restyle
Positionable watermarks with transparency support

Effects: Grayscale, Invert, Blur, Sharpen (Unsharp Mask), Seamless Image, Pencil Drawing,
Sepia, Radial Blur, Drop Shadow, White Border, Edge Detection, Emboss (135°, 90°, 45°),
Dilation, Psychodelic, Solarize, Erosion, Outline, Buttonize, Pixelize, Oil Paint,
Miniature, Vivid Colors

Organize
Insert EXIF Date
Delete source files after conversion
Keep original file date/time
System requirements
Operating System
Windows 11, 10, 8, 7
Requirements
Any device that supports the operating systems listed above.
Other
An Internet connection is required to activate the program. The program license is verified repeatedly at regular intervals.