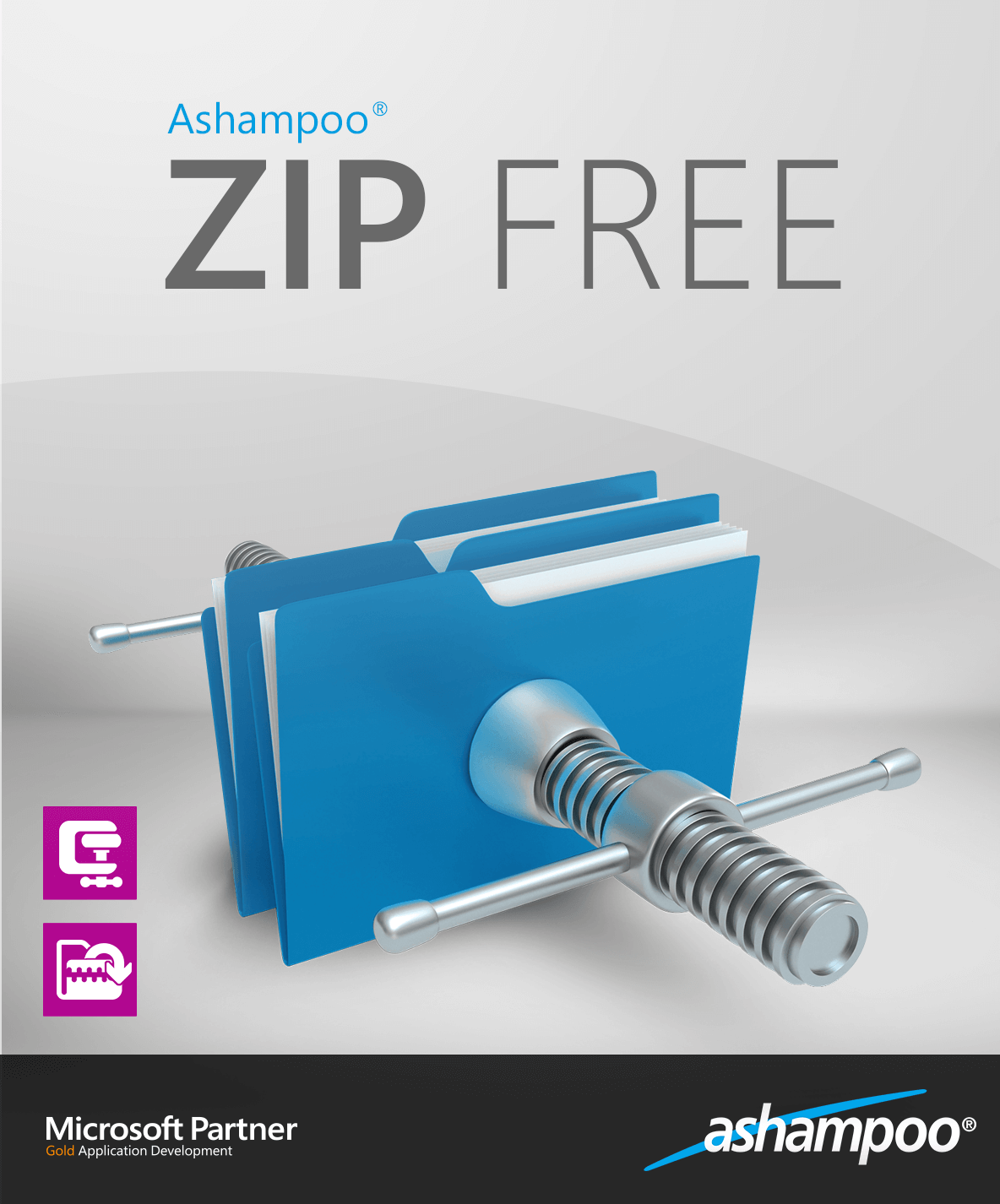 Ashampoo® ZIP FREE
Product info
Overview
Version: 1.0.7
ID: 0192
Release date: 2015/02/02
Update release date: 2018/05/10
Category: System Utilities
Pricing and languages
Languages: British English, Catalan, Chinese (simplified), Chinese (traditional), Croatian, Czech, Danish, Dutch, English, Finnish, French, German, Greek, Hebrew, Hungarian, Indonesian, Italian, Japanese, Korean, Norwegian Nynorsk, Polish, Portuguese, Portuguese (Brazilian), Rumanian, Russian, Serbian, Serbian, Slovakian, Slovenian, Spanish, Spanish (Argentina), Swedish, Turkish, Ukrainian
Size: 27,00 MB
Program artwork and Ashampoo logo
Download mediapack
The media package contains all relevant graphics for use in your work. Aside from program artwork, it also includes our logo.
Download media package here
Highlights
Ashampoo ZIP Free supports comfort features such as jump lists and the display of progress on taskbar icons for Windows 7 and Windows 8. The user interface employs the Windows 8 tile-based design with quick access to all essential features. And just like in Windows 8, tiles can be rearranged for personalization.

A compression tool is essential for any PC user and Ashampoo ZIP Free is an excellent choice.
System requirements
Operating System
Windows 11, Windows 10, Windows 8 / 8.1, Windows 7
Requirements
Any device that supports the operating systems listed above.
Other
An Internet connection is required to activate the program. The program license is verified repeatedly at regular intervals.
Keywords
Ashampoo Zip, compress files, compressing files, compress video files, compress files for email, ZIP-, ZIPX, 7-Zip, LHA-, CAB-, TAR-/GZ-/BZ2-, BH, PAE, RAR, ISO, ACE, ARJ, MSI, NSIS, CHM, DMG