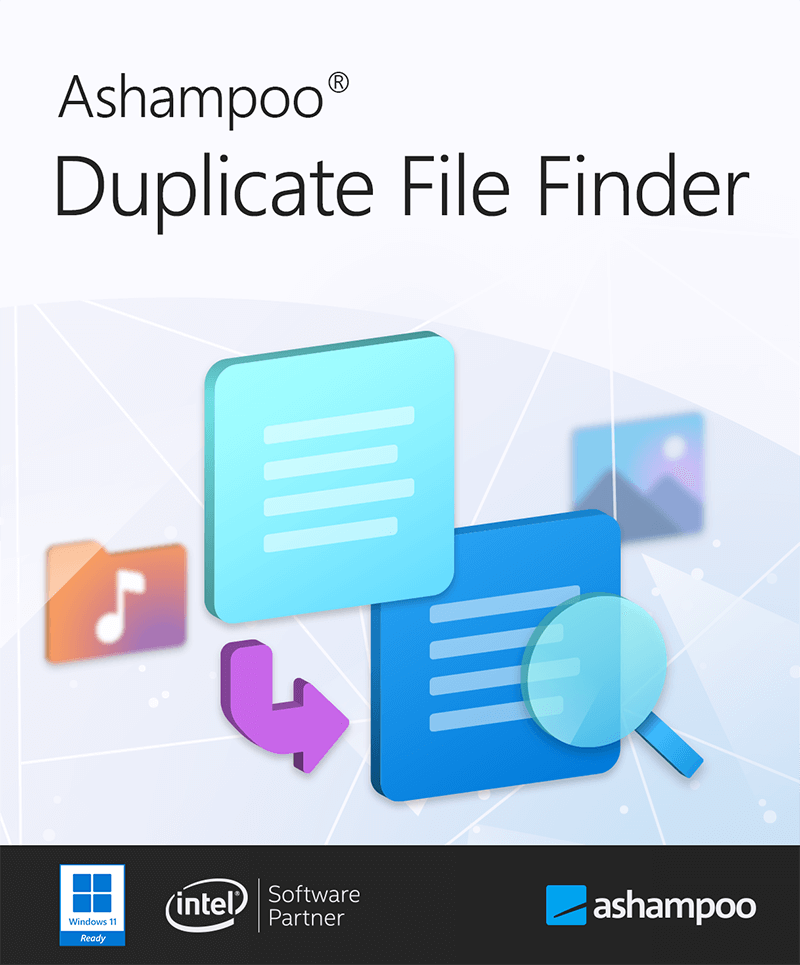 Ashampoo® Duplicate File Finder
Product info
Overview
Version: 1.0.1
ID: 10101
Release date: 2023/05/31
Update release date: 2023/07/04
Category: System Utilities
Pricing and languages
Price: EUR 20, USD 20, GBP 15, AUD 30, BRL 50, CAD 30, CHF  20, CNY 150, DKK  190, HKD 200, HUF  6,000, MXN 330, NOK  200, NZD 30, PLN  70, RUB  1,300, SEK  200, TRY  130, TWD 800
Languages: English, German
Size: 0,00 MB
Program artwork and Ashampoo logo
Download mediapack
The media package contains all relevant graphics for use in your work. Aside from program artwork, it also includes our logo.
Download media package here
Highlights
- High-performance scans for duplicate files
- View duplicates by category
- Exclude files from deletion
- Safely delete duplicate files
- Auto-replace redundant files with hard links
- Reclaim disk space
- Restore deleted files from auto-backups
System requirements
Operating System:
Windows 11, Windows 10
Requirements
Any device that supports the operating systems listed above.
Other
Screen resolution 1280x768 (Recommended: 1920x1080 )
Full administrative rights are required to use the program. An Internet connection is required to activate the program. The program license is verified repeatedly at regular intervals.
Keywords
Duplicate file finder, Remove duplicate files, Find duplicate files, Delete file duplicates, File search tool, Free up disk space, Identify duplicate files, Duplicate cleanup tool, Optimize file management, Simplify file search