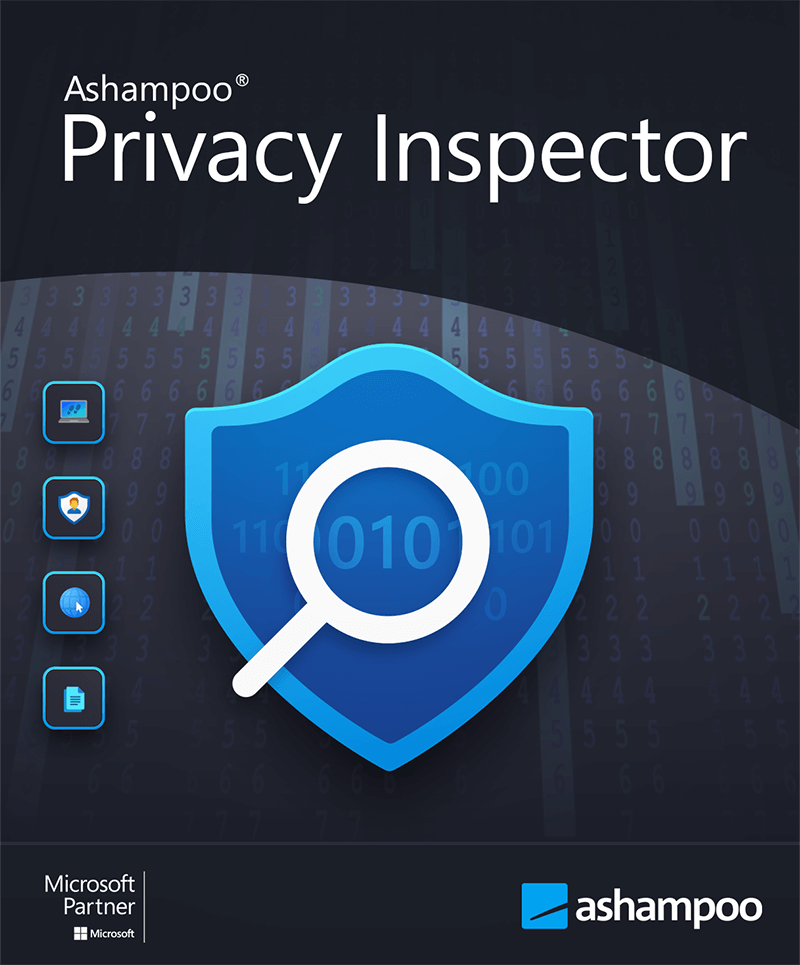 Ashampoo® Privacy Inspector
Product info
Overview
Version: 1.00.10
ID: 10102
Release date: 2023/02/20
Update release date: 2023/03/01
Trial Period: 30 days
Category: Security Software
Pricing and languages
Price: EUR 40, USD 40, GBP 35, AUD 60, BRL 130, CAD 60, CHF  50, CNY 300, DKK  300, HKD 340, HUF  12,500, MXN 600, NOK  350, NZD 60, PLN  160, RUB  2,200, SEK  390, TRY  250, TWD 1,400
Languages: British English, Bulgarian, Catalan, Chinese (simplified), Chinese (traditional), Czech, Danish, Dutch, English, Finnish, French, German, Greek, Hungarian, Italian, Korean, Norwegian, Norwegian Nynorsk, Polish, Portuguese, Portuguese (Brazilian), Rumanian, Russian, Serbian, Serbian, Slovakian, Slovenian, Spanish, Swedish, Turkish
Size: 9,00 MB
Program artwork and Ashampoo logo
Download mediapack
The media package contains all relevant graphics for use in your work. Aside from program artwork, it also includes our logo.
Download media package here
Highlights
- Keep an eye on logins and form inputs
- Disable telemetry and unwanted data sharing
- Retrace online activities in detail
- Display page visits by time and frequency
- Analyze web browsing behavior for all user accounts
- Multiple search filters for fast and precise results
- Safely delete confidential usage data
System requirements
Operating System:
Windows 11, Windows 10, Windows 7
Supported Browsers:
Mozilla Firefox, Google Chrome, Microsoft Edge Chromium
Requirements
Any device that supports the operating systems listed above.
Other
Screen resolution 1280x768 (Recommended: 1920x1080 )
Full administrative rights are required to use the program. An Internet connection is required to activate the program. The program license is verified repeatedly at regular intervals.
Keywords
User activities ,Windows logs ,Search history ,Usage-related information ,Windows privacy ,Used objects ,Search terms ,Form inputs ,Visited websites ,Retrace recent activities ,Online source ,Dedicated user names ,Windows data collection ,Turn off password syncing ,Eliminate web browsing traces ,Recover deleted files