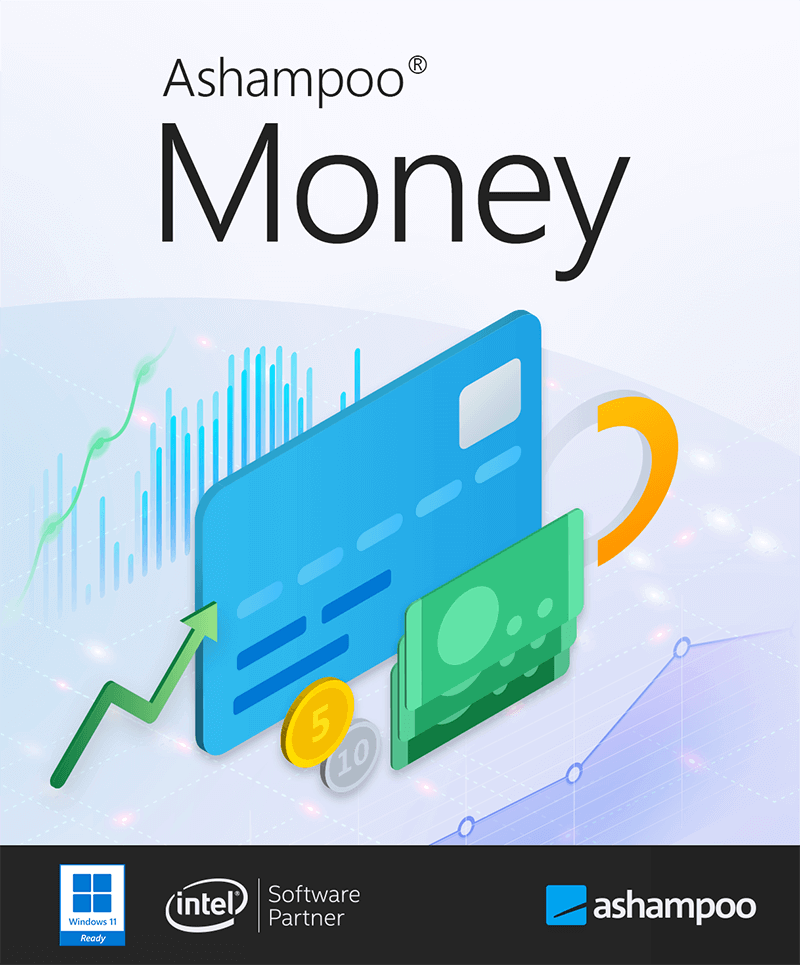 Ashampoo® Money
Product info
Overview
Version: 1.3.2
ID: 11104
Release date: 2023/05/15
Update release date: 2023/11/20
Category: Office Software
Pricing and languages
Price: EUR 20, USD 20, GBP 15, AUD 30, BRL 50, CAD 30, CHF  20, CNY 150, DKK  190, HKD 200, HUF  6,000, MXN 330, NOK  200, NZD 30, PLN  70, RUB  1,300, SEK  200, TRY  130, TWD 800
Languages: Chinese (simplified), Czech, Danish, English, Finnish, French, German, Hungarian, Italian, Norwegian, Polish, Portuguese (Brazilian), Spanish, Swedish, Turkish
Size: 0,00 MB
Program artwork and Ashampoo logo
Download mediapack
The media package contains all relevant graphics for use in your work. Aside from program artwork, it also includes our logo.
Download media package here
Highlights
- No-frills budget planner for income and expenses
- Manage multiple accounts
- Add and track recurring expenses
- Visualize balance progression over time
- Compare past and present balance developments
- Filters for precise analyses
- View expenses by purpose
- Search by recipient, amount, and purpose
- Individually customizable views for maximum clarity
System requirements
Operating System:
Windows 11, Windows 10 (x64)
Requirements
Any device that supports the operating systems listed above.
Other
An Internet connection is required to activate the program. The program license is verified repeatedly at regular intervals.
Keywords
Household book, finances, Ashampoo Money, Excel alternative, sensitive data, income, expenses, account management, fixed costs, balance trend, account balance comparison, filtering options, expense distribution, recipient, amounts, usage purposes, customizable view, account overview, savings goals, graphical representation, time comparison, adaptability, transaction filters